ARM Holdings (NASDAQ:ARMH) is in the business of selling Intellectual Property (IP). The company basically sells its microprocessor IP to companies seeking to integrate microprocessors into their semiconductor chips in order to reduce cost, power and size. The company also sells other products in support of its IP like peripheral IP, development tools, etc. The company's products are designed into 90% of the world's cellphones and since consumers continue to replace their cellphones every year or two, ARM is in a sweet spot with all that recurring revenue.
The company partners with semiconductor foundries in order for its IP to be incorporated into custom integrated circuits. ARM generates royalty revenue for every semiconductor chip that is sold using its IP. According to ARM's most recent conference call, ARM's royalty revenue per semiconductor chip has typically been in the 1% range. However, going forward, the royalty revenue could increase to the 3% range with further integration of ARM's IP into semiconductor chips like the company's Mali graphics processor. This basically means the company could double or even triple its royalty revenue per semiconductor chip over the next few years.
The company reported is fifth consecutive quarter of record revenue and its eighth quarter of consecutive growth. The company recently released its Cortex-A15 microprocessor last quarter and the Cortex-A15 is currently being incorporated into smartphones and tablet devices. For all you techies out there, the Cortex-A15 sports an out-of-order superscaler pipeline with a tightly-coupled low-latency level-2 cache up to 4MB in size. The company indicates the Cortex-A15 is suitable for low-power servers, so maybe ARM is starting to stick its toe into Intel's (NASDAQ:INTC) market space a little bit.
Since the company basically sells IP, its profit margins are very good with an operating profit margin of 44%. Google's (NASDAQ:GOOG) Chrome web browser now supports ARM's microprocessors and Microsoft (NASDAQ:MSFT) recently demonstrated Windows 8 executing on an ARM microprocessor. Apple's (NASDAQ:AAPL) recently introduced iPhone 4S uses ARM's microprocessor.
Additionally, the company indicated licensing revenue continues to be strong, its Mali graphics technology is executing well and its growth looks good for the next 5 to 10 years.
ARM has been in licensing discussions with Advanced Micro Devices (NYSE:AMD) on-and-off for the last ten years, but has not been able to pull the trigger. But, I think at some point, AMD will throw in the towel and license ARM's IP, which should give ARM a nice boost in revenue.
From this perspective, ARM's future looks very bright, but I don't think Intel is just going to sit idly by while ARM gets in position to take some of its market share. Intel is working on low-power microprocessors to compete with ARM, but it appears it might be a while until it can field a product that can compete with ARM.
ARM's stock price is up over 60% for the year as shown below -(click to expand):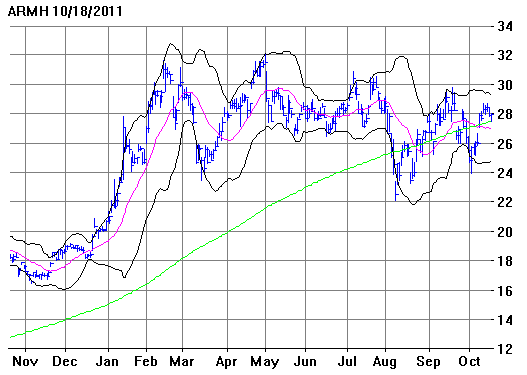 The company's stock has been in a trading range over the last eight months, vacillating between $22 to $32.
The company's future looks bright, but its stock price looks expensive with a P/E ratio in the 130s.
With competition from Intel heating up, tepid market and expensive stock price, an investor sitting on a nice profit in ARM might consider taking the profit and run, but another alternative the investor might consider is a collar.
A collar position may be entered by selling a call option against an existing or purchased stock with some of the proceeds from selling the call option used to purchase a put option for protection.
As an example, using PowerOptions stock option search capability, a collar position with November options was found for ARM with a potential return of 2.4% and a maximum risk of 5.2%. The time frame for realizing the potential profit is 33 days.
The call option to sell is the 2011 November 27 with a price of $2.10 and the put option to purchase is the 2011 November 25 with a price of $1.00. As long as ARM's stock price is greater than the $27 strike price of the call option, the collar position will return 2.4% at expiration in November. And, if the price of ARM's stock were to drop significantly, the maximum loss that could be experienced is 5.2%. A profit/loss graph for the ARM collar position is shown below: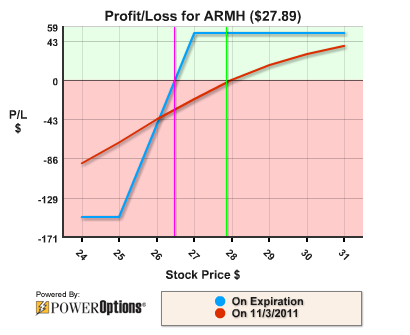 The battle between ARM and Intel will be very interesting as it folds out over the next few years. Can Intel get into ARM's low-power stronghold or is ARM going to fend off Intel. I like ARM's business model over Intel's, but Intel is a gorilla and if I were an investor in ARM, I would not take Intel's potential to do battle with ARM for granted.

Disclosure: I have no positions in any stocks mentioned, and no plans to initiate any positions within the next 72 hours.