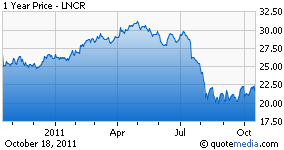 On first blush, Lincare (NASDAQ:LNCR) would look like one of those great undervalued GARP companies that famous investors like Peter Lynch gush about in their memoirs. The thing is, while Lincare may well have a lot of value in it, that value is a little like a bag of gold resting atop a pedestal … in a minefield … surrounded by razorwire … and on fire. Lincare management has indeed done a great job over the years of running this business, but it seems like government price cuts are going to be an unrelenting drag on the company.
A Pretty Mixed Third Quarter
Lincare's third quarter highlights some of the challenges that the company has to deal with now and in the near future. Reported revenue growth of over 13% sounds great, as does the little note that growth would have been nearly 16% without the impact of negative Medicare changes. Unfortunately, the organic growth was more on the order of 6% and that growth was not especially profitable.
Gross margins slid more than four points this quarter – a lot of that coming from the addition of a specialty pharmaceutical business that just doesn't have very good profitability at present. EBITDA margins fells 310 basis points and operating income fell 4%. All things considered, the fact that the company was able to trim some of that gross margin list through tighter operating spending is a positive, but it highlights some of the profit challenges facing the company today.
The Elephant In The Room – Will Medicare Stomp On Rates?
Lincare has long operated a business that is heavily dependent upon Medicare and Medicaid – roughly two-thirds of revenue comes through those channels and about half of the company's revenue is exposed to competitive bidding. Right now the company is in the midst of another Medicare bidding cycle and there are fears in the analyst community that Lincare will ultimately see about $75 million in revenue and $0.50 in EPS evaporate in the face of 30% cuts.
Admittedly this is nothing new – Lincare has been dealing with rate revisions for a long, long time now. Unfortunately it doesn't look like there's any reason to expect it to get better soon – while bulls can point to the aging Baby Boomer population as a growing source of future customers, the huge budget issues in the U.S. (particularly as they pertain to Medicare) suggest further pressure on reimbursement rates.
There is not much that Lincare investors can do about this risk. If you want a stock with less Medicare/Medicaid risk, think of lab names like Quest Diagnostics (NYSE:DGX) and LabCorp (NYSE:LH), ambulatory centers like Amsurg (NASDAQ:AMSG), or even nursing services providers like Skilled Healthcare (NYSE:SKH). For providers like Lincare, Amedisys (NASDAQ:AMED), and Fresenius (NYSE:FMS) it's just part of the business model.
Creative Solutions To A Constant Problem
Luckily, Lincare has some options. Lincare's background is in home oxygen therapy, but the company has built up an infusion business as well. More recently, the company added a specialty pharmaceutical business and further acquisitions along these lines are likely. While these moves do not necessarily shield the company from reimbursement issues, they at least diversify the risks and give the company some additional growth levers.
Moreover, consistent rate cuts are not universally terrible. Home respiratory care is still a very fragmented market; Lincare has been an active acquirer, but small local firms are still more than 40% of the total market. Not only can Lincare buy smaller providers in areas where they lose out on bidding, but lower rates make it even harder for small, less efficient providers to stay in business and Lincare can scoop these up, add the revenue, and lever it through their own overhead.
The Bottom Line
Lincare does look cheap right now, even assuming that the company is pretty much stuck with free cash flow conversion rates well below historical levels. There is a growing patient population to address and Lincare's scale gives it an unrivaled ability to survive despite the ongoing erosion in reimbursement rates.
Still, while there is value here investors must be cautious. There is significant sentiment risk as this current bidding cycle moves on and investors seem less than thrilled with management's new ventures into areas like specialty pharmaceuticals. Luckily, management has proven that it is up to the task and the odds are good that Lincare will continue to morph into a diverse service company that reap more revenue from the aging U.S. population.
Disclosure: I have no positions in any stocks mentioned, and no plans to initiate any positions within the next 72 hours.