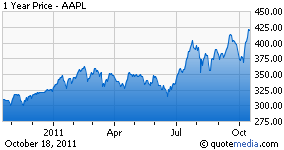 Apple's (NASDAQ:
AAPL
) quarterly report disappointed investors with earnings per share of $7.05 vs. the consensus expectation of $7.39. And as you might expect, the stock is down in after-hours trading (around $396 as I write this).
But even though the earnings didn't meet expectations, the company managed to add another $5 billion to the cash on its balance sheet – for a total of more than $81.5 billion.
That's only a 7% increase from last quarter, but it's still a lot of money. Here's a look at how the company's cash balance has grown over the past three years or so.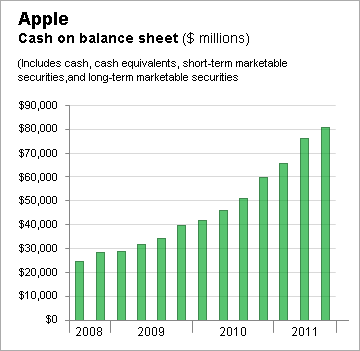 For purposes of this chart, "cash" includes "cash and cash equivalents" plus the company's highly liquid short-and long-term marketable securities.
And here's how this data looks on a per share basis. Cash now represents about $87 per share. That seems like a lot for a company trading around $396 right now.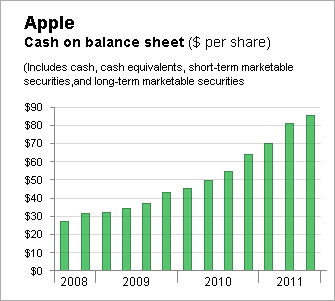 I haven't yet listened to the conference call. I suppose many questions will be asked about earnings and revenues. But that "800 pound gorilla" issue could come up: What should the company do with all that cash.
Now that Steve Jobs is gone, the company's board and management team will likely find itself under pressure to institute a dividend or pay a special dividend to return some of the cash to shareholders.
Some seem to think that if the company does that, it becomes "another Microsoft" – in that once a company begins to do something like that, growth stalls and the company's best days are behind it.
In short, some view the company's growing cash balance as some sort of a "problem."
I disagree. Or let's put it another way. Flash back to 2009 when the company had "only" $40 billion in cash. If you knew that the cash balance would top $81 billion by late 2011 would you not have invested in the stock? Would you have taken the view, "No way am I investing in a company that just accumulates massive amounts of cash and never seems to do anything with it?"
Not me. I'm actually kind of pleased to own a company that has that kind of dry powder available.
So if this is a problem, it's a "high quality problem." As long as the company doesn't make any dumb acquisitions, I'm OK with the status quo. And if I get some of the cash back in the form of a special or regular dividend, I'm okay with that too.
Disclosure: I am long AAPL.