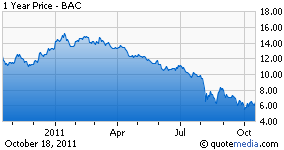 I am going to preface this article by saying that I am still very bullish on Bank of America (BAC). That being said, my faith in "America's bank" is starting to erode, just a tiny bit.
The third quarter earnings report is nothing to be happy about. It contains a lot of "positives," and skips over the obvious negatives ( the report stresses year-over-year improvements and downplays the quarter over quarter deterioration). After seeing all of the other big banks post similar earnings, this disappointing earnings report was not unexpected. The most worrisome issue that stood out to me was that most of its business segments are dealing with both lower sequential revenues and higher/constant expenses. There are several other things that continue to weigh on Bank of America ... the European debt crisis hasn't been solved, Bank of America still has several pending lawsuits, interest rates are at historic lows (cutting down on interest margins), predictions of recession are flying back and forth, and the majority of the "earnings beat" was due to accounting gimmicks and the sale of CCB shares. All of these issues point to lower future earnings (possibly losses) in the next few quarters. However, there are several positives that stand out:
All of the big banks have posted similar earnings. Bank of America is not an outlier. This quarter has been a problem for the banking industry as a whole.
They reduced their Risk Weighted Assets by $33 billion. This reduces the amount of capital required by Basel III.
Average deposits increased by $77 billion. The bank is still trusted by depositors. In addition net new consumer and small business checking accounts increased Q/Q.
Bank of America reduced its short-term debt by $17 billion and its long-term debt by $28 billion. Would a bank with liquidity problems be paying down debt at this point?
Bank of America extended a total of $141 billion in credit this quarter alone.
Management continues to focus more on the consumer banking segment by hiring more small business and personal financial advisers.
Bank of America continues to work through its Countrywide legacy issues. They now have 6,500 full-time employees working to bring these issues to a close. They have performed over 50,000 loan modifications this quarter.
Net charge-offs decreased by $500 million sequentially, and non-performing loans, leases and foreclosures decreased by $1 billion sequentially.
My Position
As of this writing, Bank of America shares closed up almost 10%. I sold my shares in Bank of America when it hit its highs last Wednesday. I fully expected these earnings (as in, the earnings beat came from debt valuation, asset sales etc.) and Bank of America stock price to drop below $6/share. Obviously, I was completely wrong on the immediate price direction, but I do not think that the stock can sustain these current prices. I am looking to start averaging back in around $6/share.
Conclusion
Despite all of the issues weighing on the financial sector, I strongly believe that Bank of America, and all of the other big banks such as Goldman Sachs (GS), J.P. Morgan Chase (JPM), Citigroup (C) and Wells Fargo (WFC), are buys. It seems as if most, if not all, of the potential and current bad news is priced in. If you have a long time horizon (three to five years), and you can deal with the day to day swings, I would recommend buying any one of these stocks. The key is to pick a good entry point. Remember, buy low and sell high, and do your own due diligence.