I have been using the O-Metrix grading system as a simple valuation tool to perform a quick scan on the stocks. Based on this technique, investors can make a connection between earnings growth, dividend yield, and current valuation. I continously work on sector specific estimations to check the feasibility of this methodology. This article, the 5th in series, questions this ranking methodology to see whether it works on technology stocks. Here is a brief review of this system:
Review of O-Metrix
O-Metrix is a simple grading technique based on stock's dividend yield, future expectations, and current valuation.
O-Metrix = [(Dividend Yield + EPS Growth) / (P/E Ratio)] * 5
Dividend Yield: Higher is better.
EPS Growth: Higher is better.
P/E Ratio: Lower is better.
The original method defined in Prof. Siegel's book, Stocks for the Long Run, describes this metrics as follows:
A rule of thumb for stock valuation that is found on Wall Street is to calculate the sum of the growth rate of a stock's earnings plus its dividend yield and divide by its P-E ratio. The higher the ratio the better, and the famed money manager Peter Lynch recommends investors go for stocks with a ratio of two or higher, avoiding stocks with a ratio of one or less.
I multiplied the original formula by 5 to get a scale over 10. The back-testing of this valuation technique on 40 large-caps shows that O-Metrix works very well over the long-term, such as 5 years.
Methodology
In order to test the model, I collected the company datas from Morningstar. The database includes three simple parameters:
2006 dividend yield
2006 P/E Ratio
5 year annualized EPS growth (between 2006 and 2011)
Next, O-Metrix score for 2006 data is calculated using the actual EPS growth history. The final data includes 21 well-known technology companies. My initial intention was to include the top 22 companies. However, Baidu (NASDAQ:BIDU) was deleted from the sample, since it was a complete outlier which reduced the model's statistical feasibility. Baidu's O-Metrix score was 6.56, whereas the stock made an annualized return of 72.17% in the last 5 years.
Here is the final data:
Company Name

2006 P/E

2006 Yield

5-Year EPS Growth

2006 Score

Annual Return

Apple (AAPL)

30.8

0.00%

57.78%

9.38

39.82%

Microsoft (MSFT)

25.5

1.24%

17.63%

3.70

0.88%

IBM (IBM)

16

1.13%

18.59%

6.16

18.34%

China Mobile (CHL)

20.5

1.90%

17.07%

4.63

8.25%

Google (GOOG)

46.7

0.00%

39.28%

4.21

5.11%

AT & T (T)

18.9

3.72%

17.77%

5.69

1.97%

Oracle (ORCL)

22.2

0.00%

21.12%

4.76

10.78%

Intel (INTC)

23.5

1.98%

7.49%

2.01

3.87%

Verizon (VZ)

19.8

4.19%

-16.07%

-3.00

6.47%

Telefonica (TEF)

16.6

3.24%

20.41%

7.12

8.37%

Siemens (SI)

21.7

1.59%

11.54%

3.03

5.48%

Cisco (CSCO)

28.7

0.00%

5.57%

0.97

-6.54%

America Movil (AMX)

20.2

0.48%

21.55%

5.45

4.56%

Qualcomm (QCOM)

25.8

1.19%

9.13%

2.00

7.29%

Nippon Telephone (NTT)

18.8

1.15%

2.03%

0.85

-0.24%

SAP AG (SAP)

26.15

0.82%

4.74%

1.06

2.56%

Taiwan Semiconductor (TSM)

14.5

3.51%

17.38%

7.20

7.31%

Advance Data Processing (ADP)

24.4

1.59%

11.62%

2.71

6.38%

EMC Corp (EMC)

24.4

0.00%

13.52%

2.77

5.64%

Texas Instruments (TXN)

17.2

0.45%

15.08%

4.51

-0.44%

Nokia (NOK)

14.7

2.21%

-9.64%

-2.53

-14.79%

Average

22.72

1.45%

14.46%

3.46

5.77%
The most striking example to see the power of O-Metrix is the comparison between Apple and Cisco. In 2006 Apple was trading at a P/E ratio of 30.8, whereas Cisco had a P/E ratio of 28.7. Both companies did not pay dividends at that time. From an investment perspective, they were more-or-less priced for 30% annualized EPS growth. However, Apple has shown a remarkable growth of 58%, whereas Cisco's growth rate was only 5.57%. Given these growth rates, Apple had a top grade O-Metrix score of 9.38, whereas Cisco's grade was merely 0.97 (out of 10). Consequently, Apple returned 40% annually, whereas Cisco's annual return was -6.54.
The following graph shows the statistical correlation between the O-Metrix score and annualized return of these stocks: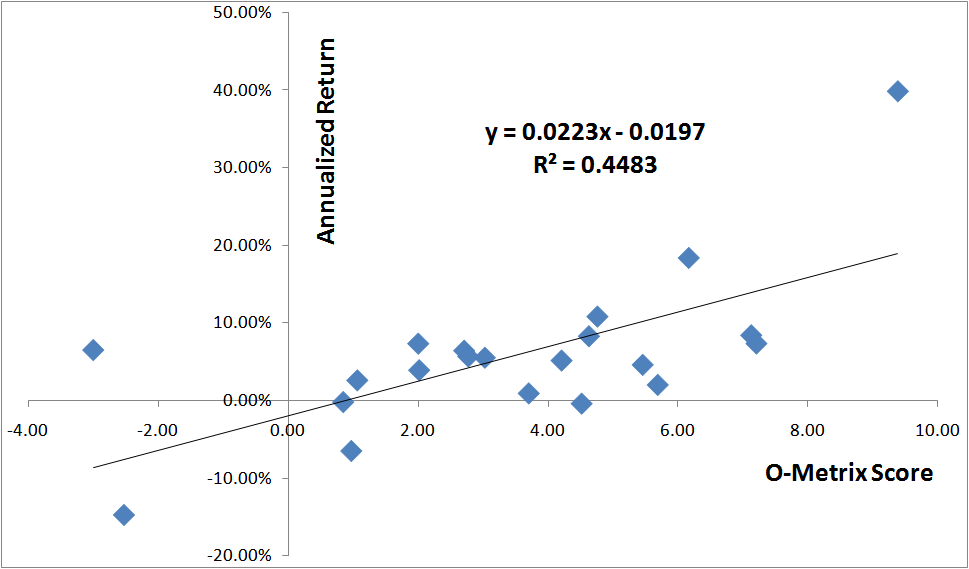 As we can see from the graph there is a strong relationship between the O-Metrix score and annualized return of these companies. Stocks with higher O-Metrix scores tend to outperform their peers. On the other hand, stocks with lower O-Metrix scores are more likely to underperform. That is one of the reasons that I look for companies with low P/E ratios, but relatively higher EPS growth potentials. The average O-Metrix scores of the technology companies in 2006 was 5.77. As of October, the equity markets have an O-Metrix score range of 4.5 – 5. Therefore, I think the markets are cheap. Technology stocks are among the cheapest stocks. I would recommend buying technology companies that have higher than average scores.
Among the stocks mentioned, here are my favorite stocks that have above average O-Metrix Scores (based on EPS growth estimates from Morningstar):
Apple:
Average P/E = 14.80
Yield = 0%
O-Metrix Score = 6.22
Intel:
Average P/E = 10.16
Yield = 3.57%
O-Metrix Score = 7.42
AT & T:
Average P/E = 10
Yield = 5.90%
O-Metrix Score = 5.15
Telefonica:
Average P/E = 7.85
Yield = 7.40%
O-Metrix Score = 7.07
Google:
Average P/E = 16.93
Yield = 0%
O-Metrix Score = 5.70
Google already reported blow out earnings and the stock was up by a marvelous 15% in the last week. Therefore, I would rather wait for a pullback before diving in. However, Apple and Intel will report their earnings on Tuesday. I am optimistic that their earning reports will move the markets to higher levels.