ETFs are huge enablers for soaring stock and commodity prices. And like their mutual fund predecessors, ETFs may have encouraged mass over-speculation that will ultimately result in a stock market crash.
ETF investing continues to be a top choice for diversification, targeted exposure, and specific strategies; but they have caused such mass speculation and have inflated prices to such an extent, that their intended benefits may actually be void and nullified by the tremendous risks and unintended consequences they have posed. ETFs have increased speculation, massively inflated stock and commodity prices, and may be responsible for the unprecedented and hugely-risky correlations across all stocks, sectors, and markets.
ETF Overview
Exchange Traded Funds (ETFs) are a revolutionary financial innovation, and provide many benefits for both individuals and institutions. Bought and sold much like stocks, ETFs are listed on exchanges and allow investors to trade them throughout the day. Like mutual funds, ETFs aim at providing diversification and exposure to a wider range of individual stocks or assets. Unlike mutual funds, however, ETFs can be traded all day, since their prices are instantaneously adjusted. Moreover, ETFs are cheaper and easier to invest in than mutual funds.
ETF Uses
ETFs represent a portfolio of individual stocks, and provide an enormous number of uses – from tracking broad stock indices (like the S&P 500 (SPY) or Russell 2000 (IWM), for example), to investing in specific themes or sectors (like technology (XLK), financials (XLF), housing (XHB)), to providing exposure to emerging markets and individual countries (emerging markets (EEM), China (FXI), Brazil (EWZ), etc.), to currency investment (US Dollar (UUP)), Euro (FXE)), to volatility (VXX), to commodities (Oil (OIL), Gold (GLD), Natural Gas (GAZ)), to bonds (TLT, TBT), and even to actively-managed trading strategies. In other words, ETFs are exceptional tools for individuals and institutions to invest in commodities, sectors, countries, bonds, currencies, strategies, and just about any investment theme imaginable. ETFs provide a way for the average person to invest in a wide basket of stocks which he otherwise would not be able to.
ETFs offer many uses for portfolio strategy and asset allocation:
click to enlarge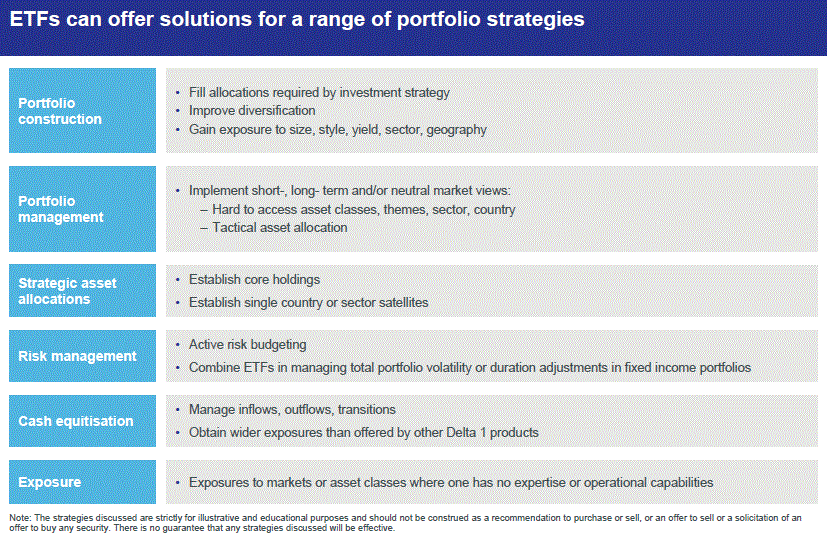 They also provide a slew of reasons why investors should use them as part of their investment approach: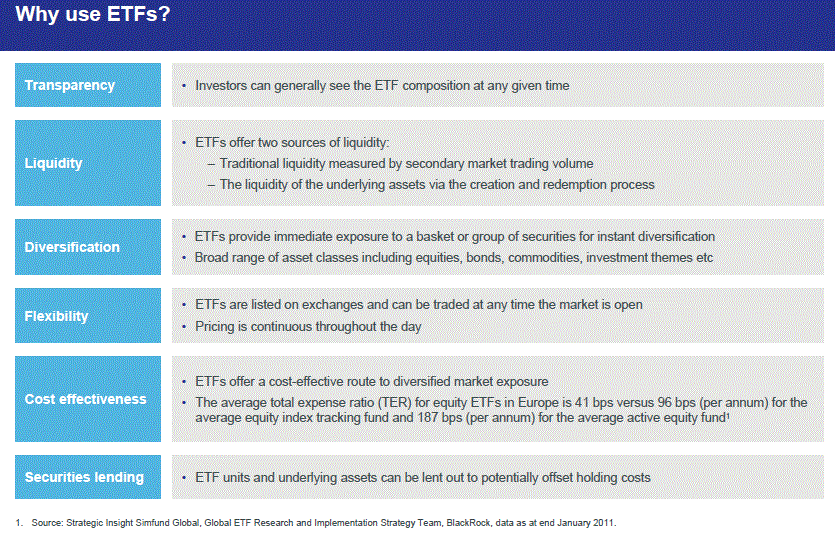 ETF Industry
With so many innovative uses and benefits, it is no surprise ETFs have grown at such a rapid and perhaps unprecedented pace. By May 2011, there were 2,747 ETFs offered by 142 ETF providers and traded on 49 exchanges – adding up to $1.446 Trillion in assets! There were also plans to launch an additional 1,022 ETFs. With such a huge number of ETFs being traded, there is no doubt that ETFs have revolutionized stock market trading – the question now, however, is "how have ETFs affected markets?"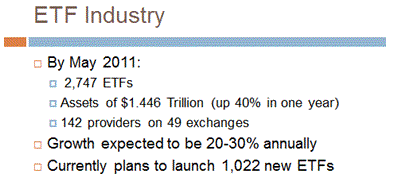 Massive ETF Growth
Since their introduction, ETFs have grown tremendously – from $0.8 billion in 1993 to nearly $1.5 trillion by May 2011: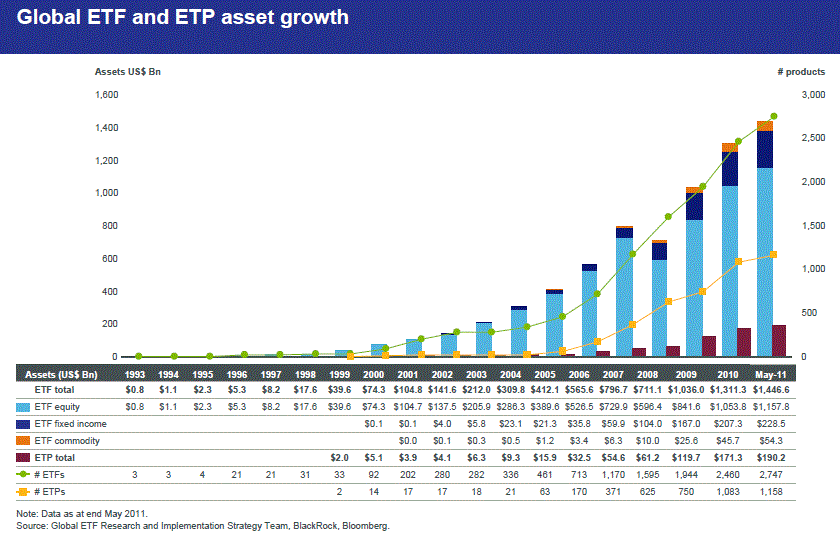 ETFs' popularity has soared largely because institutions have embraced them: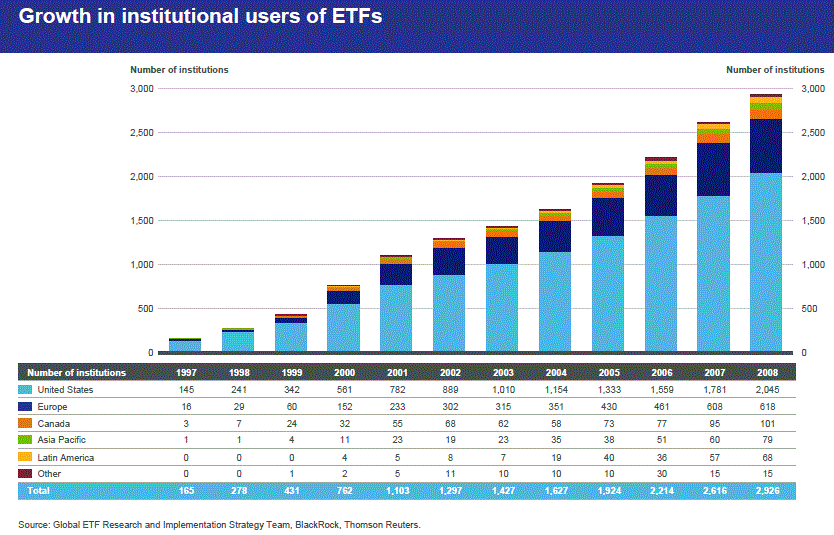 ETFs have also made it much easier and more accessible for individuals and institutions to invest in commodities: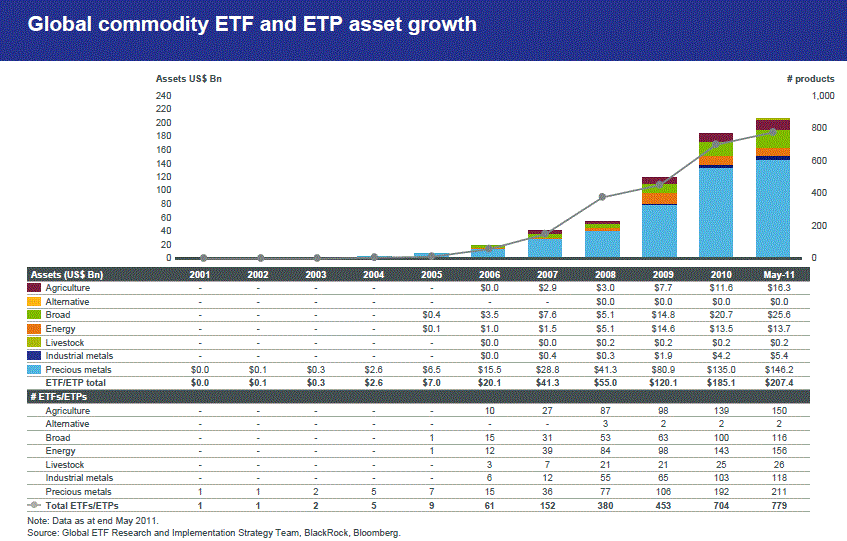 Prior to ETFs, investment in commodities such as oil, gold, grains, and others was limited to commodity traders, futures, or buying the physical commodities themselves. ETFs have provided a means for the common investor to buy these commodities from the comfort of his or her home, without any expertise or knowledge of the underlying asset. To make matters worse, the availability of these ETFs and the constant touting by the institutions that sell them, has greatly increased speculation in commodities and tremendously inflated prices. It is easy to understand why we've seen such massive rises in commodity prices over the past few years – investors have poured billions of dollars into commodity ETFs in order to profit from the shortage they expect, as China and emerging markets demand more and more commodities and raw materials for their growing economies. The major problem, however, is that it has become extremely hard to track exactly how much of this commodity price surge is due to real demand – as opposed to the inflated demand that ETFs have caused. In other words, commodity prices could be severely out of whack with reality and way beyond where they should be.
ETFs may have offered tremendous benefits when they were introduced, and still continue to offer investors a way to pick specific sectors, themes, individual commodities, etc; but we are at a point where ETFs may have created such investor frenzy and over-investment, that current prices for stocks and commodities may be highly overextended – and set for a sharp pullback.
Mutual Funds vs. ETFs
ETFs have essentially made mutual funds obsolete. For decades, mutual funds were the number one way for investors to diversify and gain exposure to specific strategies and professional money managers. The introduction of the ETF, however, has made it easier, cheaper, and more effective to invest. Mutual funds have therefore seen large outflows over the past decade, as investors who were disillusioned by terrible mutual fund performance have pulled out their money. Investors simply have no good reason to keep their money in mutual funds when so many funds actually underperform and fail to beat the market while still charging high management fees. ETFs are cheaper, easier to buy and sell, and allow investors to bet on whatever they choose.
Mutual Funds, The Technology Bubble, and The Rise of ETFs
In the technology bubble era, stocks rose to extreme levels because investors were piling into technology stocks and, most importantly, mutual funds. Mutual funds were seeing huge inflows of new investors, and the money that came into these "diversified money managers" was then being invested into the stock market – sending stock prices even higher.
Eventually, after millions of investors piled their money into these mutual funds and the stock market in general, the technology bubble collapsed, and the stock market fell, and mutual funds lost their investors billions of dollars. Average investors, professionals, people with retirement accounts like 401ks or IRAs, and others lost a large chunk of their investment value.
Mutual funds are essentially an investment fund led by one or more portfolio managers. These managers accept investments, trying to invest the funds appropriately in order to make their investors profit. Most funds, however, charge a management fee just for investing. Even if the fund does not gain for the year, the manager may still get paid for managing the investors' money. The investor is actually worse off in the mutual fund than if he owned a stock of the broader market. In other words, the fund manager did worse than the overall market, when he was actually hired by the investor to beat the market.
It is no surprise then, that mutual funds lost a lot of their appeal when the tech bubble burst and when NASDAQ and stock markets fell from 2000 to 2002. A new financial instrument was about to launch into mass popularity – the ETF. Since so many mutual fund managers couldn't beat the market, why should investors keep their money invested there? If investors just bet on the overall market they could've beat the mutual fund's returns. Yet there were few if any ways for investors to invest in the broad markets; investors would have to buy a very wide selection of stocks that represented the whole market, and track each of those positions to closely monitor the portfolio allocations. The average, and even the professional, trader simply don't have the means to buy so many stocks and monitor them closely. Yet diversified exposure to the overall market was still available mainly through mutual funds.
The innovation of ETFs, however, largely cuts out the middle man (portfolio manager), lowers fees, and allows investors to invest in broad themes and overall stock indices that track markets. In other words, if the mutual funds were failing to beat the market, why not just bet on the market? ETFs were invented to very closely track the overall markets or sectors by buying a proportional share of stocks to mirror an index or sector. Investors now had an investment vehicle that was pretty much automated, cutting out the costly middle man and eliminating poor investment choices. Instead, investors could now just "buy the market" and expect the 8% return that the market averaged per year, going back 60 or more years.
Irrational Exuberance in ETFs?
ETFs are undoubtedly an amazing innovation in investing, but may have also helped create over-speculation and unwarranted price increases in the underlying stocks and commodities. By offering an easy, cost-effective, and highly-intriguing way of investing, ETFs have created the illusion that investing is less risky than it really is. ETFs have also massively boosted stock and commodity prices, as investors who were once not able to invest in certain stocks or commodities now bid up the prices of the underlying stocks and commodities by buying ETFs.
ETFs are huge enablers for soaring stock and commodity prices. And like their mutual fund predecessors, ETFs may have encouraged mass over-speculation that will ultimately result in a stock market crash.
In his award-winning and best-selling book "Irrational Exuberance", Robert Shiller warned of massive stock market and housing bubbles. In the book, he points to a number of precipitating factors that have allowed stocks to become so dramatically over-valued. One of them, was the growth of mutual funds. Unfortunately for us, the points Shiller made regarding mutual funds can easily be applied to ETFs. In other words, mutual funds caused the stock market overvaluation in the late 1990s, and ETFs may have caused the stock and commodity overvaluation over the past few years. If the similarities are a sign, we may be setting up for a sharp drop in stocks and commodities.
Referring to Mutual Funds, Shiller says:
"Another reason for the funds' explosive growth is that they have paid for a great deal of advertising. Television shows, magazines, and newspapers frequently carry advertisements for them, and active investors receive unsolicited ads in the mail. Mutual funds encourage more naïve investors to participate in the market, by leading them to think that experts managing the funds will steer them away from pitfalls (50)."
Just like mutual funds, ETFs have grown so rapidly largely due to constant advertising on TV, magazines, newspapers, and the internet. And just like mutual funds, ETFs encourage more naïve investors to participate in the market by leading them to think that "diversification" these ETFs offer will steer them away from losses.
"The proliferation of equity mutual funds has therefore focused public attention on the market, with the effect of encouraging speculative price movements in stock market aggregates, rather than in individual stocks (Shiller 50)."
Somewhat different, but very much the same, ETFs appear to be offering "diversification" by investing in a wide range of stocks. However, this so-called "diversification" actually inflates the prices of a wide number of individual stocks – some of which may not be worthy of the investment. For example, an investor may invest in an ETF that tracks "technology stocks". His total investment is then divided among a number of different stocks that aim to represent "technology". However, while the investor was aiming to gain exposure to technology stocks, he did not choose the individual stocks that made up the portfolio – some of his investment may have been invested in a "technology" stock that has no merit; in other words, some companies in an ETF are benefiting from a broader theme (like technology) when they aren't necessarily good investments.
Take "Cloud Computing" as an example. The Cloud ETF (SKYY) was introduced for investors who would like to invest in cloud computing. Investors who wanted to capitalize on the popular theme would then buy SKYY. The money invested would then be allocated among a number of different individual stocks representing "cloud computing." An investor would therefore expect the money invested to be allocated among strong cloud-related companies like Salesforce.com (CRM), F5 Networks (FFIV), and Amazon (AMZN). However, looking at the list of SKYY's holdings (below), we can see how ETFs tremendously over-inflate the prices of companies that don't deserve the investment.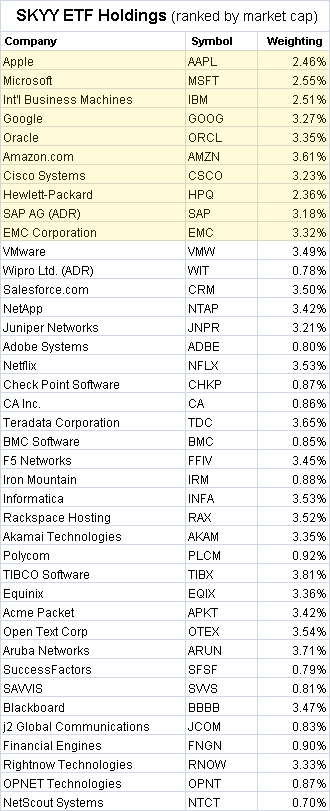 Source: http://seekingalpha.com/article/278502-skyy-what-s-in-the-cloud-smaller-stocks-that-pack-a-lot-of-punch
The best examples of ETF flaws – why should Apple (AAPL) make up 2.46% of the ETF when Apple barely has any cloud exposure? Apple just introduced iCloud; when SKYY came out, Apple had almost no cloud capabilities. Another example, Netflix (NFLX): the company is media-based and definitely not cloud-centric; even if Netflix did offer investors decent exposure to "cloud computing," giving the stock a massive 3.53% weighting (more than the actual cloud companies like CRM or FFIV) is completely insane. Netflix (NFLX) and Apple (AAPL) are therefore benefitting from the "cloud computing" theme when they don't really deserve it. ETFs therefore cause price increases in stocks that should not be taking place.
Take the homebuilders ETF (XHB) as another example. Investors buying XHB should expect to gain exposure to "homebuilders" like PulteGroup (PHM), Toll Brothers (TOL), DR Horton (DHI), and Lennar (LEN). However, looking at XHB's holdings, we can see that some of its biggest holdings aren't even homebuilding stocks! Instead, companies like Aaron's (AAN) and Tempur-pedic (TPX) – which sell electronics and mattresses – are allocated over 4% each. AAN and TPX are part of the portfolio since increased homebuilding will likely result in more buying of electronics and mattresses; but their correlation to homebuilding in no way justifies 4% allocations! While companies like AAN and TPX gain so much, the companies that really should be getting that investment (the actual homebuilders) are being ignored.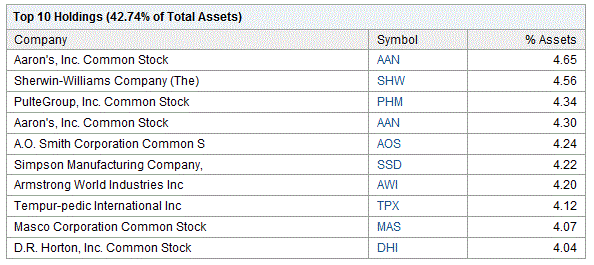 Source: Yahoo! Finance
Since the ETFs aim to diversify either within the broad market or specific sectors, they push stock prices up with little regard sometimes as to whether all of these individual companies deserve the investment. In other words, ETFs also "encourage speculative price movements in stock market aggregates, rather than in individual stocks". Yes, it is also true that ETFs allow for diversification by selecting specific sectors within the broad market; but, at the same time, even the sector-targeted ETFs are allocating the total investment capital among a number of individual stocks, some of which may not be individually worthy of the investment. It may just be much healthier for the market if investors chose individual stocks rather than trying to profit from a broader theme by investing through ETFs.
"The emerging popular concept that mutual fund investing is sound, convenient, and safe has encouraged many investors who were once afraid of the market to want to enter it, thereby contributing to an upward thrust in the market (Shiller 30)."
Likewise, ETFs with their "diversification" and "protection" benefits encouraged many investors who were afraid of investing in stocks to enter the market again, and also increased the downside risks by inflating prices and "contributing to an upward thrust in the market."
They do provide diversification among a number of stocks, as well as sector- or theme-specific funds; but ETFs have caused such mass speculation and have inflated prices to such an extent, that their intended benefits may actually be void and nullified by the tremendous risks and unintended consequences they have posed.
This huge speculative growth in investment cannot be sustained forever. Eventually, stock prices must drop to accurately reflect economic conditions and future growth – not the extremely high expectations that investors have about the future. Recessions occur, growth cannot grow exponentially forever, and stock prices must fall to clean up some of the "speculative excesses" that these investment manias produce.
ETFs are a great innovative tool that allows individuals and fund managers to invest in a wide range of stocks while also making the process easier and more efficient; but ETFs have created so much speculation and unwarranted investment that they may be serving a very similar role to the market as mutual funds served in the late 1990s – before the markets tanked. ETFs have made it easier, but also tremendously riskier.
ETFs to Blame for High Correlations?
Both ETFs and the growth of a "global economy" and interconnected markets are causes of the tremendous risks involved. Technology has advanced so rapidly, and financial instruments and derivatives are increasing the speed of trading as well decreasing the transparency of what exactly is invested in. Investment leverage has increased tremendously, and banks and investors sometimes don't even know exactly what their money is invested in.
ETFs have increased "aggregate stock price movements" in which stocks move together more than ever before. Unlike in the past, when markets still had some independence and did not move so parallel to every other market, markets today are highly affected by what goes on around the globe. If the stock market in Asia falls, the US stock markets will likely fall as well, and vice versa. Nothing displays this tremendous and unprecedented interconnectedness between markets, better than the extremely high correlations of the past year: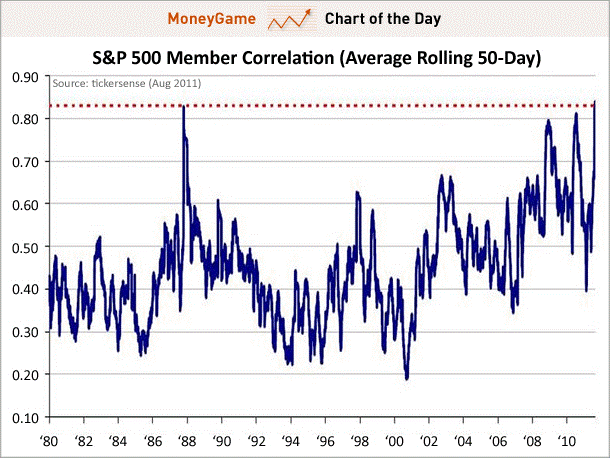 The buying of ETFs has caused stocks to move together, since investors and high-frequency-traders (HFTs) are buying and selling large groups of stocks simultaneously. By buying large groups of stocks through ETFs, investors have increased the risks tremendously – if one part of the market falls, other sectors are likely to be affected as well. Correlations have reached a higher level than they did in 1987, before the massive stock market crash.
And while foreign stocks have historically provided diversification benefits to investors, the extreme correlations now present between stocks all over the world may completely cancel out those benefits.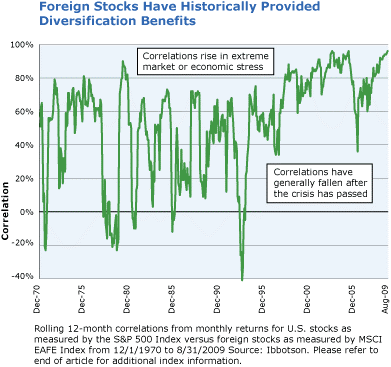 Conclusion
ETFs provide leverage, cost effectiveness, ease of investment, liquidity, and the ability to invest in a huge range of themes, markets, and sectors. But they also highly increase speculation in the broad markets (rather than just individual stocks); they inflate prices of all related companies, regardless of that company's real financial strength or weakness; and they present an "illusion of safety" when investors buy ETFs thinking they are getting "diversified" exposure with limited "market risk".
It is time to watch our investments more closely, know exactly what our ETFs are invested in, and keep in mind that there has been an extraordinary amount of speculative money invested in all forms of ETFs. The stock market may have reached a peak, and an upcoming drop or recession can severely hurt investors as the value of their ETFs drops sharply.
Additional disclosure: Chart Prophet Capital is short NFLX through put options. We may initiate positions in AAPL or GAZ.