mREITS, which are real estate investment trusts that invest in residential or commercial mortgage securities, remain one of the great stories of the year that few people have heard. But that is changing as more investors escape the volatility of the broader market in search of yields. Although mREITs have encountered significant volatility of their own, they still offer investors tantalizingly high yields, and their recent decline in share prices may offer a tremendous buying opportunity. One in particular, Hatteras Financial Corp (NYSE:HTS), has been hard hit with its share price falling nearly 20% off its high for the year. The good news is that this has driven its yield up to an astronomical 16% and it is one of the few that are currently trading below its book value. Is this a buying opportunity or a sign of trouble ahead? Let's consider the circumstances and then you can decide.
I offer three core reasons to consider purchasing Hatteras as a high-income equity:
The June 30th book value per share was $26.72. The current Hatteras stock price, $24.53, trades at 92% of its book value per share.
The dividend yield is 16.3%.
The external manager, Atlantic Capital Advisors LLC, has outperformed the SP500 (NYSEARCA:SPY) by an annual 8.2% since Hatteras' initial public offering.
(Click charts to expand)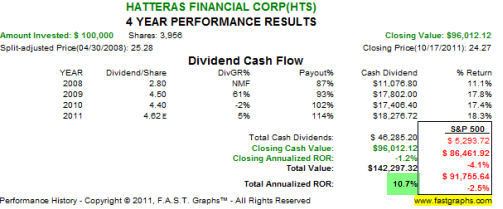 Hatteras Financial Corp., based in North Carolina, was established in 2007 as an externally managed mortgage real estate investment trust. It invests in residential mortgage pass-through securities that are backed by Fannie Mae (OTCQB:FNMA) , Freddie Mac (OTCQB:FMCC) and Ginnie Mae. Its objective is to manage interest rate risk while reducing exposure to credit risk. What distinguishes Hatteras from most other mREITs is that it focuses on hybrid adjustable-rate mortgage (ARM) loans with short effective durations. Some analysts suggest that its focus on ARMs provides investors with a sort of hedge against rising interest rates, however, few analysts view that as a near-term possibility.
As with most mREITS, Hatteras has benefited from the spread between low short-term rates at which they borrow and the high interest rate long-term securities that they purchase. So, mREITs have thrived in this Fed-driven low interest rate environment that has existed for some time. Because mREITs use leverage to purchase their securities, the earnings from their portfolios produce higher yields. And, because their portfolios are backed by the full faith and credit of the government, they have effectively transferred any risk of default from the investor to the taxpayers.
Here is the latest Hatteras "net yield spread" summary: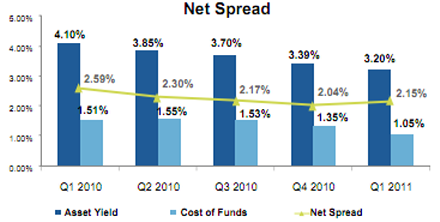 What Makes Hatteras a Buy Right Now
Many investors don't have to look beyond its 16% yield, which is well above the average yield of the sector and more than five times the yield on dividend stocks. If you didn't know anything about what is currently going on in the mREIT sector, you may view the recent volatility and steep decline in mREIT shares as a negative. But, those who closely follow the market generally feel that investor concerns over some of the recent news are vastly overblown. Concerns over increased SEC scrutiny that threatens to change the status of mREITs as non-regulated securities and administration proposals to launch a universal refinancing program to rescue underwater homeowners have been tempered by the political reality of unintended consequences that could create more problems than it solves. But, general investor jitters over all things having to do with the market have driven mREIT prices down, and with Hatteras stock currently near its low below $23, trading below its book value of $27, it may be better than simply buying on a dip. Finally, Hatteras has been one of the steadier dividend payers, and it has managed to meet its dividend expectations each of the last four years.
What Should Concern You about Hatteras
Fundamentally, there are two things about Hatteras that should give investors pause. The first is its relatively short operating history. It has only been in operation since late 2007. In that short time it has built up a substantial capitalization ($1.84 billion) but it is also one of the more highly leveraged portfolios in the sector. Any macro event, such as a change in investment status or a government imposed universal refinancing program, could be much more detrimental to Hatteras than mREITs with lower leverage.
Hatteras is exposed to higher refinancing risks due to its ARM holdings. If credit worthy borrowers can refinance at lower rates, they are likely to pursue refinancing options. This would impact the constant prepayment rate (CPR) of Hatteras' mortgage backed security (MBS) portfolio.

The above table indicates total annualized rates-of-return. The data assumes dividends are not reinvested. My top pick is American Capital Agency (NASDAQ:AGNC). This is based upon the facts presented in my article "An Interview With American Capital's Gary Kain." Gary Kain is focused upon minimizing prepayment risk, retaining book value per share, and minimizing the constant prepayment rate.
Annaly Capital Management (NYSE:NLY) owns a significant percent of fixed-rate long-duration government sponsored entity (GSE) MBS within its portfolio. I highlight the benefits of owning Annaly in my article "7 Reasons To Own Annaly Capital Management As A Dividend Stock". Annaly, in my opinion, is more likely to experience a higher constant prepayment rate than American Capital Agency. This is due to Annaly's portfolio of relatively new fixed-rate long-duration MBS.
All three names have factored in known risks based upon their June 30th book value per share and management presentations. The risk-adjusted rates-of-return should provide ample investor rewards.
Final Considerations
While the general risk to the mREIT sector has increased over the last year, it is no greater than the risks present in the stock market. For investors who want to remain invested in the market, mREITS present one of the best opportunities to diversify into yield investments that can provide significant portfolio stability while waiting for the market to turn around. As with any investment class, portfolio allocations should be weighted appropriately according to your overall risk tolerance and investment objectives.