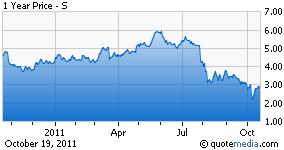 At the close of October 18th, Sprint's (NYSE:S) stock closed at just $2.88, down from the $6 it was trading at in late May and early June. Compared to its competitors' relatively flat performance in 2011, it is hard to believe that Sprint shares can stay low for much longer. In this article, I compare Sprint to its competitors and show why it may be a good investment for those who like to buy recovery stocks.
There is no doubt Sprint's drastic drop in stock price has reason behind it. Out of Sprint, Verizon (NYSE:VZ), AT&T (NYSE:T), and Deutsche Telekom (OTCQX:DTEGY) (the owner of T-Mobile), Sprint is the only company that reports negative earnings, and it is expected to continue to have negative earnings through 2012. In addition, Sprint did not sell the iPhone for quite some time and lost a lot of potential earnings because of that decision. Sprint made $32.5 billion in revenue in 2010 yet trades at a market cap of $8.62 billion. If it could reach profitability similar to other telecommunications companies like Verizon and AT&T, then its market cap can easily shoot up over $40 billion, which would be a nice return for investors. However, we have to see Sprint return to sustained profitability, which is a long way away.
When looking at the financials of Verizon and AT&T, both are very profitable companies and boast strong dividend yields. Verizon Wireless, of which Verizon Communications holds a 55 percent stake, accounts for about 55 percent of Verizon Communications' revenue yet accounts for about all of its Net Income as the rest of the company struggles to be profitable. AT&T Mobility, which is wholly owned by AT&T, accounts for about 28 percent of AT&T's revenue and about 24 percent of its employees. In addition, AT&T Mobility's revenue per employee in 2010 was $450,000, which is incredibly high compared to most industries. To make a long story short, wireless networks when fully developed are profitable operations that generate a lot of revenue from very little capital once the network is in place. Going long Sprint is a bet that it being the only major carrier with truly unlimited data and its new found leadership in customer service will help propel it to the top and make it a profitable operation.
T-Mobile USA is Sprint's closest competitor in terms of size, with 33.7 million subscribers compared to Sprint's 52 million subscribers. Despite T-Mobile's smaller size and notoriously bad service, it still managed a net profit margin of 6.34 percent in 2010. This fact suggests that Sprint is not executing a sound strategy in telecom. If this ends up being the case, I believe that a reorganization of the company or an acquisition by a smaller, more profitable carrier can occur and Sprint can take a different route to becoming profitable. Whether it rights the ship itself, or requires help from an outside party, I believe that either possible outcome will generate large returns for Sprint shareholders.
Buying Sprint does carry some risks, however. With Americans showing a general distaste for bailouts after the fallout of the financial crisis, Sprint will go bankrupt before they are helped out by the government. Its low price considers the possibility of a Sprint bankruptcy where shareholders would very likely end up with nothing. However, the amount of upside that Sprint has is impressive. If it can simply reach industry standards in terms of financial performance, shareholders can experience a 100 percent return in a few months. However, this will take some time, but I believe now is the time to buy Sprint stock if you believe in its recovers. When looking at the returns that investors made by investing in banks and other companies like Ford (NYSE:F) in when they were at their valleys in 2009, Sprint looks like an excellent buy for investors that love to take risks.
Disclosure: I have no positions in any stocks mentioned, and no plans to initiate any positions within the next 72 hours.