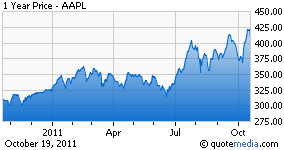 Just when you think that the company could not top its previous product release, it proves to investors that it absolutely can.
As a little boy, my father used to pull me aside and remind me of two things. First is that if something sounds too good to be true, it usually is, and secondly, nothing lasts forever. This would be true if he was talking about RIM (RIMM) and Netflix (NASDAQ:NFLX), both have seen their dominance fall drastically in recent months. But, then again, my father never invested in Apple (NASDAQ:AAPL). If he did, despite the great advice he taught me, I suspect he would have made the exception.
Apple continues to defy both logic and common sense by proving to investors time and time again that the sky is indeed the limit. The company has found ways to systematically produce golden eggs one right after the other. The result has been nothing short of extraordinary. But my father's advice continues to come into play with each successful product launch. How long can this continue? I suspect many analysts and investors are wondering the same.
In a previous article, I asked can Apple survive without Steve Jobs? Of course I asked that rhetorically, because when a company which has the reputation for sheer brilliance that Apple has, there are not many things that it can't overcome. When Steve Jobs stepped down several months ago prior to his death to assume the role of chairman, I applauded the company for having appointed Tim Cook as his successor; someone that I considered a brilliant executive. But I was somewhat hesitant at the timing of the announcement, particularly for how competition was heating up in Apple's core markets.
It was clear that Apple was being attacked from all sides from the likes of Google (NASDAQ:GOOG) and Research In Motion, and that has left many to wonder, can Apple maintain its lead without its "CVO," or what I like to call Chief Visionary Officer? Again, with its track record of solid results, this question too was rhetorical. But on Tuesday, it seems that Apple is perhaps mortal after all.
The Quarter That Was
Apple disappointed investors on Tuesday when it reported iPhone sales that were far below analysts' expectations for the recent quarter. Apple reported sales of more than 17 million iPhones in its fiscal fourth quarter ended Sept. 24. While it was an increase from the same period last year of more than 14 million, it arrived much lower than the 20 million that analysts had been expecting. On the announcement, shares of Apple, which have been on a tear over the past several weeks, dropped almost 7% to $394 during after hours after having closed the normal session at $422.
The company posted fiscal fourth quarter revenue of $28.27 billion, an increase of 39% from the year-earlier quarter, but a slowdown from 82% year-over-year revenue growth in the fiscal third quarter. Profit rose 54% to $6.6 billion, missing analysts' expectations, something that rarely occurred while Mr. Jobs was at the helm. The company said it sold 11.1 million iPads, compared with 4.19 million a year ago.
When Expectations Fall Short
Ahead of the report several prominent analysts had already raised their ratings on the stock. According to a Barrons article published on Monday the following ratings were issued:
Credit Suisse analyst Kulbinder Garcha

reiterated an Outperform rating and issued a $500 price target. He also raised his estimate for fiscal Q4, the September quarter, to $30.5 billion in revenue and $7.44 in EPS, up 7% from his prior estimate, given what he thinks were better-than-expected iPhone 4 sales last quarter. He also raised his fiscal 2012 profit estimate by 75 cents to $36.76 per share.

Citigroup analyst

Richard Gardner

raised his price target to $500 from $480 citing increased sales in his Mac and iPhone estimates. Gardner increased his fiscal Q4 Mac estimate to 4.4 million units from 4.2 million "due to strong demand for the refreshed MacBook Air" and the actual number could turn out to be higher. He also sees some mergin benefit in DRAM and NAND contract price declines.

Gardner raised his EPS estimate for Q4 to $8.54 from $8.14. He's modeling 22 million iPhone units last quarter and 28 million this quarter, though he notes the "supply chain is gearing up to build well over 30 million iPhones in calendar Q4.
These are not conservative numbers by any stretch, but this is not the first time that lofty expectations have been issued on Apple. Companies don't sport $400 stock prices by missing estimates.
What Now?
Investors will likely blame Tim Cook for the earnings disappointment, but let's not let things get out of hand. It is easy to understand that the company might have been distracted with Jobs' health situation and one has to imagine that the transition might not have been as smooth as one would expect, under the circumstances.
To fully understand how methodical and consistent Apple has been, let's look back to Q3 results. The company reported iPhone sales that grew a remarkable 142% from the previous year and 8% from the quarter prior. Not to be outdone from one golden egg to the next, sales of the iPads continued their stellar showing by doubling from the previous quarter.
Not only can Apple sell its products, more importantly it knows how to make a profit. The company's gross margin got even better; to the tune of 260 basis points. I was utterly impressed since I figured there was no way that it could top its figures from last year. Better yet, the company closed out the quarter with an impressive cash reserve of almost 80 billion.
Summary
I think it continues to be Apple's stronghold as a tech empire that prompted Google to make (what I then considered) a panic purchase of Motorola Mobility (NYSE:MMI). In fact, considering its new status as "the world's company," it has to beg the question, how long will this last?
But if I have learned anything from my father and having been in this market, prolific empires simply never last. Basically, preserving an empire not only necessitates enormous resources and managerial capacity, but it is also a mammoth challenge to grow it further, Microsoft (NASDAQ:MSFT) and Cisco (NASDAQ:CSCO) being prime examples. But Apple has the two main ingredients that could sustain its empirical dominance: It has plenty of resources and its managerial capacity is second to none. This current report notwithstanding, there continues to be no company where I most rather place my bet.

Disclosure: I am long RIMM, CSCO, AAPL.