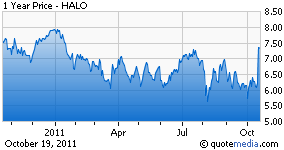 As we told our subscribers a week ago, Halozyme Therapeutics (NASDAQ:HALO) is one to watch as the company is targets a substantial improvement in the growing diabetic market space, plus multiple clinical data milestones in the near future.
The company has just announced that the Phase 3 HannaH trial, conducted by Roche (OTCQX:RHHBY), showed that women with HER2-positive early breast cancer who received a new, investigational subcutaneous (SC) injection of Herceptin® (trastuzumab), experienced comparable results to Herceptin given as an intravenous (IV) infusion. The SC administration takes around 5 minutes to administer whereas the IV formulation (the current standard) takes around 30 minutes to infuse. Since the subcutaneous administration is an injection under the skin it may allow patients to spend less time in hospital receiving their treatment versus the intravenous method. The ready to use formulation may also significantly reduce pharmacy time as no medicine preparation time is required.
"We are very pleased to see this important program achieve success in a Phase 3 pivotal clinical trial," said Gregory Frost, Ph.D., Halozyme's president and CEO. "The convenience of subcutaneous administration may provide another option for women living with early breast cancer."
Why is this announcement important to HALO shareholders? Because the company has key partnerships with Roche to apply Enhanze technology to Roche's biological therapeutics, including Herceptin(R) and MabThera(R), and with Baxter BioScience to apply Enhanze technology to immunoglobulin. Halozyme's Ultrafast Insulin program combines its rHuPH20 enzyme with mealtime insulins, which may produce more rapid absorption, faster action, and improved glycemic control.
Shares of the company have been trading sideways during the past few sessions, but they did see a higher than average volume spike (+222.31 %) on Monday and closed the day at $6.20 +0.11 (+1.81%)
HALO shares are still priced -23.74 % from their 52-Wk High ($ 8.13).
The trial met its co-primary endpoints that were trastuzumab concentration in the blood (serum concentrations) and efficacy. Secondary endpoints included event-free survival and overall survival. In the trial the most common side effects seen were infections and abnormal blood counts (anemia and low white blood count) similar to other trials with chemotherapy and Herceptin IV.
As we reported earlier, Halozyme is developing a hyaluronidase enzyme named PH20 to be used with insulin injections for a more rapid effect with greater consistency in treatment of diabetes. The company has already put the new enzyme through Phase I studies, where healthy subjects injected with PH20 were shown to have favorable results – the subjects' reaction closely mimicked the body's natural release of insulin. The company is positioned to achieve more value inflection points with additional upcoming catalysts expected in the near-term.
Disclosure: I have no positions in any stocks mentioned, and no plans to initiate any positions within the next 72 hours.