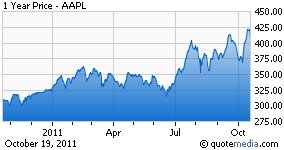 By now you know that Apple (NASDAQ:AAPL) missed analysts' estimates for its fourth quarter 2011 earnings. Despite net income jumping over 50% to $6.6B ($7.05 per share) on $28.3B in sales, the Thomson Reuters consensus was earnings of $6.9B ($7.39 per share) on $29.7Bin sales. For reference, Apple's guidance for the quarter was $5.50 per share on revenue of $25 billion. So now investors are scrambling to figure out why Apple failed to surpass the analyst estimates for the first time in years. The selling occurred immediately as Apple declining swiftly after hours and plummeted nearly seven percent to below $400. Yes it is true that Apple crushed its own forecast but that is relatively meaningless as we expect much more from Apple.
The primary reason why Apple failed to have another blowout quarter relates to the lack of a new iPhone in the fourth quarter. Despite selling 17M iPhones in the quarter the Street expected over 20M units sold. For argument sake let's simply add in this weekend's sales of iPhone 4S and Apple would have essentially met or beat the earnings target. CEO Tim Cook and CFO Peter Oppenheimer both alluded to this:
"We expected it (iPhone sell-through reduction) to be greater than 2.4 million because we knew that there was great anticipation of the June or July new iPhone because that was the pace that we have been on for the last several years ... The reduction happened largely in the back half of the quarter as the speculation hit extreme high ... we're very confident that we will set an all-time record in the December quarter for iPhone sales… We can't tell you with precision how many units we would have sold if there had not been rumors and people weren't expecting a new iPhone. But I certainly believe it was a substantial, and that's the reason that we called it out. And I think anybody monitoring the press would probably come to the same conclusion." – Cook
"We expected iPhone sales to decline in the September quarter from the June quarter as a result of the announcements we made ... in June, where we said we would launch iOS 5 and iCloud in fall." - Oppenheimer
Should the iPhone 4S have been released in the summer in the traditional launch window? Yes it probably should have. The iPhone 4S is an incremental upgrade over the iPhone 4 and should not have required Apple to delay the product launch. In light of Steve's failing health at the time and his extensive rumored work on the iPhone 5 I am going to give Apple a one-time pass. I get the impression that Apple and Jobs had hopes earlier in 2011 that the iPhone 5 would be ready but went with plan B by releasing the iPhone 4S. Rather than rushing the product to market Steve likely wanted to make sure that the last project he was intimately involved in was truly great.
If there is a silver lining to this iCloud it is that Apple's first quarter 2012 EPS guidance of $9.30 was greater than the consensus of $8.98. Should Apple's stock be punished for failing to meet the elevated earnings targets? Maybe. I do not want to sit here and make excuses by saying that the consensus estimates were elevated too high. Apple reaps the rewards of its low forecasts and must suffer the consequences as well. However, it fully appears as if Apple would have beaten the target if the iPhone 4S or iPhone 5 had been released on time.
This stumble is not a sign that Apple is falling into "average company" territory, which is what low-to-mid teen PE would signal. Apple might just not be the absolute AAA all star that it was when Steve Jobs was CEO but this is still one of the best companies in the world that needs to be in your portfolio.
Disclosure: I am long AAPL.
Additional disclosure: Disclosure: Author is long AAPL.