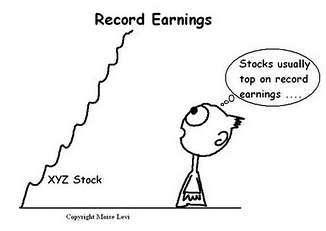 The market has been quite rangey as late with a lot of headlines coming out of Europe, earnings breaking each day and moving positions, and the continuous stream of data causes moves as well. It's hard to know if this run can continue or if we are having a dead cat bounce. We are looking at several positions that look good for each move that can be set-up to limit risk ...

What looks good for a buy right now?

Despite the fact that we have rallied strongly, there are some things that look good, and the market can continue up for as long as it continues down.


Eaton (NYSE:ETN) - The company is in the slow moving industrial goods industry with lower beta, lower risk and good fundamentals. That is the first key during uncertain times. Invest in safety. Trade in safety. We like Eaton right now for a few reasons. So far, Parker-Hannifin (NYSE:PH) has been one of the best performers of earnings season, outpacing expectations exceptionally. Some of PH's cohorts include Eaton, Emerson (NYSE:EMR) and Honeywell (NYSE:HON). Honeywell is another company we are fond of, and we think ETN may be ready to move even higher. The company looks set for a strong report next week, and they have PH along with HON to provide some catalyst. They are expected to pop earnings from 0.80 to 1.09. That 0.29 move could send ETN to 46 by earnings.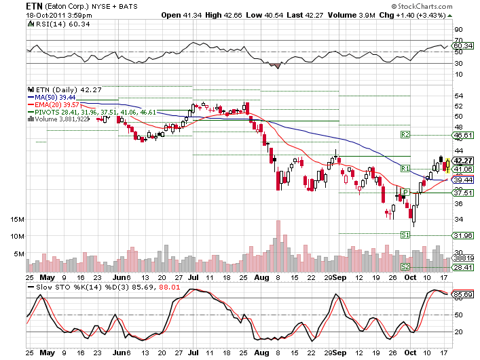 EOG Resources (NYSE:EOG) - EOG has been one of our favorite picks for earnings season, and it was one of our top five large-cap earnings picks for earnings season. The company is expecting a 300%+ increase in EPS for this quarter. The company, which is an independent oil and gas company, has been on a tear as of late. Today, the company broke through its 50-day MA, and it may be headed for more gains as it nears its earnings date. The report is due out on November 1. As long as oil prices stay above 85, this stock has a shot.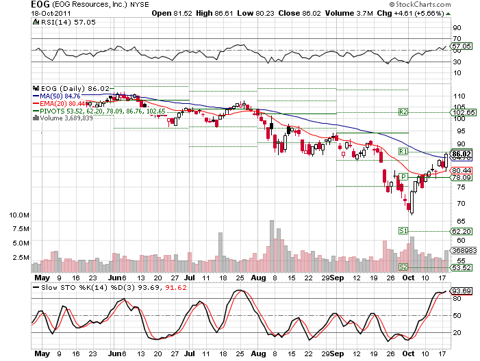 Target (NYSE:TGT) - The company actually is looking like a trader's dream. The company is primed for a breakout. They broke a key upward price channel today at 53.00 that had been providing resistance. The company could be headed for much higher prices. They are slated to report earnings next month, but they may enjoy a nice run into those earnings. Their P/E is just 12.75, and they are expecting a 4.1% increase in sales and jump in EPS from 0.68 to 0.74. Continued growth is good for this company, and they look cheap with a P/E at 12.75. We would expect to see them push towards $55 on a breakout.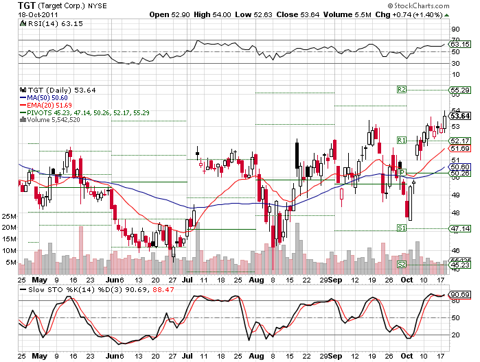 This has been a pretty strong rally ... where can we find some weakness?

Seagate Tech (NASDAQ:STX) - We are a bit skeptical about STX. While they are one of the best chip companies, we got a pretty strong signal from Western Digital (NYSE:WDC) on Monday about flooding in Thailand. The company said it did impact them fairly strongly. STX does a lot of business there, and they have commented that there have been supply disruptions due to the flooding. We are not sure how strong the impact will be, but after a jump from 9.50 to 13.00 in one half month ... we would be a seller going into Friday's earnings report.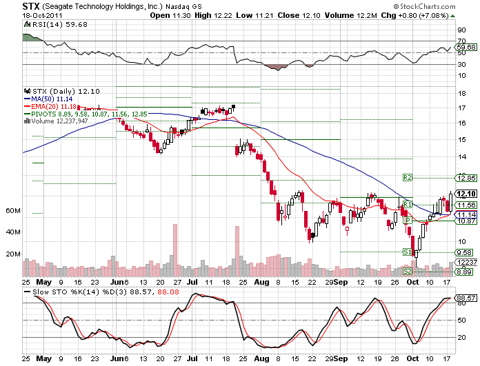 SBA Communications (NASDAQ:SBAC) - We have taken a look at shorting this stock a couple times, but it has not yet presented the opportunity. We may be at a good level coming up here as the stock is right at a key pivot resistance line as well as price pivot point that has been resistance ... 37.50 and 38.00 have been strong resistance lines for SBAC. This is a company that has not made money in years, and they continue to operate in the red. They have earnings due out on October 31st. This run looks overdone, and we would short on a sign of weakness in the market or move to 38.00.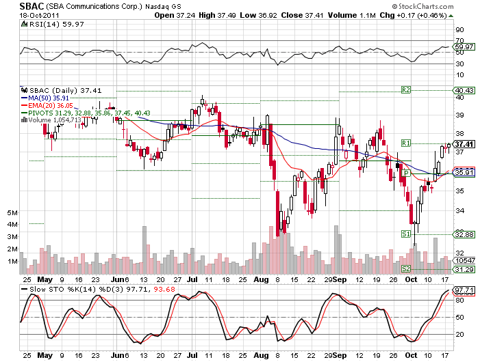 Itron (NASDAQ:ITRI) - Badger Meter (BMRI) has been one of the most disappointing earnings reports to break so far. The company reported earnings at 0.46 vs. estimates at 0.54. They saw a 7% drop in revenue. ITRI is the most similar company, and the company felt the pain today along with BMRI. They report earnings on Oct. 26, and we are not liking the move into that. The company is looking at a drop from 1.06 to 1.04 on EPS as well as a 1% growth in sales. The company broke its 50-day MA today and a key pivot point. The stock could see more selling into earnings as BMRI has set a poor standard.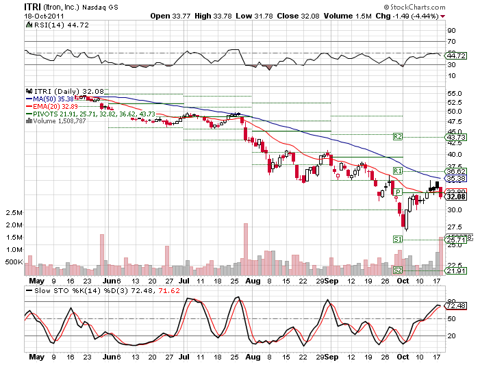 Disclosure: I have no positions in any stocks mentioned, but may initiate a long position in EOG, ETN, TGT over the next 72 hours.

Additional disclosure: I may short SBAC, STX, or ITRI in next 72 hours.