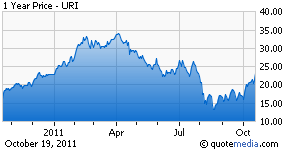 United Rentals (NYSE:URI) reported record margins and utilization rates after the close yesterday. Though construction demand in the US remains weak, URI continues to report record numbers. Earnings of $.92 easily beat estimates of $.76.
Rental revenue increased 19% year-over-year due mainly to a 15% increase in volume. Time utilization was 73.5% and a record for the company. At that level, the company has very little down time for the large construction and industrial equipment it rents to construction and industrial customers, utilities, municipalities, homeowners, and others.
Per the conference call, a customer survey suggests that URI customers don't expect a double dip recession in 2012. With only 14% of customers expecting a decline in 2012, this suggests a robust rental market going forward and completely contrary to the fears of a weak economy.
URI expects to increase capital expenditures which suggests that construction equipment companies should benefit. One such company would be Terex (NYSE:TEX) that sells aerial lifts, forklifts, earthmoving equipment, and trucks to URI. Deere (NYSE:DE) and Oshkosh (NYSE:OSK) also sell numerous items through such rental companies.
One concern for buying the equipment stocks based on this news is that customers are renting instead of buying. Similar to how companies hire temp employees first before hiring full time employees. Clearly this doesn't signal a fully functioning market, but it does indicate growing end user demand as equipment ages after 4 years of reduced spending.
URI is up over 10% today on the news. Amazing that the stock dropped from a 52 week high over $34 in just April to a low in the $12s. The stock has already doubled from the lows in just two months. TEX on the other hand had a similar but larger drop. With the stock trading in the mid $13 range today it might have better upside considering the lack of demand destruction suggested by the stock drop.
Third Quarter 2011 Highlights
Rental revenue increased 19.1%, reflecting year-over-year increases of 7.5% in rental rates and 15.0% in the volume of equipment on rent. The company has updated its outlook for an increase in rental rates to about 6% for the full year.
Time utilization was 73.5%, an increase of 2.2 percentage points from the same period last year, and a record high for the company. The company has raised its outlook for a full-year increase in time utilization to approximately 3.0 percentage points year-over-year.
The company generated $42 million of proceeds from used equipment sales at a gross margin of 35.7%, compared with $32 million of proceeds at a gross margin of 31.3% for the same period last year.
Adjusted EBITDA was $282 million, an increase of $66 million compared with the same period last year. Adjusted EBITDA margin was 39.6%, an increase of 3.9 percentage points compared with the same period last year, and a record for the company.
Disclosure: I am long TEX. Please consult your financial advisor before making any investment decisions.