We're always on the lookout for top dividend-paying stocks that are off the beaten path, and these two names are great candidates. Both of these companies combine strong long-term growth prospects with high dividend yields while you wait.
Medallion Financial Corp. (TAXI) is a rare combination of small-cap stock with growth potential and a hefty dividend yield. TAXI is a leading financer of taxi cab medallions in New York, Boston, Chicago, Philadelphia and Baltimore). To be able to operate a licensed cab in NY (and elsewhere), you need a medallion. Some taxi cab drivers actually own their medallions individually, but most work for cab companies that own the medallions. Like liquor licenses, the supply of medallions is very tightly controlled by the city. As a result, the value of a medallion has steadily increased over the years, and now costs as much as $975,000! That's correct – in New York City, it costs almost a million dollars to operate a cab, and this price continues to rise at an average of about 15% a year. These medallions are essentially a small business, and require financing as such -- and TAXI is in the sweet spot to capitalize on this demand. A city proposal to charge private cars to enter Manhattan during peak hours (a "congestion pricing plan") would push medallion prices up even further.
The company has about $650 million in outstanding loans and had net income of $4.1 million for Q2 2011, up 29% over the second quarter last year. TAXI's net interest margin is about 6.4% (the difference between the rate it charges on its loans and its cost of financing) and the company recently secured long-term financing from Citibank that should allow them to leverage that spread, thus increasing their ROE from the high-single-digits to about 15%. Andrew Murstein, president of Medallion Financial, said, "… we continue to experience zero losses on any taxi medallion loan we have originated in the history of the company, and our loan-to-value ratio on our entire medallion portfolio is under 50%." The company is also ramping up its business lines in other niche markets, like boats and RVs.
This is a safe 7% dividend in a niche strategy that has definite upside over the next decade.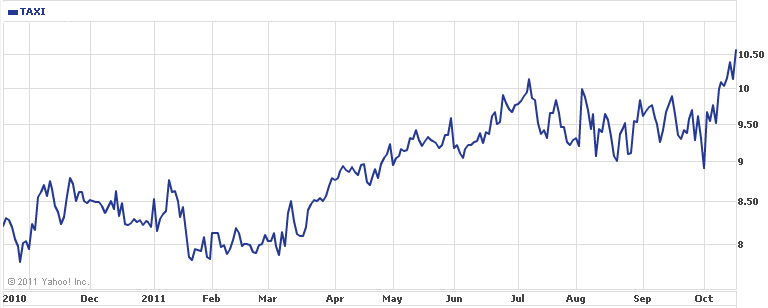 Click to enlarge
BCG Partners Inc. (NASDAQ:BGCP) is an electronic brokerage that services both retail and institutional clients. The company executes very well, however, as evidenced by its solid dividend yield (10%) and rapid increase in earnings (it's grown earnings nearly 10% a year for the last 5 years). It also has a solid balance sheet and trades at a P/E of about 7.5, and should continue to benefit from continued trading volumes in U.S. fixed-income securities and foreign interest rate derivatives.
It owns 25%+ shares of the electronic futures exchange ELX, which is growing rapidly. Furthermore, about 50% of the dividend (technically a distribution) is actually a return of capital. What this means is that some portion of each distribution is treated as a return of capital, which reduces your cost basis in the stock. This can have tax benefits, and means that when you sell, your cost basis is not what you paid, but actually the new calculated basis after the return of capital. This is similar to how MLPs distribute money.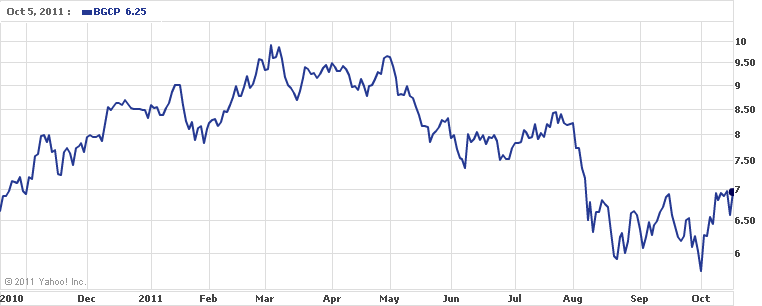 Click to enlarge
Disclosure: I am long TAXI.