There are four exchange-traded vehicles with sufficient volume that a master limited partnership (MLP) enthusiast should consider. More specifically, for those investors who do not wish to pick individual securities, there are several diversified MLP products offering the possibility of capital appreciation and the certainty of a solid income stream.
First, a quick primer on energy pipeline partnerships. Energy MLPs typically own the pipelines that transport crude oil and natural gas throughout the country. Although the underlying commodity can affect their price, the more significant driver tends to be genuine supply and demand. Most importantly, investors often buy MLP shares as "income producing properties," since the distributions often range from 5% to 7%.
There are many reasons for investors to avoid individual MLPs, from the tax headaches to the difficulty in identifying the best prospect. Yet the reasons to gain MLP exposure via an exchange-traded vehicle are increasing by the minute.
1. Technical Uptrend. A number of stock ETFs may have risen above a shorter-term, 50-day moving average. Yet very few have recovered a longer-term 200-day trendline. UBS MLP Alerian Infrastructure (NYSEARCA:MLPI) has done exactly that. What's more, it boasts "higher lows" since the month of August.
Click to enlarge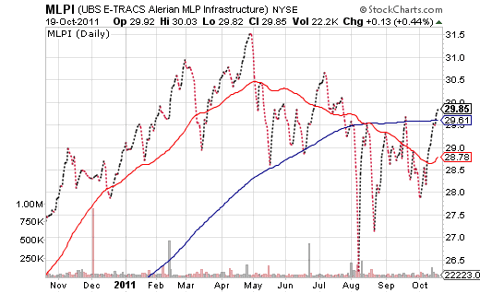 Click to enlarge
2. Attractive Yield Spread. The ALPS Alerian MLP ETF (NYSEARCA:AMLP) currently boasts a 6.2% annualized yield. The historical spread between 10-year treasuries is currently 400 basis points, when it might normally be closer to 250 basis points; the yield spread between AMLP and the iShares 20+ Year Treasury (NYSEARCA:TLT) is also wider than the historical average. Topping it off, AMLP has genuine potential for capital appreciation, while individual treasury bond debt matures and is currently priced near record lows.
3. Low Correlation With Other High Yield Instruments. In a play-by-play financial crisis (e.g., subprime 2008, sovereign debt 2011), virtually all risk assets move together. The most troubling aspect of the "risk on-risk-off" phenomenon is the difficulty in diversifying one's portfolio with low-correlating assets.
That said, the JP Morgan Alerian MLP ETN (NYSEARCA:AMJ) has very slight negative correlations with a number of high-yielding investments. The one-year correlation coefficients with SPDR Select Utilities (NYSEARCA:XLU) and iShares JP Morgan Emerging Market Bond (NYSEARCA:EMB) are -.09 and -.30 respectively.
Exchange-Traded Products For MLP Exposure
Approx Ann % Yield
YTD (1/1-10/19)
JP Morgan Alerian MLP (AMJ)
5.3%
3.5%
UBS MLP Alerian Infra (MLPI)
5.3%
4.6%
ALPS Alerian MLP (AMLP)
6.2%
1.2%
Cushing 30 MLP (NYSEARCA:MLPN)
5.5%
0.0%
S&P 500 SPDR Trust (NYSEARCA:SPY)
2.1%
-2.3%
Disclosure: Gary Gordon, MS, CFP is the president of Pacific Park Financial, Inc., a Registered Investment Adviser with the SEC. Gary Gordon, Pacific Park Financial, Inc, and/or its clients may hold positions in the ETFs, mutual funds, and/or any investment asset mentioned above. The commentary does not constitute individualized investment advice. The opinions offered herein are not personalized recommendations to buy, sell or hold securities. At times, issuers of exchange-traded products compensate Pacific Park Financial, Inc. or its subsidiaries for advertising at the ETF Expert web site. ETF Expert content is created independently of any advertising relationships.