Microsoft (MSFT) reports fiscal first quarter earnings on Thursday, October 20th, after market close. The whisper number is $0.65, three cents short of the analysts estimates. Microsoft has exceeded the whisper number in 30 of the 52 earnings reports we have data.
Trading on an earnings event requires an understanding of post earnings price movement, both after hours and intra-day. We'll take a look at the average post earnings price movement, when those moves occur, and if Microsoft presents an earnings trade opportunity.
Since Microsoft reports earnings after market close, it's important to look at after hours trading activity. Over the past four quarters the average price move in after hours trading following their earnings reports is +0.5%, a limited and positive price move. In other words if you took a long position prior to the past four earnings reports you were on the right side of the trade in only two out of four trades.
The average price move during next available intra-day trading (market open to market close) for the past four quarters is -2.5%. A limited and negative price move. The average price move within five trading days for the past four quarters following their earnings reports is -4.0%, a decent negative price move.
Longer term earnings analysis (last four years of earnings) shows the company tends to see (on average) price movement of -1.6% (intra-day) in one trading day following their earnings report, and price movement of -1.4% in five trading days.

Microsoft has topped the whisper number in the past four quarters. Short term they've lacked a consistent price reaction. In fact, in each of the past four quarters Microsoft has traded lower following their earnings release. In the comparable quarter last year, Microsoft topped the whisper by five cents and the stock traded 3.3% higher after hours, but gave back 1.8% during the next days trading.
And take a look at the table below: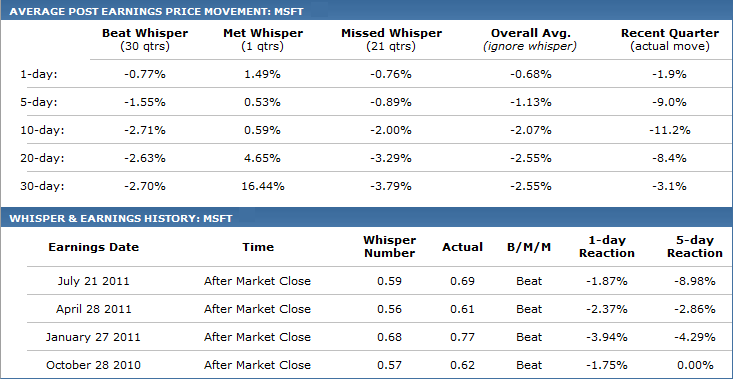 As you can see from the table above, beat or miss the whisper and the average price movement is lower. On average Microsoft has seen negative price movement of 2% in ten trading days following earnings, and a loss of up to 3.8% within thirty trading days following earnings.
Other factors that may influence post earnings price movement:
The majority of investors polled are expecting the company to provide a neutral to negative outlook:
Positive 0.0%
Neutral 50.0%
Negative 50.0%
Microsoft has a 58% positive surprise history (having topped the whisper in 30 of the 52 earnings reports for which we have data).
Beat whisper: 30 qtrs
Met whisper: 1 qtrs
Missed whisper: 21 qtrs
The whisper numbers have proven more accurate than analysts estimates over the past twelve earnings reports.
Summary: The whisper number is showing no confidence this quarter as it is three cents short of the analysts estimates. The average price movement (after hours) is very limited but positive. The average price movement (post earnings intra-day, long or short term analysis) is relatively limited and negative. There is no short term consistent reaction to the whisper number, but we do see a consistent negative price reaction when all data is reviewed. Averages dictate that Microsoft will either top or meet the whisper number. There is no confidence from investors for Microsoft's next quarter's outlook. If you're looking for a quick pop, overall data indicates Microsoft is not a viable short term (long position) earnings trade opportunity. Data does however, present a viable opportunity for a short position through thirty days following earnings.
************************************
All trading involves risk and the information presented is not intended to be a recommendation of any kind.
When analyzing the data we collect, the most important aspects are how a company reacts to beating or missing the whisper number, the average post earnings price movement, and in what timeframe (see link in profile to receive alerts). Keep in mind that trading on whispers is a technical play on market psychology, rather than a bet on a company's fundamental strengths.
A company's 'reaction' to the whisper number expectation is the key - on average companies that exceed the whisper are 'rewarded', while companies that miss are 'punished' following an earnings report.
According to the Wall Street Journal, "the percentage of companies that have beaten expectations often is cited as a barometer of corporate profitability, an indicator of how well the economy as a whole is doing or a predictor of where the stock market is going. What goes unsaid, however, is that these positive surprises are becoming so common they are nearly universal. They are predetermined in a cynical tango-clinch between companies and the analysts who cover them. And there is no reliable evidence that the stock market as a whole will earn higher returns after periods with more positive surprises."
"In short, there isn't anything surprising about earnings surprises. They aren't the exception; they are the rule. "All the numbers are gamed at this point," says James A. Bianco, president of Bianco Research."
Whisper numbers provide the unbiased earnings expectation proven more significant than the analysts estimates.