China pretty much wrapped up its key economic data releases this week. As always there's plenty of stuff for everyone amongst all the various data-points and sources. So this article attempts to digest some of the data and figure out what it means for the near and medium term outlooks for China's economy and markets.

1. GDP Growth
China reported a hardly-unimpressive 9.1% y/y growth rate in Q3 this year, with a very slight up-tick on a sequential basis. Indeed, the result was so good that Chinese stocks sold-off following the announcement because activity had not slowed down enough to get rid of the pesky headwind of tight monetary policy. Indeed one of the PBOC's advisors more or less affirmed this conclusion.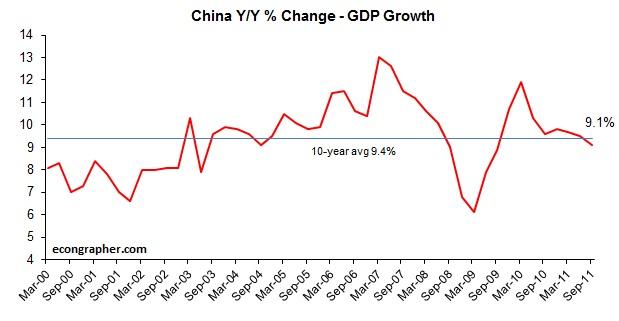 2. Inflation
And the reason why we're unlikely to see policy easing shortly is pretty evident in the graph below. If the global situation doesn't deteriorate too much, and provided that none of the pressures in China's politico-socio-economic system don't erupt, then inflation will continue to be one of the main worry points. Tail risks aside, it is still the case that in terms of China's economy, inflation and overheating still trumps downside growth risks on the worry list. This will probably mean further headwinds for investing in terms of liquidity conditions, but if earnings keep growing then, whether assisted by valuations or not, prices will eventually be pulled along for the ride.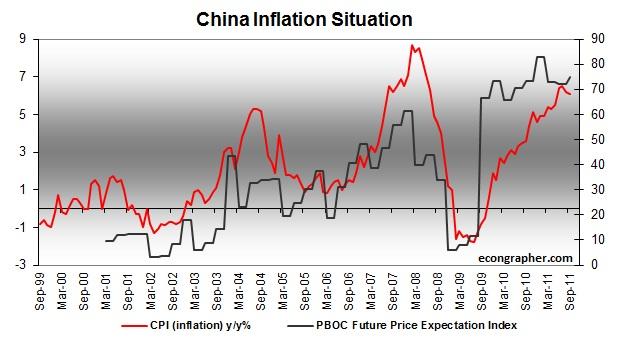 3. Industrial production
Another envy point for China is still double digit industrial production growth, 13.8% in September. The key point here is that industrial production is proving to be relatively resilient. The latest PMI results showed that while the inventory cycle looked to have worked through over the past couple of quarters, new orders remained expansionary, and slightly more-so than new export orders. A lot of people link China's industrial production activity purely to external demand, and there is that, but there's also a lot of people and businesses in China that need stuff, and want stuff. If you've been to China it doesn't take much perspicacity to visually draw the links between what you see around you in terms of demand for all manner of stuff, even from a relatively small sample size.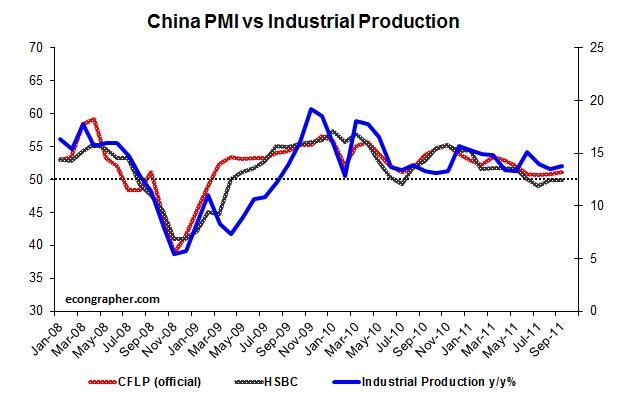 4. International trade
Ignoring the less perspicacious denizens of Washington and their eternal Yuan-angst, China has seen both exports -and- imports rise to a record high on a quarterly basis. While the trade surplus has visibly rebounded, on a trend basis it's not that great; but it's still marginally positive for GDP in the traditional sense. But this is one area that you can get a little pessimistic on in terms of international demand. Though, by way of thought experiment; if another round of recession hit, then China's exports would see at least a baseline of demand for low-cost budget items from cost-conscious consumers...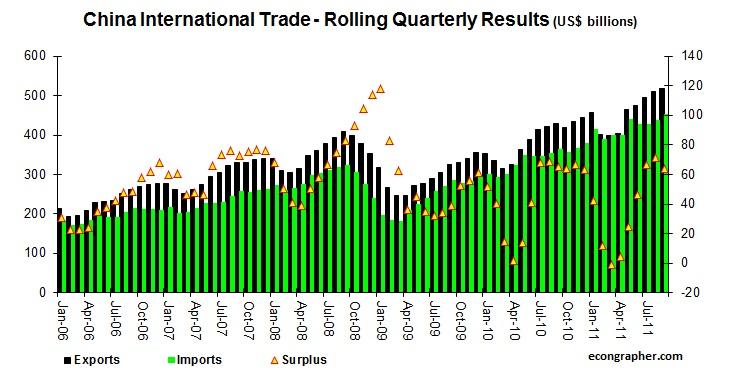 5. Loans
Another driver of activity, especially in terms of fixed asset investment (which by the way continues to rocket along around 25%), has been strong growth in lending. But, while much of this article has been relatively positive, this is where it gets a little bit negative (so, look away now if you scare easily). This rapid loan growth has contributed to the rising inflation threat, and the property boom (read this for more detail on the status of China's property market), and has spurred a lot of 'somewhat suspect lending', that, due to its opacity and potential scale can provide justification for deep concern (talking about the shadow banking system and local government financing structures). I don't have the answers here as to the health of China's official and unofficial banking systems, but it is something that seems to warrant diligent vigilance.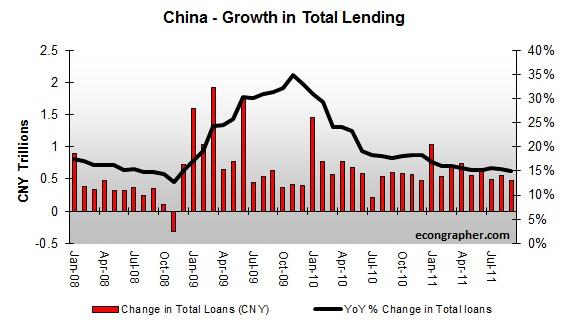 Summary
So to sum up in one grammatically challenged sentence: GDP growth good, inflation bad, tail risks concerning. So really just reiterating the point earlier in the article that the key concerns still seem to be more about inflation and overheating, rather than sustaining growth. So as for the government's strategy of trying to engineer a soft-landing goes, it still seems to be the right idea, and for now it seems the foot stays on the break peddle (albeit with the other foot still seemingly pressing on the accelerator). So what's the short summary for markets? Well, it seems that tail risks and policy tightening pressures will provide inertia for valuation multiple expansion, but provided the earnings side of the equation carries on alright, then the market could still do alright. Final thought: as Confucius apparently said "The cautious seldom err."

Graph Data Sources:
-National Statistics Bureau
-People's Bank of China

Disclosure: I have no positions in any stocks mentioned, and no plans to initiate any positions within the next 72 hours.