On October 27th, Baidu (NASDAQ:BIDU) is due to announce its 3Q11 result. The Street expects the company to earn $0.83 per share (+84% y/y) on $618.85 million in revenue (+84% y/y).
Last quarter, Baidu invested in the Chinese travel search engine Qunar and partnered with One-Stop China to distribute online music by expanding its presence beyond search.
Qunar offers product and pricing comparison on travel deals using its search engine. According to iResearch, Qunar's search engine covers more than 11,000 air routes and 102,000 hotels worldwide. Baidu hopes to leverage its search capability and Qunar's content for monetization. According to China Internet Network Information Center, approximately 8% of Chinese internet users use online travel services, which implies significance growth opportunity going forward.
One-Stop China is a joint venture of Universal Music (OTCPK:VIVEF), Warner Music (NYSE:WMG), and Sony Music (NYSE:SNE). Online music is the second most popular online service in China, currently ranks behind online search. Baidu looks to expand its MP3 offerings with both Chinese and international tracks to compete against Sohu (NASDAQ:SOHU) MP3, which already has a wide collection of both Chinese and international tracks that drove user traffic on Sogou Search.
After witnessing Sohu's success of establishing network externalities, such as the Chinese character input software and the proprietary web browser, that are driving strong growth in Sogou Search, Baidu took a play from Sohu's strategy book by introducing its own proprietary browser to improve user experience.
While Baidu's new initiatives in e-commerce (JV with Rakuten), online video (Qiyi), online travel (Qunar), online music (One-Stop China), and web browser, coupled with its new customizable homepage, could generate user stickiness and good user experience, I would like investors to take note that, with the exception of music, Baidu is expanding into unfamiliar territories that it does not have a proven track record of success and faces formidable competition from entrenched players, including Taobao and DangDang (NYSE:DANG) in e-commerce, Youku and Sohu in online video, Ctrip (NASDAQ:CTRP) and eLong (NASDAQ:LONG) in online travel, and Qihoo and Sohu in web browser. Baidu's failure in microblogs is an indication that the company strategy has flaws, and it possible that Baidu's new initiatives could face similar fate.
That said, investors need to carefully analyze the financial impact that these externalities will have for Baidu. Baidu's earnings growth has been moderating over the past several quarters (see chart) since the competition began to intensify. The company looks to rely on these externalities to maintain its growth momentum.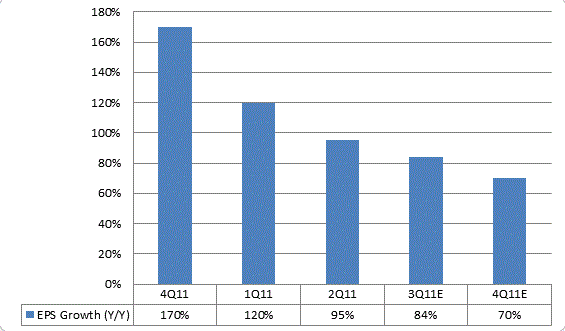 Click to enlarge
(Click to enlarge) Source: Capital IQ
Disclosure: I have no positions in any stocks mentioned, and no plans to initiate any positions within the next 72 hours.