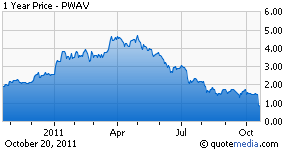 Wireless equipment maker Powerwave (NASDAQ:PWAV) has given its investors quite the thrill ride over the last four years, but the latest dive may have investors and analysts wondering if this company can ever achieve a sustainable base of business. Bad quarters happen to every company eventually, but very few established companies miss their revenue target by 50% and investors should ask themselves whether the sizable return potential here is still worth the ongoing risk and volatility.
A Terrible Third Quarter
After the close Tuesday, Powerwave announced that it was going to report a horrible third quarter result. Citing significant slowdowns at AT&T (NYSE:T) and T-Mobile and disruptions in the Mideast and North Africa tied to the political upheavals, management announced that revenue would come between $75 million and $79 million – more than 50% shy of the average analyst estimate of $168 million.
Making matters arguably worse, Tekelec (NASDAQ:TKLC), which sells different products than Powerwave but sells to the same markets, preannounced that its third quarter revenue was going to be at least 10% better than its consensus estimate.
Slipping Or Sleeping?
If PWAV management is right, this may just be an uncomfortable pause. AT&T and T-Mobile may have put a cork in their network spending as they wait to see whether or not U.S. regulators will allow them to merge. Likewise, it is certainly true that there has been economic and political chaos in the last few months in many countries. An optimist could argue, then, that these deals aren't dead but just delayed – give the company another couple of quarters and those orders will come back and revenue will rebound sharply.
Well, maybe. For starters, the company has to stay in the game. Based on management commentary, it sounds like the company is burning about $25 million a quarter in cash and will end the third quarter with about $46 million in cash. While the company can look forward to getting about $50 million out of a sale-leaseback transaction in the fourth quarter, the reality is that cash is a problem now. Making matters worse, I'm not sure exactly what the company could do to meaningfully cut its cash burn – the company is in the midst of developing, trialing, and rolling out a host of new products and getting R&D or marketing staff could be a dangerous move right now.
Still Bigger Issues To Address
Even if the third quarter is just an AT&T-induced hiccup, there are other concerns that Powerwave management has to surmount and surmount quickly. Nokia Siemens (a joint venture between Nokia (NYSE:NOK) and Siemens (SI)) is responsible for about one-quarter of Powerwave's revenue but the joint venture has been struggling mightily and needed an injection of a billion euros from the parent companies a few weeks ago. Not only is this JV set to end in 2013 (and the companies haven't decided what to do with it), but it has also made some acquisitions that arguably replace some of the equipment it needed from Powerwave.
Beyond that, Powerwave has been trialing LTE products with Verizon (NYSE:VZ) but risks alienating Alcatel-Lucent (ALU) by trying to sell directly to Verizon instead of through Alcatel. Along those same lines, that's a bigger issue for Powerwave – OEM customers are a large component of revenue (though smaller than a few years ago) and are also competitors.
Last and not least is turbulence in the customer base. AT&T may be on the shelf for some time and while Clearwire (CLWR) has been an important customer before, it may not have the capital it needs to continue its own network rollout – especially now that Sprint (NYSE:S) is going its own way with a competitive LTE network.
The Bottom Line – Hope, Fear, And Risk
There are certainly bright spots that very risk-tolerant optimists can point to as a constructive thesis on Powerwave. Management has changed around a culture that used to focus on business at any price and has made profitability a key focus. What's more, the company has some compelling new products, including an antenna product that seems to offer better performance with less power consumption that a rival product from Alcatel.
The trouble with Powerwave, though, is that it has not been able to really separate itself from the pack and become a preferred provider of equipment to high-quality customers (apart from AT&T). Much of the same could be said of other smaller players like Ceragon Networks (NASDAQ:CRNT), Sierra Wireless (NASDAQ:SWIR), and Alvarion (NASDAQ:ALVR). These companies have hung around for a while now and have periodically enticed investors with the possibility of grabbing chunks of that huge market for wireless capital equipment. Unfortunately, none of them have managed to find a winning strategy.
A buyout is not out of the question, particularly if a company like Alcatel-Lucent, Huawei, or Ericcson (NASDAQ:ERIC) sees real value in the technology, but investors can't base a thesis on that hope. There is no question that Powerwave could be a huge winner from here if the company can make it through this dry spell and entice a major top-tier customer like Verizon to use their equipment in 4G rollouts. But there is also no question that there is a very real risk that the downside here is a bagel (that is, it goes to zero) and while the shares look cheap, they are cheap for a reason.
Disclosure: I have no positions in any stocks mentioned, and no plans to initiate any positions within the next 72 hours.