Polycom, Inc.(NASDAQ:PLCM) provides communications solutions to enterprise, government, education, and healthcare customers to enable voice, video, and content communications. The company was founded in 1990 and is headquartered in Pleasanton, California.
It wasn't a pleasant earnings release for Polycom, and here are some of the reasons for the selling pressure today. Within the first two hours of trading, the volume is about three times the average for an entire day.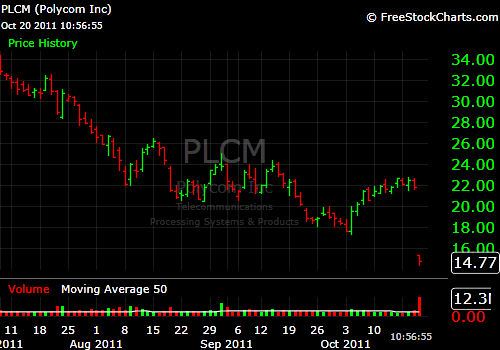 Click to enlarge
Business expenditures increased to $196.9 million from $159.6 million. This number does not appear to totally disappoint, and largely in line with the growth. In fact, the growth numbers are very good compared to most companies, but investors are not going to pay a 30+ earnings multiple in this economic environment unless the top and bottom lines are building fast.
While continuing to grow, Polycom disappointed investors yesterday afternoon with their earnings results. Revenue increased to $379 million from $308.1 million for the same period last year; however analysts estimate a greater increase, to $387.3 million.
Gross reported revenue compared to the mean estimate (rounded).
| | | | | |
| --- | --- | --- | --- | --- |
| Fiscal Quarter Ending Month-Year | Revenue Estimates | Actual | $ Difference | Difference % |
| Jun-11 | $ 363.03 M | $ 365.61 M | $ 2.58 M | 0.71% |
| Mar-11 | $ 337.80 M | $ 344.17 M | $ 6.37 M | 1.89% |
| Dec-10 | $ 327.70 M | $ 339.63 M | $ 11.93 M | 3.64% |
| Sep-10 | $ 300.89 M | $ 308.07 M | $ 7.18 M | 2.39% |
| Jun-10 | $ 286.45 M | $ 294.64 M | $ 8.19 M | 2.86% |
M = millions, B = billions
Not including one-time items, Polycom generated 26 cents a share. Polycom reported net income of$23.7 million, or 13 cents per share, compared to $17.3 million, or 10 cents per share, for the same period last year.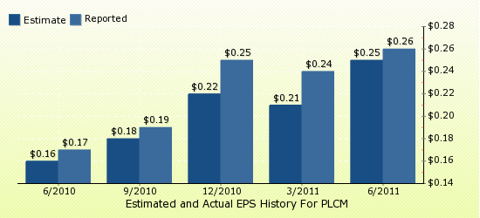 Click to enlarge
Reported earnings per share compared to the mean estimate.
Based on the conference call, it appears the sky is not actually falling.
Andy Miller, Polycom's President and CEO had these things to say during the call.
First our strategy of aggressively pursuing emerging growth markets is achieving excellent results. In fact, emerging or growth geographies which includes China, India, Russia, Latin America, Middle East and Africa, grew a significant 58% year-over-year in the third quarter.

Another key highlight is a large US civilian agency with a covenant level department, this agency procured over $1 million of Polycom's personal UC devices driven by the success with Polycom's RealPresence platform and integrate with our recent release of our Apple iPad base mobility application. Fourth, even though we only completed the HD visual collaboration acquisition at the end of July, this immersive telepresence offering and managed service is already performing ahead of plan.

Polycom's software-based strategy is also enabling Polycom's broad eco system, the Polycom open collaboration network comprised of key strategic partners such as Microsoft, IBM, Hewlett-Packard, Broadsoft, Juniper, Jive and others. In fact in this third quarter approximately 26% of Polycom's revenues were generated with the original plus seven Polycom open collaboration network partners alone.
Look for selling pressure throughout today and Friday. If closing on lows Friday, Polycom will be setup as a technical buy due to the dead cat bounce expected on Monday. A retracement into $18 a share appears reasonable as value buyers pick up shares while on discount.
With the current panic selling that likely will last through today, I will be watching for an entry to short put options as early as Friday afternoon. With the earnings disappointment fully priced in, I believe any further selling will be a mistake below the range we are in.
After cooler heads review the value, next week should see stabilization in price compared to this week. I believe this will set up a great opportunity to short put options. Tomorrow is option expiration Friday, so I will skip the front month and look at the November series. I want to be able to collect enough premium to provide a buffer if the selling pressure continues. Currently, it appears the $12.50 strike price put option offers the sweet spot in terms of premium, risk and liquidity. Perhaps more strike prices will get opened up tomorrow.
Disclosure: I have no positions in any stocks mentioned, but may initiate a long position in PLCM over the next 72 hours.