The athletic apparel and accessory company Under Armour (NYSE:UA), with products offered online and in 20,000 retail stores worldwide, is scheduled to report earnings on October 25, at 7 a.m. EST followed by a conference call at 8:30 a.m. EST the same day.
Holding the stock of a high flying company during earnings season can be hazardous at times, especially for companies with high P/E ratios as in the case of Under Armour with a P/E of 49. A little bad news and the stock price can plummet. The previous support level for Under Armour's stock is around $53, so some bad news for the company could see the price drop to $53 very quickly. The stock price chart for Under Armour is shown below: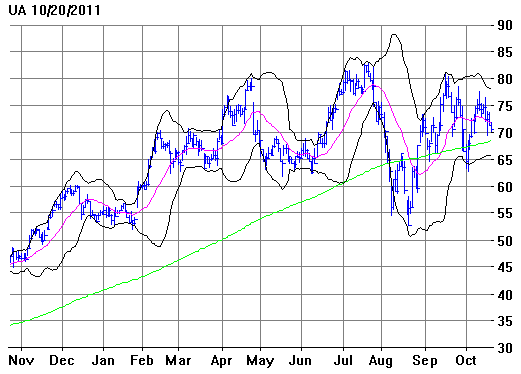 Click to enlarge
Under Armour is firing on all cylinders right now. Equities analysts at Jeffries raised their price target for Under Armour to $73 today. And, in its previous conference call, the company indicated direct consumer revenue grew at a rate of 81%, footwear came in at 31% and apparel realized a growth rate of 36%. Under Armour believes it can double its revenue by 2013, but on a negative note, the company's Q2 gross margins were slightly degraded over the previous year's Q2 gross margins, 46.3% versus 48.8%.
It can be very difficult for a company to continue to perform at these levels month-after-month, quarter-after-quarter and year-after-year, especially companies sporting trendy fashions like Zumiez (NASDAQ:ZUMZ), for example. Zumiez markets action-sports related apparel and accessories and its stock price has never recovered from its high around $50 in 2007. The theme song for trendy fashions can be summed up by the Jerry Reed song "When You're Hot, You're Hot" as in the case of Under Armour, "and when you're not, you're not" as in the case of Zumiez.
Under Armour introduced its Charged Cotton® product line in March and indicated this product quadruples Under Armour's targeted market segment. Under Armour took is moisture-wicking innovation and added it to cotton. Charged Cotton® takes cotton yarn and weaves in synthetic fibers, which the company claims dries five times faster than ordinary cotton.
Under Armour also recently introduced its Storm Fleece hoody product line, which it advertises as sporting comfort and water-resistance. And to top it off, the company combined Charged Cotton® with Storm Fleece for water-resistance with quick drying.
The company has actively been marketing its products via athletic team apparel/accessories. The University of South Carolina baseball team was wearing Under Armour gear while winning the 2011 National Championship.
Additionally, Under Armour has been marketing its products via endorsements with professional athletes like the NFL's Tom Brady and Cam Newton and the NBA's Derrick Williams and Kemba Walker. With the NBA lockout/strike, Under Armour's endorsement with Derrick Williams and Kemba Walker may be on hold for a while.
Under Armour is also marketing its brand via what some have termed as "ugly" uniforms. For example, the University of Maryland Football team was wearing uniforms in one of its games with colors and patterns mimicking the Maryland State Flag. Even though the uniforms had a negative reception, the Under Armour brand awareness was increased. In one incident with the University of South Carolina's football team wearing Under Armor jerseys, the team had to change jerseys prior to the game because the numerals were not clearly visible to game officials as required by the NCAA rules.
The company has opened 9 new Factory House stores bringing the total to 72, with plans to open an additional 7 stores in 2011. In October, Under Armor plans to open its first hybrid store model, which combines new products featured at its full-price stores with the discounted apparel it markets at its outlet stores.
Under Armour is planning on launching its new concept called All-American shops with Dick's Sporting Goods (NYSE:DKS) featuring interactive digital centers, larger floor space and monumental storytelling. I'm not sure what monumental storytelling is, but maybe we'll find out after the concept is launched.
The company is also working with Sports Authority to introduce Armour Build 2.0 flexible fixture package providing better storytelling and more productive floor space. We'll have to wait and find out the details for Armour Build 2.0 after it is introduced.
Under Armour is working with partners Foot Locker and Finish Line to deliver exclusive products in order to differentiate its brand in those retail stores.
Under Armour is expanding outside of the U.S. with new retail stores in South Korea, Japan, Madrid and Shanghai.
Under Armour has been executing on its mission of creating technical breakthroughs that change the way a product is used by athletes, but can it continue this execution indefinitely?
Under Armour is executing very well, but with the tepid economy, NBA lockout and high P/E, the stock may be stuck in the $70 range for a while, or with some bad news the company's stock price could take a dip.
So what's an investor in Under Armour to do? Well, an investor might consider entering a collar position for Under Armour. A collar position is entered by selling a call option against a purchased or existing stock and using some of the proceeds from selling the call option to purchase a put option for protection.
As an example, a collar position was found using PowerOptions search capability for Under Armour with a potential return of 2.6% and a maximum risk of 7.2%. The time frame for realizing the potential return is 30 days. If the price of Under Armour is greater than its entry price at expiration, the position will return 2.6%. And, if Under Armour's stock takes a dive, the maximum loss that can be experienced is 7.2%. Better yet, if the price of Under Armour has increased above the strike price of the call option at expiration, the position will return 3.5%. The call option to sell is the 2011 November 72.5 with a price of $4.10 and the put option to purchase is the 2011 November 65 with a price of $2.25. A profit/loss diagram for the collar position is shown below: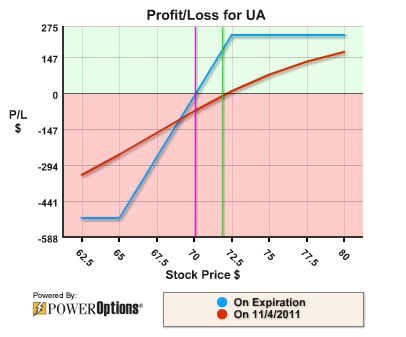 With Under Armour's upcoming earnings report and conference call, an investor using a collar position for Under Armour can sleep well knowing the position cannot lose more than 7.2%, yet can still return a profit, even if the price of the stock does not drop.
Disclosure: I have no positions in any stocks mentioned, and no plans to initiate any positions within the next 72 hours.