Two very large iconic American companies will report earnings on Friday. Both are members of the Dow. Both are household names. We come in contact with both of these behemoths on almost a daily basis. Both pay a dividend north of 3.0%. The similarities end there, however.
The stock of General Electric (NYSE:GE), headed by Jeffrey Immelt has a current dividend yield of 3.6%. While on the surface, this sounds like a very attractive yield, one does not have to do very much research to figure out that indeed, all dividends are not created equal.
Over my many years as a professional money manager, one of the most common mistakes that I see people make is to buy stocks just for the dividend. I wrote a whole article on this subject recently on Seeking Alpha.
You have to look at total return in addition to the dividend yield. What good does a 3.6% dividend yield do if the stock is going down? The drop in the stock price offsets the gain from the dividend. To say that even though the stock is going down, I am still getting my dividend is flawed thinking. Let me show you what I mean by this: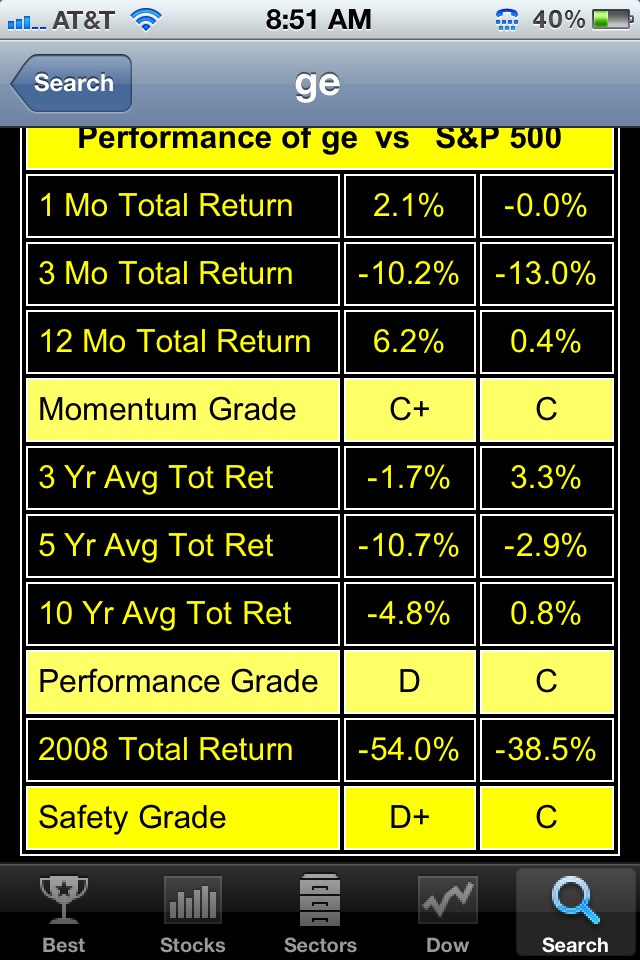 Click to enlarge
(Click to enlarge)
Data from Best Stocks Now App
I got so sick of trying to find easy to read performance records of stocks that I invented my own app to do so. I fondly call it my lie detector. Why is it so easy to find Mutual Fund performance records, and so difficult to find stock performance records?
Anyways, let the record above show that over the last ten years, GE has been a miserable performer. An investor in GE has lost on average 4.8% per year during this time period and that includes the dividend! In addition to this, GE has badly underperformed the market while CEO Immelt has been at the helm. It should be noted that GE was up over 700% during the previous decade under the watchful eye of CEO, Jack Welsh!
Over the last five years, the pace of losses for stockholders has accelerated to the downside. Investors in GE have gone backwards by an average of 10.7% per year and once again, this includes the dividend. GE has also badly underperformed the S&P 500.
Over the last three years, GE has once again delivered a total return that is negative. Only over the last twelve months has GE done better than the S&P 500.
It should also be noted that during the stress test that the global market were under back in 2008, GE was down a gut-wrenching 54.8%! Not a very good trait of a steady dividend payer. In fact, GE was the recipient of TARP funds to help get them through the crisis!
Now let's look at the other mega-cap Dow stock that will report earnings on Friday. McDonald's (NYSE:MCD) stock has a dividend yield of 3.1%, while the stock of GE pays 3.6%. Compare the total return however, of McDonald's vs. GE.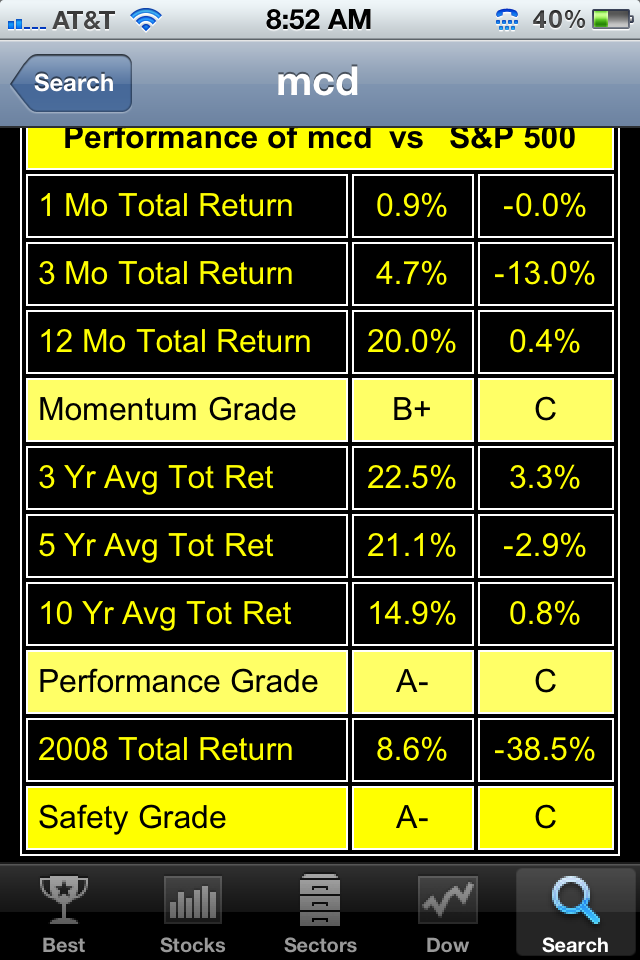 Click to enlarge
(Click to enlarge)
Data from Best Stocks Now App
The lie detector clearly shows that the performance of McDonald's has clobbered the performance of GE over the last one year, three years, five years, and ten years! The record also shows the McDonald's was up 8.6% during the 2008 market stress test!
CEO Jim Skinner is one of the three architects of McDonald's revitalization plan launched in 2003 that turned the company around. McDonald's serves 64 million customers each day and employs 1.7 million people across the globe in 119 countries! McDonald's is always hiring.
Do you see what I mean by the statement that all dividends are not created equal? Always check the total return record of a stock before you invest in company.
Now I do not know who will report better earnings on Friday, but I certainly know which is the better stock and which company has better management!
Disclosure: I am long MCD.