For years I've watched the development of the major search engines and watched with interest not only how they fought for their share of users but also was amazed at the creative ways they were able to monetize their sites. For my money Google (NASDAQ:GOOG) is the winner in this field. The new offerings in Google+ are going to be an interesting head to head with Facebook and LinkedIn (NYSE:LNKD) and only time will tell on that one. Now the new Android smart phone accounts for almost 50% of the new market share in that sector. YouTube has been monetized and advertising revenue is soaring. Just look at the price momentum press on this stock has caused in this Barchart provided graph of the hourly trading over the past month: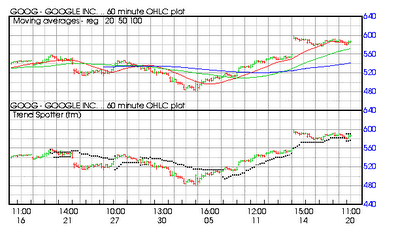 Google Inc. is a public and profitable company focused on search services. Named for the mathematical term `googol`, Google operates web sites at many international domains, with the most trafficked being google.com. Google is widely recognized as one of the world's most popular Search Engines and is fast, accurate and I find easy to use. The company also serves corporate clients, including advertisers, content publishers and site managers with cost-effective advertising and a wide range of revenue generating search services. Google's breakthrough technology and continued innovation serve the company's mission of `organizing the world's information and making it universally accessible and useful.`
Factors to consider:
Barchart technical indicators:
The indicators are based on technical analysis of price momentum from 7 days to 6 months
80% Barchart overall technical buy signals
Trend Spotter technical buy signal
Trading above its 20, 50 and 100 day moving averages
Up 7.19% in the last month and only 9.87% off its 1 year high
Relative Strength Index 65.27% and rising
Barchart computes a technical support level at 577.43
Recently traded at 585.24 with a 50 day moving average of 535.71
Fundamental factors:
If you're looking for a Wall Street darling this is one of them
Brokerage analysts predict revenue will increase by 32.80% this year and another 22.40% next year
Earnings forecasts are just as good with earnings expected to increase by 24.20% this year, an additional 19.00% next year and continue to increase by an annual rate of 19.03% for the next 5 years
These aggressive consensuses resulted in analysts issuing 15 strong buy, 20 buy, 4 hold and no negative recommendations
Advertising revenues for all their web sites are up
Sales of the Android smart phone appears to be capturing 50% of new sales in their market
New products like Google+ continue to show how innovative the company is.
The P/E ratio of 19.15% is only at a 34% premium to the market and does not seem to be out of line with a stock having double digit increases in sales and earnings
A++ financial strength ranking
General investor interest:
Individual investor interest as measured on Motley Fool is high with over 17,229 readers offering an opinion on the company
86% of the general readership voted that the stock will beat the market
86% of the more experienced All Stars voted the same way
Fool follows the Wall Street columnists and all 47 of the last articles about the company have been positive.
For those of you with favorite columnists some of the ones that have this on their pick list are Jim Cramer, Charles Payne and Tobin Smith and all have made money since picking this stock
Competitors and sector leaders:
Always compare your stock to the competition, and in the major search engine arena Google (
GOOG
) is up 10% in the past 6 months with AOL (NYSE:
AOL
) down 25% and Yahoo (NASDAQ:
YHOO
) up only 2%: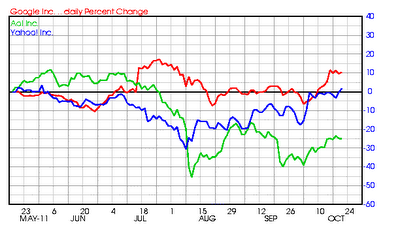 Beside search engines Google is also in the SIC 7370 Computer Programming and Data Processing sector and some of the smaller companies in this sector have had impressive price moves in the last year and might deserve your consideration like Healthstrean (NASDAQ:HSTM) up 110%, Internet Initiatives (NASDAQ:IIJI) up 78%, S1 Corp (NASDAQ:SONE) up 69% and Sify Technologies (NASDAQ:SIFY) up 64%: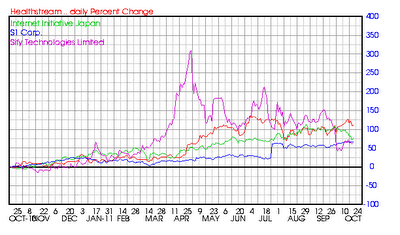 Summary: When I look for companies to add to my portfolio I look for current price movement that is backed up by double digit forecasts for growth in both sales and earning that are not selling too dear and Google meets that criteria. I think if the growth numbers are achieved and the P/E ratio it deserves is met investors at today's price could still see an annual return in the 24% - 27% range for the next 5 years.
Disclosure:
I have no positions in any stocks mentioned, and no plans to initiate any positions within the next 72 hours.