I have been watching this stock since the 2008 financial crisis. I have been mostly invested in their exchange traded senior debt until recently. Now, I think it is time to seriously look at buying the common shares.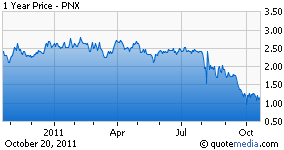 Phoenix Companies (NYSE:PNX) provides life insurance and annuity products in the United States. In addition, the company provides a hybrid insurance/investment product, which adds a lifetime income guarantee to an investor's managed account assets; and manages fixed income investments for retail and institutional clients, including mutual funds, pension plans, and endowments. The Phoenix Companies, Inc. offers its products through third-party distributors, wholesalers, and financial planning specialists. The company was founded in 1851 and is headquartered in Hartford, Connecticut.
Now you need to put on your contrarian thinking cap here. PNX is not a company without issues. PNX almost imploded during the last financial crisis, and lost two of their biggest distributors of their products. The stock price has been reduced to ashes! PNX is working through these challenges and I think we are starting to see concrete signals of their efforts working.
On their most recent conference call in August they made these key points;
"Core earnings of $15 million are much improved from a year ago and we produced net income for the first time in a year. This trend of steady progress has brought us to a point where many of our key metrics are now at or approaching historic norms."

"impairments this quarter were at their lowest level since the first quarter of 2007."

"Annuity net flows remain positive for the third consecutive quarter and annuity funds under management grew 20% year-over-year to $4.4 billion at June 30."

"A little over a year ago, we were just getting started and developed 90% of our total sales from a core group of 11 independent marketing organizations (IMOs) and about 50 agents. Today our sales are much larger and we are more broadly represented with 90% of our total sales from 23 IMOs and about 700 agents."

"Total Life's surrenders were at an annualized rate of 6.1% this quarter and the close block was at 5.6%. To put these numbers in perspective, the usual surrender rate for the close block, before the 2008 financial crisis was in the 5 to 6% range. The return of these metrics to historical levels, clearly demonstrates the increasing market acceptance of Phoenix and that The Phoenix franchise is re-emerging."
They have also been steadily eliminating debt and cutting costs as part of their strategy.
The company is re-emerging but it is still down and dirty cheap and represents an uncommon value. PNX has a book value of $10.00 per share. Wednesday, shares were selling at $1.10, or just 11% of book value. The price to sales ratio is a low … very low .07. It has trailing twelve month revenues of $1.98 billion, with a market cap of just $128 million. It has a tiny market cap for a company with $21.4 billion in assets, and net tangible shareholder equity of $1.16 billion.
In addition, in August a director made an insider purchase of 40,000 shares at $1.76 per share, and 57% of the shares are held by institutions.

A full company second quarter earnings presentation can be found here.
Not interested in the common shares? You might want to look at the exchange traded debt (ETD). PNX has an ETD that trades under the symbol of PFX. This ETD has an interest rate of 7.45% and currently yields 9.4% as of Wednesday's close. This is unsecured and unsubordinated senior debt that ranks equally with any existing and future debt securities of the same. The total issue was $301 million and currently represents about 70% of PNX's long term debt. Not a bad return for the risk, in my opinion.
PNX is projected to earn 35 cents per share next year for a price to earnings ratio of 3.1. Low P/E stock, that can be bought for 11% of book value, in an undervalued industry catches my eye. Of course there is an element of speculation and risk with this trade, but it certainly looks intriguing and thought you may find it interesting too. Let's see if THIS Phoenix has wings.

Disclosure: I am long both PNX and PFX