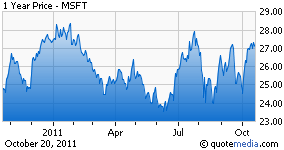 Today (October 20), Microsoft (NASDAQ:MSFT) announced a decent quarter, meeting Wall Street consensus EPS of $0.68.
With a forward earnings multiple of 9.5x (based on current Wall Street estimates of $2.68 per share for fiscal 2012) and a trailing EV to EBITDA multiple of 6.4x, Microsoft appears to be a value.
Microsoft generates a lot of free cash. The company generated almost $8 billion in free cash flow in the latest quarter. This is almost enough cash to fund the entire Skype transaction. In the last four quarters the company has generated over $25 billion in free cash representing a free cash flow yield of approximately 11%.
Microsoft utilizes some of this cash to buy back shares and pay a dividend. Microsoft pays a $0.20 per share quarterly dividend representing a yield of approximately 3%. In the recent quarter Microsoft repurchased almost $2 billion worth of shares.
There is a strong bull argument that Microsoft has multiple revenue drivers going forward including the continuation of the Window 7 upgrade cycle, Window 8, which is only a year away and could help Microsoft gain share in the growing tablet and mobile markets, Office 365 and other cloud computing initiatives, the growth in Xbox as an entertainment hub, and the opportunity to utilize newly acquired Skype.
Many investors, myself included, think Microsoft should return more cash to shareholders. The company is now sitting on $49 billion in cash after paying $8.5 billion for Skype, and the company should continue to generate significant cash over the coming quarters. A larger dividend and a more significant share repurchase program make sense. Even with significant cash overseas Microsoft, as a AAA credit, could borrow in the U.S. at low rates to fund additional repurchases.
Even without additional capital return in the near-term, Microsoft is trading a low multiples given the scope of its opportunities over the next few years and continued cash generation.
At its current valuation, investing in Microsoft today is a call option (that pays a 3% divided) on its multiple growth initiatives and future capital allocation decisions.
Disclosure: I am long MSFT.