My TV watching is dominated by stations such as ESPN, History, Travel and the Discovery channels. I usually occupy my down time by doing something on the computer while the TV blares on in the opposite corner of my room. I rarely give it my full attention and therefore find it nearly impossible to watch a TV drama as I'm clueless of the plot ten minutes into the show. A show about catching Alaska King Crab or what the latest "Dirty Job" involves doesn't require my full attention. However, on one particular night a show about living bridges drew my attention. It become for me one of those "Ah ha" moments. It occurred to me that building one of these living bridges is akin to building an income portfolio as we build an income portfolio to live on, and as such, is a "living portfolio".
As the following picture shows, a living bridge is one built from the roots of a tree trained to grow across a small river and take root on the opposite bank. After many roots and many years a "living bridge" is constructed, lasting as long as 500 years.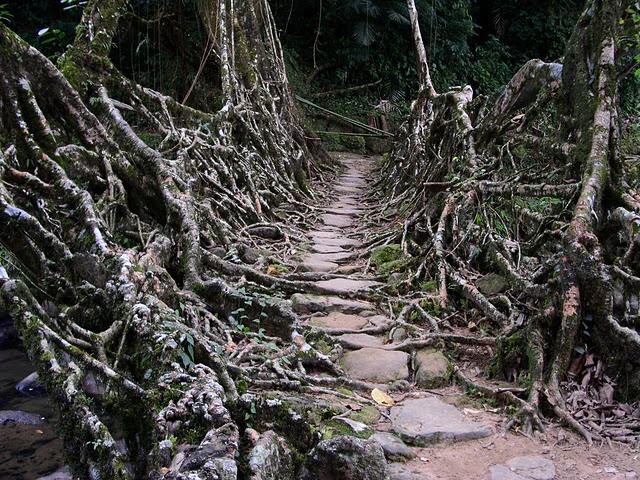 For those who wish to watch the bridge being built:
The locals who build these bridges in tune with nature do it in order to cross rivers such as the one shown above. Built once, and maintained. This is similar, I think, to the construction of an income portfolio. The bridge is built root by root. An income portfolio is built stock by stock. The bridge is built with small roots slowly growing into big roots planting themselves into ground on the opposite bank. An income portfolio begins with small positions whose dividends are reinvested. New roots are added to the bridge to increase its size and strength. The income portfolio is increased with the purchase of additional securities. The income flourishes with dividend increases like the growing roots of the bridge. Over time, some roots will wither and die and must be replaced by new growth, not unlike a portfolio where some stocks fail to prosper and must be replaced with new growth.
Whether we are one with nature or one with the market the symmetry of the living bridge and an income portfolio are based on similar foundations. When one is young and building their investment portfolio it is often with the purchase of odd lot positions. Many reinvest the dividends with DRIP programs. Some of the investments will become big and become the main support of the portfolio, just as the early roots in the bridge grow large and become the main pillars of the bridge.
The larger roots are the dividend aristocrats of the income portfolio. Stocks like the ones in the table below should be the foundation for one's portfolio. Additions to the portfolio can be issues with higher yields and a slower dividend growth rate to balance out the diversity of the account. Active management of the income portfolio and the living bridge are both necessities to maintain their purpose.
In order to select a small group of stocks that are strong candidates to be the mains roots in our dividend portfolio I screened for the following requirements.
Current yield in excess of 2.5%.
Payout ratio less than 60%.
Five year dividend growth rate over 10%.
Excluding utilities, MLP's, REIT's, and foreign securities.
Company
Yield
5 yr. Dividend

Growth Rate

Payout Ratio
Abbott Labs (NYSE:ABT)
3.7%
10%
43%
Automatic Data (NASDAQ:ADP)
2.8%
13%
58%

Colgate-Palmolive (NYSE:CL)

2.6%
12%
45%
Clorox (NYSE:CLX)
3.6%
14%
58%
Flowers Foods (NYSE:FLO)
3.1%
21%
53%
McDonald's (NYSE:MCD)
3.2%
19%
50%
Pepsico (NYSE:PEP)
3.34%
11%
48%
Procter & Gamble (NYSE:PG)
3.3%
11%
52%
Wal-Mart (NYSE:WMT)
2.8%
14%
35%
A few months ago I wrote a series of articles about building an income portfolio sector by sector, much like building a living bridge root by root. The end results of both are a lasting product that suits the different needs of each. The finale of my sector by sector portfolio ended with this portfolio. Most investors, if not all, build a portfolio to provide funds with which to fund retirement. It is a living bridge as it enables us to pay our bills and provide for our long term financial security. Like the living bridge, the portfolio can live well past us in forms such as a trust for loved ones, to provide income for a spouse or family upon one's death, a charitable foundation, or as part of one's estate.
Rather than viewing your portfolio as a collection of stocks producing income, view them as a living portfolio providing a pathway to the time of life when a regular paycheck is no longer the rule. Treat it like the living bridge and replace the bad roots, let it prosper, take care of it, and realize that it takes all kinds of roots to make a solid bridge.
The living portfolio to the dividend investor is the living bridge. Think of it in those terms and never surrender the goal.
Disclosure: I am long MCD, JNJ, WMT, ABT, PEP.