Since we last profiled AXT Inc. (Nasdaq: AXTI) in March 2011, shares have gone from cheap to absurdly cheap, even as the Company delivered an incredible 2nd quarter earnings report of $0.21 per share, which easily beat analysts expectations of $0.16. The shares rallied in early August to over $9.00 only to sell off sharply to a low of $4.50 in October on no news whatsoever. For a company that has done nothing but deliver consistent earnings growth for over 2 years running that has outpaced analysts' expectations, the stock still is misunderstood by investors.
What do we think is ailing the stock price?
1) Raw material prices such as gallium have softened
2) TriQuint's (TQNT) soft guidance (TQNT is just a single of AXTI's many customers)
3) Negative headlines in the LED capital equipment market
4) Misperception that AXTI is a Chinese company and guilty by association
5) Outstanding universal shelf
6) Risk aversion to small caps
While some of these issues certainly may affect the company in the near-term, in aggregate none of them will materially impact their long-term earnings growth prospects. Take for example the softening of raw material prices. While AXTI does benefit from selling excess supplies from their JV partners, they are also a direct consumer of these commodities in their production. The reduction in prices may reduce revenues, but the offset is a lower cost of goods sold. This provides a partial hedge against earnings.
The connection of AXTI to the LED capital equipment market is a loose one. The weakness experienced with companies such as Veeco (Nasdaq: VECO) and Aixtron (Nasdaq: AIXG) is a result of cheap China subsidies, resulting in significant overcapacity. To short AXTI on this connection, would be akin to shorting producers of coffee and coffee beans just because too many coffee pots were produced and sold.
Moreover, the assertion that AXTI is Chinese company and is assumed guilty by association to the frauds the China small cap sector has faced this year is making a specious argument. The Company is U.S. incorporated, and headquartered in Fremont, California. Management is also located here, and the Company has a U.S. based auditor. The Company came public on Nasdaq over 13 years ago and has been adequately diligenced by many investors including myself. I don't shy away from lambasting Chinese companies I find that are of dubious quality. My record speaks for itself on these stocks: ZSTN, CBEH, CIS, and GSOL
I am very confident that AXTI is not one of them, but rather a diamond in the rough. Their only connection to China is that their low cost manufacturing is located there, but they serve a global client base in North America, Europe, Japan, and Taiwan.
Meanwhile, AXTI is still on track to expand its production to meet growing demand and grow its market share. Sumitomo Chemical recently announced plans to double GaAs epi wafer capacity by the first half of 2013. Based in Japan, the facility's cost structure will be higher than AXTI's China-based production. AXTI can continue to gain share even as competitors increase production and Japanese producers were interrupted in the wake of the recent tsunami. Sumitomo's plan highlights the growing demand for GaAs substrates and further demonstrates that the industry's long-term outlook is strong. AXTI put in place a shelf offering last quarter which will allow them to opportunistically raise funds for their expansion. With the recent swoon in the equity market, it is very unlikely that the Company will issues shares at this depressed price. The Company has a strong balance sheet and generates free cash flow to endure the economic turbulence and wait until markets improve to raise money. AXTI has shown that it has sound financial management and the ability to grow its business with minimal dilution over the years. To illustrate, we have plotted the Company's share count growth versus both sales and EPS growth. The results and operating leverage of the business model speak for itself.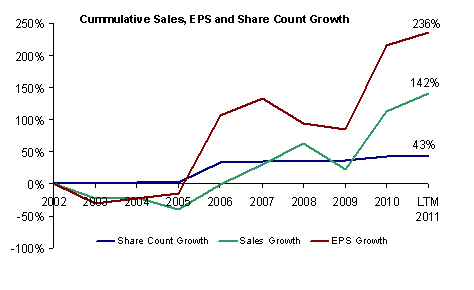 Positive Developments Overlooked by the Market
In the month of September, the Company received three brand new research initiations listed below:
Sept 8th: ThinkEquity: $10.00 target
Sept 13th: D.A. Davidison: $7.00 (12-18 month target) / $12.00 (5 year target)
Sept 28th: Craig-Hallum: $8.00 target
This added coverage supplements existing coverage from Needham, Northland Securities and B. Riley, and will hopefully broaden AXTI's investor base, and provide a better understanding of the Company's business model to the market. The misunderstanding of the Company's business model has added to its erratic price behavior, which we hope will be mitigated going forward. In aggregate, the average analyst believes AXTI's shares are worth $10.50 per share, almost double the current price.
More importantly, a report last week published by iFix-it that included a teardown of the iPhone 4S has verified that both TriQuint (Nasdaq TQNT) and Avago (Nasdaq: AVGO) won slots for power amplifiers.
Because the iPhone is a world phone, both CDMA and GSM are serviced on every phone. The result: more gallium arsenide power amplifiers are required. Who is a big supplier to both TriQuint and Avago for this? You guessed it...AXTI. So how did the market react to the iFix-It news? TriQuint rallied 27% on the news, while AXTI was up 5%. It's quite striking when AXTI's stock falls on fears over TriQuint's earnings prospects, but doesn't rally when sentiment changes. AXTI's current share price creates an opportunity for savvy investors.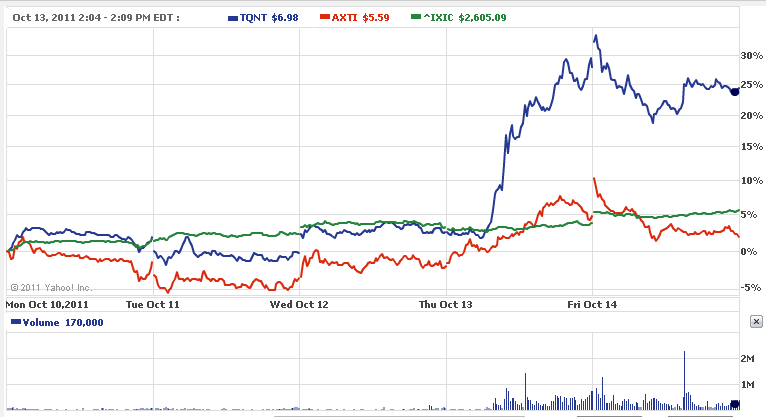 Maximum Pessimism Already Priced In
Clearly, we think AXTI's earnings prospects are not accurately reflected in the current stock price. The Company reports earnings on October 26th, and just like last quarter, we believe the "fears" will be proven wrong. While an earnings miss is more than priced-in after the steep sell-off, we hope to see a reassurance from management that the sky isn't falling, and long-term growth prospects remain firm. At the current price of $5.12 per share, the stock is trading at a depressed valuation, with incredible margin of safety. The Company has $3.00 per share in working capital and $1.12 per share in cash and liquid securities -- this equates to 59% and 22% of the current stock price.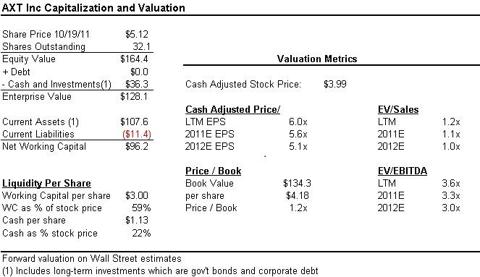 On a relative valuation basis, AXTI is trading at an undeserved discount, with a secular growth profile and margins much better than peers.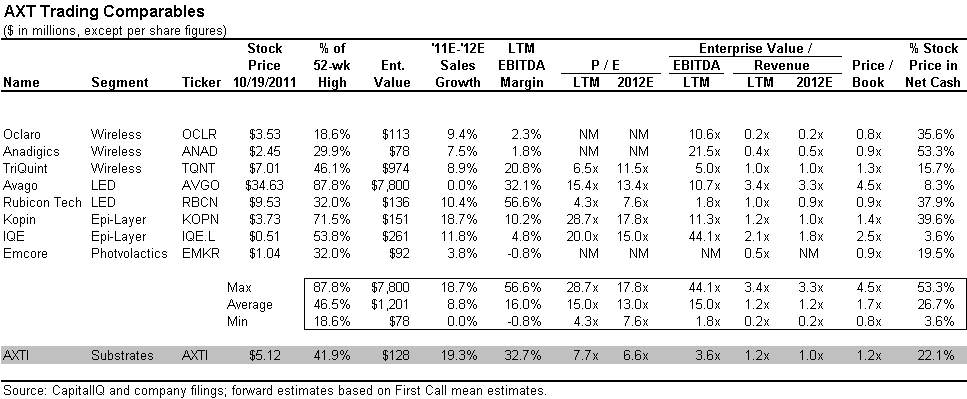 Disclaimer: Use of the research produced by Spruce Point Capital Management, LLC is at your own risk. You should assume the author of this report holds long positions in the securities of AXT Inc. that will benefit from a rise in the price of the common stock. Following publication of the report, the author (including members, partners, affiliates, employees, and/or consultants) may transact in the securities of the company covered herein. The author of this report has obtained all information contained herein from sources believed to be accurate and reliable and has included references where available and practical. However, such information is presented "as is," without warranty of any kind– whether express or implied. The author of this report makes no representation, express or implied, as to the accuracy, timeliness, or completeness of any such information or with regard to the results to be obtained from its use. All expressions of opinion are subject to change without notice, and the author does not undertake to update or supplement this report or any of the information contained herein. Spruce Point Capital Management, LLC is not a broker/dealer or financial advisor and nothing contained herein should be construed as an offer to or solicitation to buy or sell any investment or security mentioned in this report. You should do your own research and due diligence before making any investment decision with respect to securities covered herein, including, but not limited to, the suitability of any transaction to your risk tolerance and investment objectives and consult your own tax, financial and legal experts as warranted.
Disclosure: I am long AXTI.