Apple (NASDAQ:AAPL) released its much anticipated FYE on Oct 18th. Despite exceeding the company's own estimates and increasing Q1 2012 guidance, shares traded down to $394 after hours as the results didn't meet analyst expectations. What does this mean for AAPL shareholders moving forward? It traded at $398.62 EOD.
As I've written here before, AAPL was a mispriced and misunderstood growth stock and the recent headlines about "missing" estimates continues that trend. AAPL, like the innovative products it launches, will continue to be misunderstood because of the following factors:
The "Steve Jobs" factor. Steve resigned; and in a few months, passed away. Given Steve's health issues over the years, it was widely perceived that AAPL was trading at a discount due to this uncertainty. Ironically, now that he is gone, we are now fretting about how Apple could still be great without him!
Given the worldwide financial turmoil, how can AAPL continue to sell premium priced products consistently?
How could they keep on coming up with cool products that has mass appeal?
At $400, the share price is out of reach for most retail investors.
The company's historical guidance have always been conservative. It almost always end up exceeding analyst expectations; thus, leading analyst to either swing too high (in this case) or too low (as per the previous 22 quarters).
AAPL, unlike other companies, hasn't shown the willingness to actively "manage" its earnings (i.e. isn't it interesting how some companies beat estimates by .01?).
This week, Apple announced that they earned $28.2B in revenues (86% YOY), $6.6B in profits or $7.05 in eps. This exceeded the company's guidance (given on July 19th) of $25B and $5.50 in eps but fell short of the Street's estimate of $7.31 (keep in mind that their initial estimates came in at $6.80) and way short of independent analysts' $9.07!
Headlines like these were abundant:
- "Apple misses earnings; punished after hours"
- "Apple suppliers fall after miss"
and my favorite..."In a rare miss, Apple 4Q disappoints".
In a bizarre turn of events, what was lost in the headlines was the fact that AAPL guided higher than what the analysts were expecting for Q1 2012!
It is interesting to note that the Street's consensus estimate in July right after earnings were released was $6.80; as time went by, it was increased to about $7.20 DESPITE the fact that AAPL uncharacteristically guided lower during the cc! The fact of the matter is that AAPL knew 4S was going to be pushed out; they just couldn't formally spell it out as the main reason why they guided lower.
So, I wonder, what lead to such disconnect and what can we expect going into 2012? Connecting the dots backwards using Q3 & Q4 2011 earnings transcripts and the events leading towards the end of September, we can surmise that most of the Street misunderstood AAPL again. There are enough SA articles that covers the "why" (4S pushed to Q1, the overzealousness of trying to make up for previous 22 quarters of under estimations, etc...), I don't need to cover it here.
I'd like to know if AAPL really is slowing down or is the Street just not getting it? They've misdiagnosed this company for the past 20+ quarters INCLUDING this quarter, what makes anyone think it would be different next time?
What do we know to help us going forward?
(1) We know for sure that AAPL provides very conservative guidance. Since 2007, you will note that from the stats below, it exceeds its own guidance by at least 30%. Given that it has guided $37B and $9.30eps, we can surmise that (unless they've changed their conservative approach in they way they provide guidance since Steve passed away) it will probably do at least $11.00eps for Q1.
click to enlarge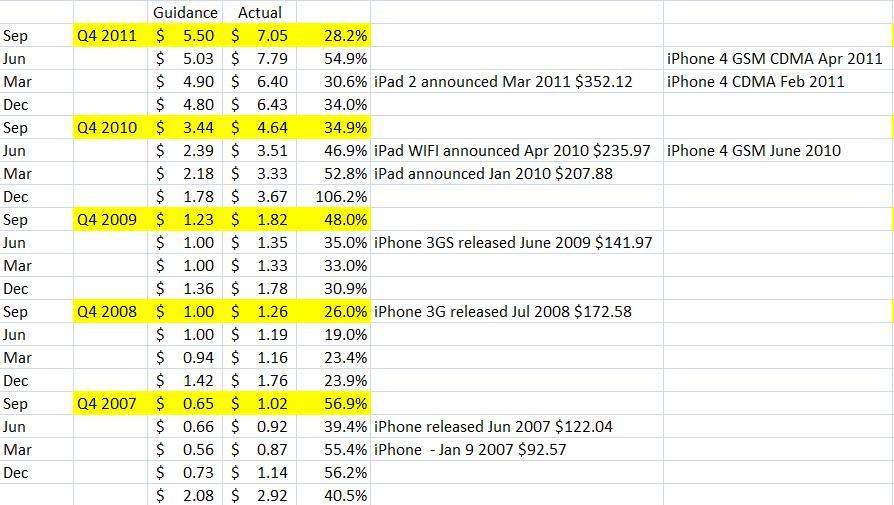 Insane? To put it in perspective, if they do $9.30 in Q1 that is almost 50% of what they've made in 2010! I don't know about you, but that is not a sign of "slowing" down! Know of any large cap growing at over 30% each year trading at comparable valuation and has disrupted the markets that it competes?
What would motivate a historically conservative company to guide a $37B quarter knowing that they've never even broken a $30B quarter? Have Tim and Peter lost their collective minds? Don't forget that Tim got awarded some AAPL shares when he became CEO; there is a lot riding on what he thinks the company can deliver.
(2) iPhone and iPad sales have not shown any signs of abating. We know 4S broke all sales records in the US (4 million units in 3 days!). We also know that since both these products are the primary drivers of its earnings, 4S must be doing very well.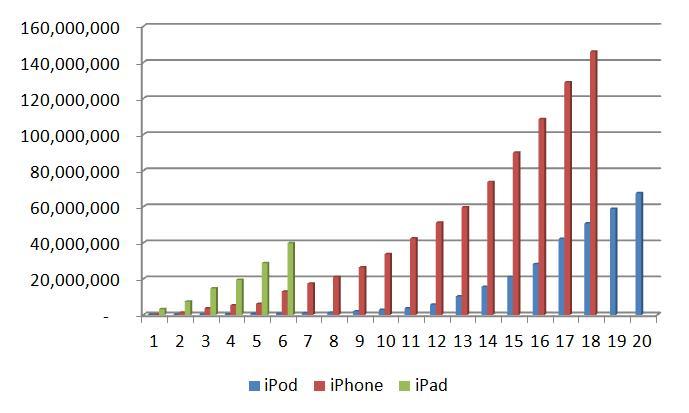 (3) On the recent earnings transcript, we should note that:
The handset market is reportedly about 1.5B; of which 400M are smartphones. Do the math given that AAPL has only sold 146M iPhones! Keep in mind that included in those 146M iPhones are at least 36M of the older iPhone 3 and 3GS models. According to IDC, the smartphone market is forcasted to grow at 55% annually.
iPhone will now be available in 105 countries with 230 carriers.
A stagering 93% of Fortune 500 and 60% of the Global 500 companies are testing or deploying the iPad.
250M iOS devices have been sold.
For the first time ever, AAPL now has a suite of iPhones to compete at each price points starting from $0!
(4) Brazil is up 118% YOY; revenues from Asia has now surpassed Europe.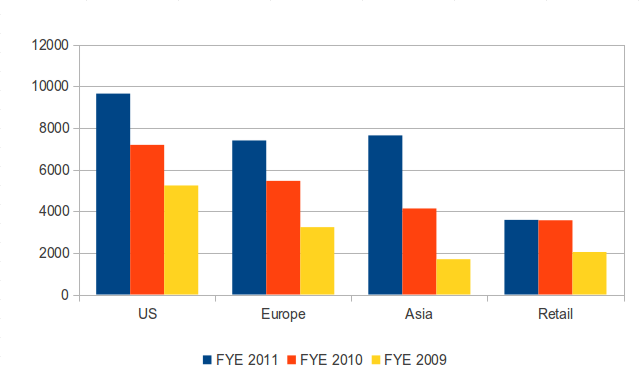 It is important to keep in mind that only 7% of AAPL's store are in Asia.
(5) SIRI - iPhone 4S was generally labeled as a "flop" when it was unveiled. Interestingly enough, so were the early generation of iPhones, iPods and iPads. The rest, is of course, history. I believe SIRI will be to iPhone (or any voice capable Apple device) what the "touchscreen" technology was to our mobile devices albeit with bigger game changing applications. There has to be a story behind those massive server farms in North Carolina.
There is no reason why Apple couldn't license this technology (hello BMW?)! iOS is the "glue" that binds them all together. Pretty soon, we will be talking to all our appliances too! What did the iPhone say to the Blackberry? "iWork!".
(6) Gauging the competition. It is a known fact that it is currently a 2 horse race - with the iPhone and the Droids owning 57% of the world smartphone market. Windows phone, interestingly, was picked to do better than the iPhone by 2015. I wonder if IDC gives refunds if their reports ended up being wrong?

One can never discount the probability that another company may come up with a game changing device that could disrupt Apples' ecosystem. Until then, what we need to understand is that Apple has no desire to discount their premium products to win market share. Furthermore, it is also safe to assume that not all smartphone consumers can afford and/or is attracted to Apples' value proposition. Therefore, fretting over "market share" alone is a useless exercise.
I do not put too much value on "estimates" nor do I use fundamental analysis as the primary driver for my decisions. Instead, I value (1) the transparency of information, (2) managements' consistency in execution, and (3) the "story" behind the stock.
The AAPL story remains intact. Management never guided this debacle; in fact, they've been as transparent as they can be allowed to. Remember the time where you had noble intentions (and you were upfront about it) and dated someone you wanted to marry? Unfortunately, her friends and family had other opinions or perception of who you are (despite being logically proven otherwise all the time). It wouldn't matter if you spoke the truth if she chose to listen to the noise instead!
The Street have been wrong about AAPL's prospects for more than 22 quarters like they've been recently wrong about SIRI. There is no reason why it would be different this time.
In the end, you can only connect the dots looking backwards. My "gut" tells me that Apple is about to reinvent our world again starting with SIRI.
Disclosure: I am long AAPL.