By Jonathan Chen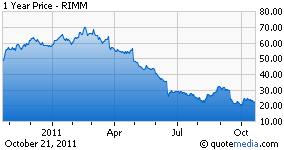 Research in Motion (RIMM) has been called the "headless horseman" before.
Now it appears management has gone to a whole new level of clueless, after supposedly cancelling a meeting between an activist investor and two of its board members.
This morning, headlines crossed the news wires that Jaguar Financial was supposed to meet with two independent directors of Research in Motion, and the meeting was subsequently cancelled by Research in Motion management. Jaguar was supposedly going to talk about corporate governance, and management "intervened" to cancel the meeting.
The headlines did not say who in management intervened, but it appears to be a safe bet that Mike Lazaridis and Jim Balsillie had something to do with cancelling the meeting. The initiative may have come directly from Lazaridis and Balsillie, or underlings were instructed by the Co-CEO's.
Why company management would cancel a meeting with an activist investor is beyond me. The company's stock has languished for years, as Apple (NASDAQ:AAPL) and Google (NASDAQ:GOOG) have entered the smart phone market in recent years, and have crushed the market share of Blackberry. Just take a look at this chart since the iPhone was introduced in 2007. RIM's share price performance is anything but pretty, when compared to Apple. Apple has returned 252% since June 1, 2007, while RIM is down over 50%.
Jaguar Financial is no stranger to the name, having called for Research in Motion to spin off its patent portfolio in recent weeks. Vic Alboini, Jaguar's chairman and CEO said, "The status quo is not acceptable, the company cannot sit still. It is time for transformational change."
For Research in Motion to be so cocky and arrogant to just completely dismiss anything an activist investor has to say reeks of uselessness at the top. A publicly traded company's ultimate responsibility is to enhance shareholder value. It is clear Research in Motion has done nothing of the sort.
The company did announce its new BBX operating system yesterday, combining its existing operating system, with its QNX software, which it purchased in an acquisition. There is some hope that the BBX platform will allow for a resumption of growth that RIM was accustomed to, or at least somewhere close to it. That does not mean that the tremendous loss of shareholder value over the years should be ignored because a new operating system was announced.
There are plenty of value reasons why Research in Motion would be a buy, as hopes of BBX, extremely low valuations, and the potential for activists to eventually get fed up and do something.
As I wrote when RIM reported earnings, most of this does not matter. With Balsillie and Lazaridis making decisions like this, the company is headless and the top, and the bottom line is shrinking fast. At less than $12 billion in market cap, RIM has lost more than 25% since the disastrous earnings report was released last month.
It does appear that Balsillie and Lazaridis are blind at the top, and nothing, not even an activist investor, can save the Ontario-based company.
This is not just a headless horseman. This is a company that appears dead without knowing it.
ACTION ITEMS:
Bullish:
Traders who believe that Research in Motion will finally get its act together might want to consider the following trades:
If QNX is as successful as many believe, RIM could be a screaming buy, trading at less than 5 times earnings.
There is also the chance that RIM management does not take Jaguar Financial seriously, and that a larger activist investor, like Carl Icahn could make a difference.
Bearish:
Traders who believe that RIM management is pig headed and will not listen to change may consider alternate positions:
This is bearish for company management, which has already tarnished their reputation. Additional actions like would only lead to more tarnishing.
Disclosure: I have no positions in any stocks mentioned, and no plans to initiate any positions within the next 72 hours.