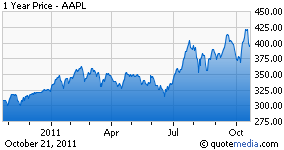 When I say "history" I'm referring to what happened in the early and mid 1980's. To recap, the Apple (AAPL) Lisa and then the Macintosh were brought to market in 1983 and 1984 respectively featuring stunning graphical interfaces, superb marketing, and a refusal to licence the operating systems or hardware; they essentially invented the PC. They developed a cult following and "coolness" that other entrepreneurs dream about.
Then, after 2 years of wild success for Apple, a boy named Bill got wise to the need for cool graphic interfaces and pitched an idea to IBM who, long story short, started running Windows 1.0 in Nov '85. Microsoft (MSFT) opened this platform up to every computer manufacturer and because of the incompatibility of software between the operating systems, the one with the smaller market share (Apple) quickly became obsolete.
Fast forward to 2007: In June, Apple invents apps and revolutionize smart phones by releasing iPhone. With the instant popularity and fanfare, they open up the app store to third party developers, just as they did in 84, because they absolutely recognize the need for fantastic content. The iPhone blows up for a few months before anyone else catches on giving it a strong lead to maintain market share for a few years. In Oct '08 BlackBerry (RIMM) launches App world, way too late. And like apple in 84, because they refused to licence their operating system and hardware, crashed and burned a few years later.
This time, grown up Bill was too busy being the richest person in the world to bother stomping Apple again; but someone else did get wise. Google (GOOG) saw what was going on with the smart phone market and in 2005 bought a small company called Android and stuck it in their back pocket. When the iPhone came out, they realized the demand for cool graphic interfaces and pitched an idea to a few cell phone companies who, long story short, by the launch date of Android OS in Oct '08 featuring Android Market, included Samsung (SSNLF.PK), LG (LG), HTC, Motorola (MMI), Sprint Nextel (S), T-Mobile, Sony Ericsson (SNE)(ERIC) among 20 other companies, jumped on board.
For the following 3 years, Apple enjoyed impressive market share gains, opened a network of self owned retail stores, and re-claimed that same cult following and "coolness" that other businesses dream about.
This brings us to the present , October 2011. The perception of start up app developers is starting to change. I'm not talking about the big boys, they will make apps for every OS just as they made programs with both a Mac disc and a Windows disc in the box. I'm talking about the entrepreneurs that look at apps and say "Hey, we should probably make one of those and test it out"… Those developers are now starting to look at the market and say "…and we should probably make it for Android". Once the market share of a particular OS becomes obviously predominant, the smaller developers will cease creating apps for the competition. When one app store has all the newest coolest apps, and you can't switch away due to incompatibility, it will be set in stone.
One trend I've noticed over the past decade is that it's very common for a tech company to explode into success, however the only companies that seem to last are the ones that partner up and integrate themselves with as many other companies as possible. I.E. Microsoft, Amazon (AMZN), Google, Facebook, IBM (IBM), Dell (DELL).
My guess is that by this time next year, Android will have a 70% market share of new purchases, RIMM will be toast, and Apple will have missed 4 quarters in a row and be trading below $275.
Disclosure: I own an iPhone 3gs and was holding out for the new iPhone release. I was underwhelmed and I'm now buying a Samsung Galaxy S2, mainly because I think Swype looks really cool. I have no positions in any stocks mentioned, but may initiate a short position in AAPL, RIMM over the next 72 hours.