What do precious metals stocks and Vodaphone Group (NASDAQ:VOD) have in common? The answer may surprise you.
The precious metals sector (as partially represented by ETFs like the Market Vectors Gold Miners, GDX, or the Global X Silver Miners ETF, SIL) and VOD are both attractively priced and worth owning right about now.
They are not the "darlings of Wall Street," they generate a lot of cash, they have the potential to be worth a lot more than their current share price, and they have staying power. They offer what the world is demanding and buying!
Getting Rich on Gold and Silver Stocks
At the present moment, the precious metals sectors is in correction mode. The media gives lots of reasons why, but the two big reasons are 1) some very large institutions have some big short positions to cover, and 2) The huge pension funds, hedge funds and mutual funds are needing a launching pad from which to capture some big gains in the 4th quarter of 2011.
The best way to accomplish both of the above is to drive the sector down at the beginning of the quarter and then let it skyrocket toward the end of the quarter.
What will be the biggest upside catalyst for precious metals and metals stocks? In my opinion, it will be the surprisingly large European bailout program that the ECB and the Fed will eventually orchestrate.
Gold stocks have underperformed the actual metal before. Many frustrated investors don't realize that leading up to the blow-off top in gold in 1980, gold producers lagged the metal for two full years. That may happen again, but it's likely not to take as long.
As of Oct. 20, gold is up about 15% year-to-date, while gold stocks (NYSEARCA:GDX) have fallen more than 14%. This is a similar pattern to the pre-mania behavior of the last precious metals bull market; it may be showing us that the current relationship between gold-silver and the precious metals equities is not abnormal.
Let's look at the mania itself and see what else we can learn. Here's a chart of gold and gold stocks in 1979 and 1980: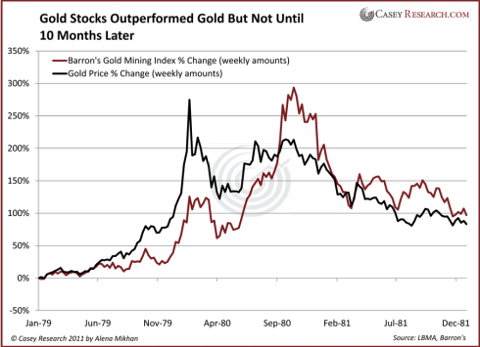 Once the mania began, gold producers outperformed the metal by almost 300%. From January 1, 1979 through their peak in October, 1980, gold stocks rose 293.6%. The metal gained 274.8% during its part of the mania, hitting its high point of $850 on January 21, 1980.
Now I can't predict for sure if that's about to happen again, but it wouldn't surprise me. Plus, we have to admit that the gold miners as measured by GDX appear close to their bottom, and actually appeared to bounce off that bottom on Oct. 20.
As Jordan Roy-Byrne wrote in a very timely manner:
"As it stands now, the next few days will be critical for the mining stock complex. Wednesday [and again on Thursday], GDX closed below support at $55, which hasn't been penetrated on a weekly basis since June."

The market has found reliable support this year at $52 which also marks the 600-day moving average, a level which has supported GDX at every key bottom except in 2008. [On Oct 20 GDX hit an intra-day low of $52.03 and then closed at $53.13].

There are other things to consider beyond basic technical analysis. This chart from sentimentrader.com shows the HUI along with some breadth indicators which are looking very healthy relative to 2008. In mid 2008, the McClellan Summation index had already broken to a multi-year low. Presently, the index is yet to break to any major new low. Also, the cumulative advance decline line remains in an uptrend and close to a new all time high.

Typically, breadth indicators will breakdown first and signal trouble. That is what happened in 2008. We aren't seeing that yet. Furthermore, we should note that the bullish percent index (the percentage of stocks on P&F chart buy signals) for GDX is only 23%. The recent low of 16% was the lowest figure since, you guessed it late 2008. Needless to say, the gold stocks are quite oversold.
So dear reader, if you are willing to stand some big volatility that may still be ahead of us, you may someday look back at today and say, "I could have become rich buying the best-of-breed gold and silver producers back in October 2011.".
Such amazingly profitable companies like Goldcorp (NYSE:GG), Barrick Gold (NYSE:ABX) IAMgold (NYSE:IAG), Kinross Gold (NYSE:KGC) and Newmont Mining (NYSE:NEM) may be reporting some stunning gains in earnings and revenues in the next few quarters, and the share price could benefit beyond many investor's expectations.
If you don't mind the controversy, possible legal problems and weathering a takeover or two, you might want to start nibbling at companies that have corrected lately yet have a great deal of precious metals in the ground to bring to market.
Good examples of these companies would be Agnico-Eagle Mines (NYSE:AEM) and Silvercorp (NYSE:SVM). SVM is a potential double from here, and once AEM gets its act together and the bad news out of the way, we may see it move up 50 to 100% from present levels.
A great way to leverage the potential for a big spike upward in the price of gold and silver is to own the royalty companies that rake in huge profits from buying very low and selling very high when the precious metals are extracted from the mines. Examples of these companies are Silver Wheaton (NYSE:SLW), Royal Gold (NASDAQ:RGLD) and Franco Nevada Corp. (NYSE:FNV).
Vodafone Group: Nothing to do with Precious Metals
If you want to diversify and you like the earnings potential for a company that makes boatloads of money from the burgeoning worldwide mobile telecommunications business, consider Vodafone (VOD).
Not only does it pay a 7% dividend (that's right, 7% -- and backed by a lot of cash to keep that dividend going and growing), but it has a business model that may lead to substantial earnings and share growth in the months and years ahead.
VOD offers mobile voice services to approximately 370 million customers; messaging services; mobile data services; fixed broadband services to approximately 6 million customers; and wholesale carrier services to approximately 40 African countries.
The company also provides business managed services, such as secure remote network access services, as well as operates and sells mobile virtual network access.
If that doesn't impress, it also supplies smartphones and tablets; designs, manufactures, and sells handsets under the Vodafone brand; and supplies connected smart devices, such as 4G/LTE mobile broadband stick, and Vodafone WebBox that enables customer to connect to the Internet through television sets.
The company directly owns and manages approximately 2,200 stores, as well as has approximately 10,300 Vodafone-branded stores operated through franchises and dealer arrangements.
It also offers its products and services through third party services providers, independent dealers, distributors, and retailers, as well as through Internet.
And are you ready for this? VOD owns 45% of America's giant wireless service provider, Verizon Wireless. Verizon Communications (NYSE:VZ) owns the other 55%.
Verizon Wireless generates about $12 billion in cash per year, and VOD will finally receive about $4.5 billion of that cash in a one-time distribution sometime around January 31, 2012. Owning 45% of Verizon Wireless means that as long as that entity keeps strengthening its reach and expanding its customer base, VOD will have a very bright future.
I'm not willing to pay more than $26.22 per share for VOD right now, so it may be prudent to wait awhile before buying. At that price it would be yielding around 7.32%.
With it's massive cash flow, outstanding business plan and trading at only 9 times forward earnings, this dominant provider of what the free world wants will help you get rich over time and pay you generously for your patience.
If you are willing to wait to accumulate VOD or any of the companies mentioned in this article when there is worldwide "panic selling" of stocks (which will happen again and again in the months and years ahead) you'll be more likely to make your fortune...and when you do sell, you'll capture gains of a lifetime.
Disclosure: I am long GDX, GG, IAG, KGC, SVM, SLW, RGLD.