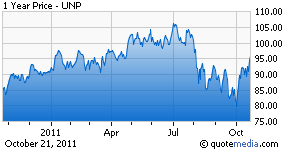 Union Pacific (NYSE:UNP) reported excellent third quarter results Thursday that revealed quarterly records for operating revenue, operating income and earnings per share. We think such results reinforce our view that the economy is not headed for recession anytime soon.
Union Pacific's revenue advanced 16% over the same quarter a year ago thanks to higher business volumes across four of the firm's six business groups: automotive (up 10%), industrial products (up 8%), energy (up 7%) and chemical shipments (up 5%). Agricultural and intermodal volumes fell, the latter due to a lost customer.
However, freight revenues advanced across all six segments driven by fuel-cost recoveries (car rates) - industrial products were up a whopping 24%, while automotive was up 23%, supporting our view on the strength of the U.S. economy that we outlined in the October edition of our newsletter. Union Pacific's operating ratio was 69.1%, which, according to the firm, beat its best-ever quarterly record achieved in the same quarter last year.
Net income jumped 16%, despite a 50% increase in fuel costs during the period, while diluted earnings per share jumped 19%.
Overall, we were pleased with Union Pacific's performance and think it is another positive data point on the health of the U.S. economy.
Disclosure: I have no positions in any stocks mentioned, and no plans to initiate any positions within the next 72 hours.