Office products company Staples (NASDAQ:SPLS) could very well be gearing up for a takeover of OfficeMax (NYSE:OMX) and Office Depot (NYSE:ODP), according to some Wall Street analysts. Although Staples has been taking away market share from both firms, it stands to significantly improve margins in the event that it reduces competition -- a process that should be taken care of sooner rather than later, given macro headwinds.
Staples operates in 26 countries, but has performed weakly in international operations when it comes to growing the bottom line. China is on track to lose as much as $20M this year, while Brazil has seen double-digit revenue growth with no profit to show for it. Management also appears to be scaling back on the European printing business, but shareholder pressure is nevertheless rising as the company has struggled to create value for more than half a decade. A buyout of either OfficeMax and Office Depot could provide the needed catalyst that would strengthen brand, add products, and further an economy of scale.
In the event a takeover does not occur, Staples still has solid fundamentals that are holding up to a normalized environment. At the second-quarter earnings all, Chairman and CEO Ronald Sargent noted:
North American Delivery grew the top line 3% with growth in all 3 channels and North American Retail grew the top line about 2%, with positive comps in the United States. In International, the top line was up 15% in U.S. dollars or flat in local currency.

All 3 growth initiatives delivered a strong performance during the quarter. The facilities and breakroom business continue to gain momentum, it was up 13% in the second quarter in North American Delivery. In North American Retail, Copy & Print sales were up 4% and we made good progress in our Technology business, with mid single-digit growth in computers and double-digit growth in EasyTech services.

While our growth initiatives are gaining traction, we're also seeing growth in core office supplies. With positive trends in the key back-to-school season, we're planning to deliver solid earnings growth in the second half.
Europe and Australia stand out in Staples' international segment. Contrasting with operations in other foreign regions, all of Europe is profitable, with the strongest performance in Germany. Australia follows as a catalyst with its improvement to a 4%+ margin. At the same time, margins could be improved even more through reductions in headcount, increased offering of private labels, and general restructuring. Spreading management out through a bigger company -- in the event of a OfficeMax and/or Office Depot buyout -- would help towards this end. North American Delivery operating margins were down 33 basis points for the quarter to 8.4%, while gross margins were flat yoy. Higher fuel costs, development of Staples.com, and sales force investments cut into the profit margin.
Note also that management has a goal to return $300M to $500M back to shareholders through its share purchasing program. Many analysts are bullish that this figure will be exceeded and actually total $750M. With OfficeMax trading for almost half of that at a respective 6.7x and 0.7x future earnings and book value, Staples certainly has the resources to stage an exciting takeover.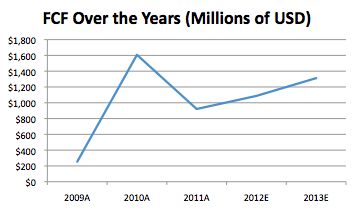 Note: The locus of points between individual years has been reduced to a line for simplification purposes.
Analysts currently rate the stock around a buy, not just because of strong improvements to free cash flow, but also because of how that extra cash can be used to create long-term value. A strong back-to-school year and EBIT margin improvements further make the stock undervalued. Consensus estimates for EPS are that it will grow by 10.2% to $1.40 in 2012 and then by 9.3% and 15% in the following two years.
I model revenue growing by 3.1% to $25.3B in 2012 and then by 1.7% the following year. As the stock trades at 11.2x and 9.5x past and forward earnings, respectively, while offering a dividend yield of 2.74%, I find it to be a defensive investment. With a beta of 0.87 and tremendous upside from acquiring either OfficeMax or Office Depot, or both, Staples offers favorable risk reward.
Disclosure: I have no positions in any stocks mentioned, and no plans to initiate any positions within the next 72 hours.