I love to dream of better days ahead, but try not to be oblivious to the underlying conditions and how we arrived here. Yet some commentary that I read – no names needed – still views the economy as this insulated little beast that lives on stock markets and short-term corporate earnings. Certainly we do get some good news every now and then, and I'm thankful for them. Case in point is the latest National Association of Homed Builders – NHAB - House Market index, which jumped 4 points from 14 to 18.
But before we get the streamers and noise makers and start to celebrate, even with a 15% rise in housing starts, two other data series put a bit of cold water on the housing market. Building permits dropped 6% and mortgage applications purportedly suffered from a slight increase in interest rates, according to Reuters.
Applications for U.S. home mortgages tumbled nearly 15% last week as demand for both refinancing and purchases evaporated, while interest rates climbed, an industry group said on Wednesday.
Even as "fixed 30-year mortgage rates averaged 4.33%," one of the lowest levels ever recorded, the obviousness is that low rates are not stimulating buyers. But if one is too focused on the real estate market, as important as it is, the bigger message is completely missed.
Click to enlarge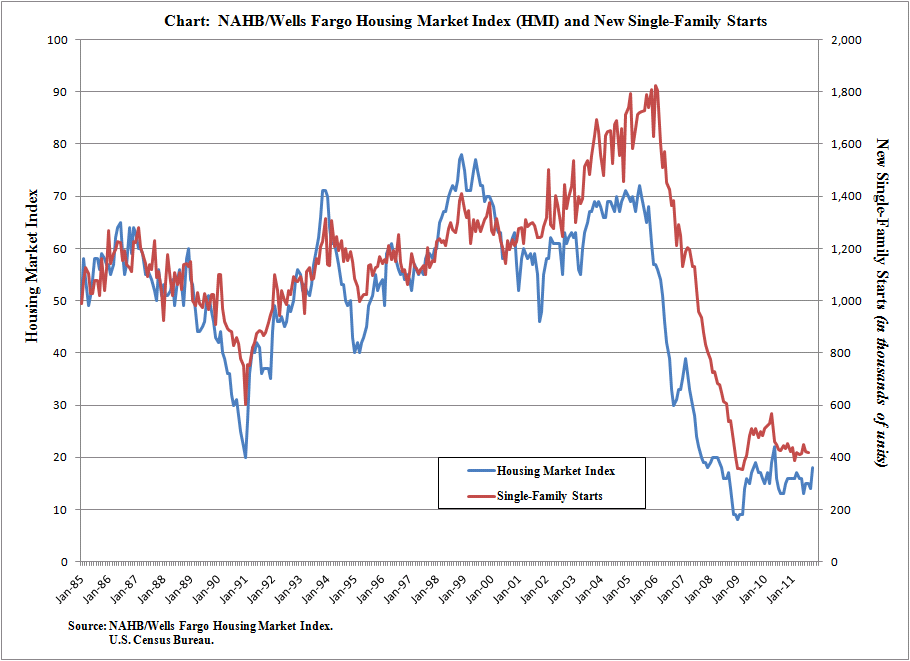 The chart above is provided by the NHAB and depicts the association's housing index and home starts between 1985 and the most recent reading. The housing slump that took place in the early 1990s was milder and prices held up quite well. Only 10 years later another cycle took place when the wealth effect from the dot.com mania vanished, and, in hindsight, the NAHB Housing index never recovered.
But at that juncture lower rates that resulted from the September 11 attack propelled housing investment to new heights, and the Federal Reserve only caught onto the problem too late in the game. The end result was that not only did debt accumulate to unprecedented levels, it did so on the back of astronomical house price increases.
Furthermore, house starts found a new high which was over 28% above the high during the dot.com era. By the end of 2005 the housing index was weakening, yet building continued unabated, leading to excessive investment that must be digested over a long period. What the chart also shows is that the industry potentially built 400,000 houses that we didn't need.
But 400,000 houses at an average price of $250k or so only amounts to $100 billion, and that's a drop in the larger GDP ocean, one may say. Well, that excess drove the valuation of the existing house inventory to the sky, further opening the door to loans based on "fake" equity that further propelled individuals into debt by buying a wide spectrum of goods and services and wouldn't have been affordable to start with. From automobiles to vacations, electronics to designer lipsticks for all I know. And that's the so called "multiplier effect."
I recall a friend telling me that a co-worker on a salary of $75k owned two houses and owed $800,000. How's that possible? Adjustable mortgages and negative amortization as a bet on further price appreciation. All the person cared about was looking good, while the mortgage broker wanted the commission and had no plans to service the loans.
What the chart does not show is how much debt was created and how the side effects filtered into every economic area, not to mention the toll it continues to take on consumer finances and sentiment. Yet the Federal Reserve, completely oblivious to common sense economics, thinks that "Operation Twist" will help the problem, when Chapter 7 and 11 are truly the tools that enable someone to start fresh. But nobody wants the losses.
A common view is that since we've been at this for the better part of four years, it must be coming to an end. I wish it was so, but the elephant in the room is only making itself comfortable. Bloomberg had an interesting article, "U.S. Banks See Rising Investor-Refund Demands," which highlights the ongoing debt debacle which is still holding the economy hostage.
"This is really surprising," said Chris Gamaitoni, a mortgage and banking analyst at Compass Point Research and Trading LLC, adding that banks have been telling investors that delinquencies weren't as bad for loans originated after the bubble years. "Maybe the banks didn't really tighten until 2010," Gamaitoni said.
Surprising or not, the reality is that yesterday's inordinate debt cannot be solved in half a decade, and I'm not sure that even a full decade will do.
To add additional perspective, a Bloomberg article stated that "Payrolls fell in 25 U.S. states in September, led by North Carolina and Ohio, a sign the weakness in the job market is broad-based."
As far as the stock market is concerned, Thursday's Existing Homes Sales were a bit short of expectations and fell 3%. But the irony is that with lower home sales, and, by association, a weaker economy shown by an immediate dollar drop, the market rallied, although it stumbled on European news of a summit delay which was eventually dismissed. The reasoning could be that the Philadelphia Fed Manufacturing index delivered the first positive reading since July, which doesn't address the dollar reaction, and the Philly index is regional while home sales are national.
In all honesty "bull" and "bear" markets are definitions that are buried deep in my back yard, and I refrain from using the terms as much as possible, although they tend to slip only as a bad habit. Consider the recent talk about an "official" bear market, defined by being down 20% from the high. How useful was that? What was I supposed to do since the bear had already eaten 20% of the honey I had? Will the bear get fatter or will someone shoot it? And then there was the breakout to a new "bull" market. But we're not there yet, officially speaking.
Why do I bring this up? Markets are a composition of fluid trends – up and down, weak and strong – and the typical definitions add nothing to the cause. And as obvious and stupid as it may sound, it isn't, because I've seen individuals so attached to a "bull" or "bear" opinion - small and big players alike - that their heavy bets reflect their beliefs, and leave no room for the ups and downs that the market invariably delivers. In many cases the damage is insurmountable.
Certainly we'll continue to have the market ups and downs, while economically speaking there's no true solution in sight, and the calls for "bear" and "bull" will continue to make headlines. But are we talking about the weekly market movements, or the larger economic landscape? On that front, I'll say that we have a "bear" of an economy, and the markets will continue to enjoy a multitude of dynamic and sometimes erratic "calves" and "cubs." The financials still, and will always, hold the key, and as of late the slightly positive trend has assisted what appears to be a "bull" market.
Disclosure: I have no positions in any stocks mentioned, and no plans to initiate any positions within the next 72 hours.