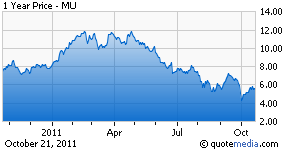 Micron Technology, Inc., (NASDAQ:MU) together with its subsidiaries, engages in the manufacture and marketing of semiconductor devices worldwide.
I have been looking at Micron for quite some time. I believe recent events have taken a huge toll on the stock price. As a value investor, I really like the fact that Micron is trading under net tangible book. Let's analyze Micron's current risks and see if the market is right in discounting the company.
Rambus V. Micron: Micron is currently in a $4 billion lawsuit with Rambus (NASDAQ:RMBS). Rambus is claiming that Micron colluded with other DRAM manufacturers and lower prices to take Rambus out of the market. Micron is claiming that Rambus' chips were inferior and companies chose not to do business with Rambus. Micron also mentioned that Rambus shredded important documentation regarding the case. A major note is that under California law, the damages could be tripled if Rambus wins.
DRAM Pricing: The price of DRAM is the biggest reason that Micron has posted poor earnings reports. Micron's margins have fallen so low that their cost to produce is greater than their revenue. However, is this is due to an oversupply issue. We are now starting to see supply cuts across the industry. Micron also recently announced its Product Longevity Program, the program is designed to secure supplying to clients for the next 10 years. DRAM prices are starting to stabilize now too. Samsung announced prices will stay around this area.
PC Sales Growth: PC sales have been slow because of the adoption of tablets as well as being in a recessionary environment. Gartner expects PC sales to continue to grow, but at a very low pace. While this is true, Micron is not just in the PC market. They have entered the NOR market and hope to monetize on the smart phone market.
Loss Of Competitive Edge: Micron is not losing its competitive edge. The company's acquisition of Numonyx makes it a leader in the NOR market. Even though Micron posted a loss last quarter, it is still not experiencing heavy losses like its competitors Nanya and Elpida.
The only real concern amongst these is the lawsuit with Rambus. Investors should wait and see what happens in this case. However, even this lawsuit maybe factored into the price to some extent.
I think Micron has plenty of value in the company. Keep in mind, Micron has a very large partnership with Intel (NASDAQ:INTC). Intel and Micron both created a joint venture called IM Flash Technologies. A partner like Intel will be a great benefit to a mid cap like Micron. Intel also has a decent sized stake in Micron's shares.
The fact that the company's net tangible assets is about equal to $8.15 per share shows that the market has heavily discounted the company. I do not see Micron's business improving significantly, but I do see the stock price eventually matching its fundamentals.
Micron is a bad company priced in a terrible manner. I believe it is a great long-term value play. If you do not want to buy the stock, I recommend selling a cash covered put at the $5 strike. This way you can collect some premium while choosing your target purchase price.
Disclosure: I have no positions in any stocks mentioned, and no plans to initiate any positions within the next 72 hours.