It is clear now that business support provider Accenture Plc (NYSE:ACN) has successfully weathered the macro volatility that brought down many businesses. As a leader of its field, Accenture is stronger than ever, offering high-growth management, tech, and outsourcing consulting services. Since the start of 2009, the stock has gone up by more than 80% while the S&P 500 (NYSEARCA:SPY) has only gone up roughly half of that. The firm currently trades at multiples, in my view, substantially below that of intrinsic value - 16.8x and 13.6x past and forward earnings, respectively.
Accenture performed well during 2011, rounding out the the year with impressive 4Q earnings. At the fourth quarter earnings call, CEO Pierre Nanterme noted:
We delivered record new bookings of $8.4 billion for the quarter, and $28.8 billion for the year. Revenues for the quarter increased 14% in local currency to $6.7 billion with all 5 operating groups delivering double-digit growth. Full year revenues increased 15% in local currency to $25.5 billion, a new record.

Earnings per share for the quarter were $0.91, a 38% increase over Q4 last year. For the full year, earnings per share were at record $3.40, up 28% over fiscal year 2010. We expanded operating margin for both the quarter and the full year. We generated free cash flow of $1.2 billion for the quarter and $3 billion for the full year, exceeding the top end of our annual range by more than $300 million.
These figures are nothing short of stunning for such a mature company. Much of this growth was driven by strong bookings, cost cutting, and margin expansion. Management is looking to further trim G&A and take advantage of global delivery leverage. Bookings grew to $28B, 55% of which came from consulting, the other from outsourcing. Management consulting saw strong top-line growth and tech consulting has yet to realize its full potential, as Accenture further develops its cloud capabilities. And in outsourcing, Global Delivery Network has seen increased demand due a growing need for streamlining services and reducing costs in a tough macro economy.
All told, Accenture was successful across the board for fiscal year 2011. It either met or beat all of the goals that management set out to achieve in their forward-looking outlook. Records were recorded in operating margins, free cash flow, and new booking. Below is a chart that evidences Accenture's nature as a free cash flow generator.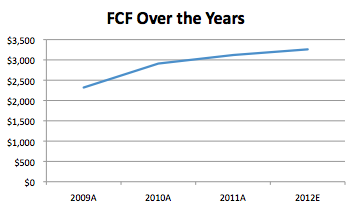 *Note: The locus of points between individual years has been reduced to a straight line for simplification purposes.

In addition to scaling successful operations, management is also committed to returning excess cash to shareholders. The company repurchased an impressive $2.8B worth of shares and increased semi-annual dividends by 50%. Accenture now has $5.71B in cash - representing 15.4% of its current market value - that can be deployed to not only increase buybacks (dividends have a negative tax implication), but also to taking market share away from competitors.
IBM (NYSE:IBM), in particular, is likely to have strong growth - and, as I stated earlier, it is nowhere near its peak. IBM too has produced tremendous value creation during one of the worst economic periods in US history. But it has nowhere near the kind of net cash that Accenture has - in fact, it has $18B worth of net debt that is holding back returns. So, while I remain bullish on IBM for the reasons expressed in the article, I find that Accenture is now better positioned to taking on the competition through an acquisition strategy.
Microsoft (NASDAQ:MSFT), on the other hand, has $38.2B worth of net cash, which represents 16.9% of its current market capitalization. In the years ahead, I anticipate the software-maker to unlock tens of billions worth of shareholder value as it pursues cloud integration. However, the company remains different enough from Accenture that I do not believe a weighty competitive pressure exists here. And then there is Oracle (NASDAQ:ORCL), which has $16.9B worth of net cash - a figure that represents a lower respective percentage of market value than for Accenture at 10.6%. I am more concerned about the implications of Oracle's growth on Accenture than I am for Microsoft's. The reason is that, in my view, Oracle will provide more of a competitive pressure to the industry (relative improvement versus absolute).
With that said, Accenture continues to impress in all of its segments: communication & high tech; health & public service; products; financial services; and resources. In the last segment alone, revenue was up 18% in local currency for the fourth quarter, driven by ERP and improved global operating models. Given its high cash holding, Accenture is likely to grow through acquisitions and create a stronger economy of scale. As macro stagnation resides, Accenture is well positioned to enter even more segments as it becomes something of a giant conglomerate.
Consensus estimates for EPS are that it will grow by 12.6% to $3.83 in 2012 and then by 10.2% and 9.2% in the following years. As the stock flourished during the recession, produces strong FCF growth, and offers a dividend yield of 2.36% complemented by likely increases in share repurchases, Accenture has favorable risk/reward. Like most other analysts, I strongly recommend taking a long position.
Disclosure: I have no positions in any stocks mentioned, and no plans to initiate any positions within the next 72 hours.