Delta Air Lines, Inc. (NYSE:DAL) is due to report earnings before the opening bell on October 25, 2011.
Overview
DAL trades an average of 12.5 million shares per day.
Delta Air Lines provides scheduled air transportation for passengers and cargo in the United States and internationally. It operates from airports in Amsterdam, Atlanta, Cincinnati, Detroit, Memphis and Minneapolis-St. The company was founded in 1924 and is based in Atlanta, Georgia.
52 Week High: $14.54
52 Week Low: $6.41
Book Value: $0.93
Float Short: 2.27%
Analysts are expecting an improvement of $0.48 in earnings per share compared to last quarter's results of $0.43. A beat of $0.91 per share will top the estimated per share earnings. Analyst estimates range between $0.64 and $1.05 per share.
The numbers from analysts I follow suggest a beat of the estimate by $0.05 -$0.10. If Delta does beat and the stock moves higher, I will look to short front month and or possibly back month $10 call options. I don't believe Delta will be able to hold above $10 without a beat of at least $0.25 per share
The stock has moved higher in price 6.25% in the last month, and changing from last year at this time -27.35%. Delta is trading under the 200-day moving average and I am not a fan of airlines. The entire industry is high risk, with almost zero long-term ability to make money. Delta also made a mistake buying NWA a few years ago, making changes that much more difficult. It will not be long and we will see China providing greater competition to the one area in airlines remaining profitable, international travel. I have flown on several Chinese airlines, and the flight attendants are friendly, the cabins are clean, and the overall experience is much better. First class doesn't cost four times the amount of coach flights either.
When comparing to the S&P 500, the year to date difference is -29.88%. When a stock is double digits below the major index, it sums up the situation pretty well right there.
The company has rising revenue year-over-year of $31.76 billion for 2010 vs. $28.06 billion for 2009. The bottom line has rising earnings year-over-year of $593.00 million for 2010 vs. $-1.24 billion for 2009. The company's earnings before income and taxes are rising with an EBIT year-over-year of $2.22 billion for 2010 vs. $-324.00 million for 2009.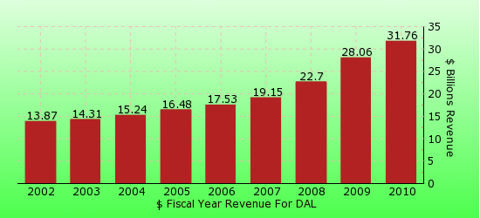 Gross reported revenue compared to the mean estimate (rounded).
| | | | | |
| --- | --- | --- | --- | --- |
| Fiscal Quarter Ending Month-Year | Revenue Estimates | Actual | $ Difference | Difference % |
| Jun-11 | $ 9.14 B | $ 9.15 B | $ 10.72 M | 0.12% |
| Mar-11 | $ 7.58 B | $ 7.75 B | $ 163.16 M | 2.15% |
| Dec-10 | $ 7.72 B | $ 7.79 B | $ 70.56 M | 0.91% |
| Sep-10 | $ 8.82 B | $ 8.95 B | $ 125.65 M | 1.42% |
| Jun-10 | $ 8.24 B | $ 8.17 B | $ -74.52 M | -0.9% |
M = millions, B = billions
Differences are rounded. (Some one-time items are often excluded in reported EPS).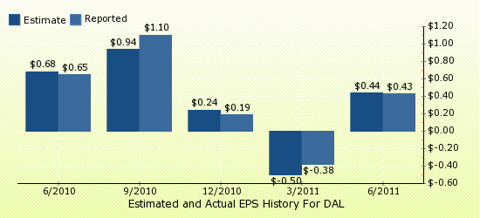 Reported earnings per share compared to the mean estimate. Differences are rounded.
The total short interest number of shares for DAL.

The number of days to cover short interest based on average daily trading volume for DAL.

Please click +1 and or twitter this article if you found it informative. Please also feel free to share your thoughts and comments. What do YOU think the earnings will be and why?
I use a proprietary blend of technical analysis, financial crowd behavior and fundamentals in my short-term trades, and while not totally the same in longer swing trades to investments, the concepts used are similar. You may want to use this article as a starting point of your own research with your financial planner. I use Seeking Alpha, Edgar Online and Yahoo Finance for most of my data. I use the "confirmed" symbols from earnings.com that I believe to be of the most interest.
Disclosure: I have no positions in any stocks mentioned, and no plans to initiate any positions within the next 72 hours.