Chipotle's (NYSE:CMG) stock is on everyone's radar these days, and for good reasons: Its economic fundamentals seem better than ever, as the company continues to open new restaurants and attract the crowds. The company further displays a strong operations statement, an outstanding balance sheet, and a nice chart; and has analysts and financial commentators, including Jim Cramer, raving about the company stock. But how much better can things get? How long will it take before competition and saturation closes in or the market becomes saturated? How many momentum investors are ready to join the party?
| | |
| --- | --- |
| Operating Margin | 15.53% |
| Quarterly Revenue Growth | 22.4% |
| Quarterly earnings growth | 9% |
| P/E | 54.12 |
| Total Cash | $384.4M |
| Operating cash flow | $334.95M |
(Click chart to expand)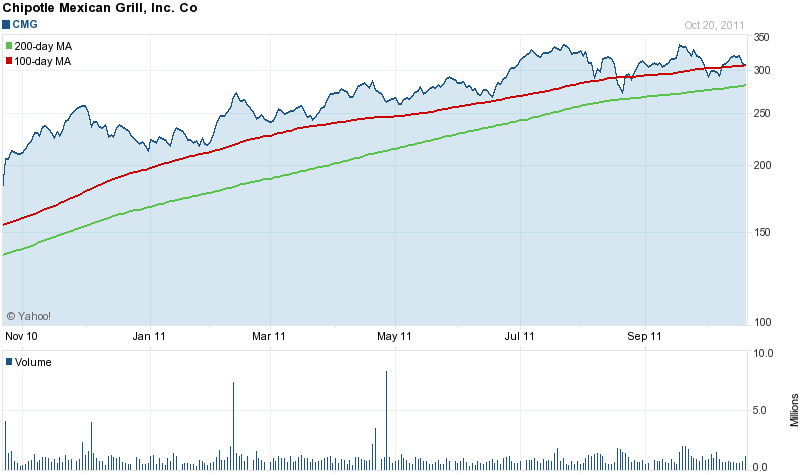 Click to enlarge


Here are four things that worry me: First, competition from other fast food chains, like McDonald's (NYSE:MCD), which has demonstrated the ability to innovate and transform itself, capitalizing on emerging trends; Panera Bread (NASDAQ:PNRA), which competes in the same customer segment; and all sorts of upstarts that serve Mexican food.
Second, new labor regulations that, in essence, have put an end to cheap labor for the restaurant industry may end up squeeze profit margins.
Third, Chipotle's growth is, in part, is driven by fashion and faddism for Mexican food. This means that its growth will suffer once the craze fades away, as has been the case with other objects of craze in the past.
Fourth, Jim Cramer is extremely bullish on the company, calling it a "culture" rather than a restaurant in CNBC this morning. For me, this is a contrarian indicator. Remember how Jim Cramer was raving for Netflix (NASDAQ:NFLX), Open Table (NASDAQ:OPEN), and Green Mountain Coffee (NASDAQ:GMCR) a few months ago?
The bottom line: The hype is running too high for Chipotle. Conservative investors should avoid the stock at this price level, while aggressive traders may want to short the stock.


Disclosure: I am short NFLX.