Abbott Laboratories (ABT) sports five-year dividend growth of nearly 10% as well as a 3.5%+ annualized yield. Eli Lilly (LLY) has a P/E of 9, a 5.3% dividend yield and three years earnings growth of 19%. Meanwhile, AstraZeneca PLC (AZN) has a mammoth 35% trailing return on equity with a 5.8% annual dividend payout.
How in the world are investors overlooking the pharma space? Actually, the smart money hasn't overlooked it. The iShares DJ Pharmaceuticals Fund (IHE) is part of a select group of stock ETFs with a price above a 200-day moving average. In fact, not many stock ETFs in that select group can lay claim to year-to-date gains of about 8%.
Click to enlarge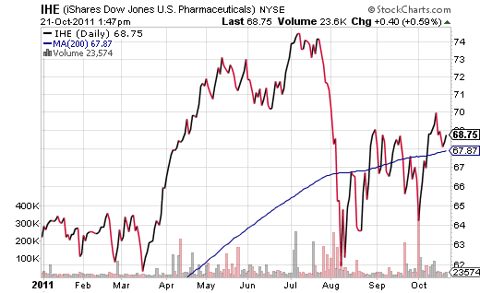 There are four pharmaceutical ETFs for those intrigued by a value-driven uptrend. Each tends to capitalize on slightly different aspects of the drug universe. For example, SPDR S&P Pharma (XPH) maintains an equal weight strategy across 30 companies, which may lead to a greater focus on growth from the "anti Johnson & Johnsons." It follows that the yield is less compelling, but the potential for capital appreciation may be much greater.
The aforementioned iShares DJ Pharmaceuticals Fund (IHE) is relatively similar to SPDR S&P Pharma (XPH). Both are less yield-oriented than pharma stocks are known for. That said, IHE is one-fourth less volatile than the S&P 500 while XPH is only a "skohsh" less volatile than the U.S. benchmark.
In complete contrast, the Pharmaceutical HOLDRS (PPH) is dominated by Johnson & Johnson (JNJ) with a 25% allocation. With only a handful of the largest-brand name constituents moving PPH's needle - Merck, Eli Lilly, Pfizer, etc. - the yield is more compelling (approx 3%), but the growth prospects are less so.
Click to enlarge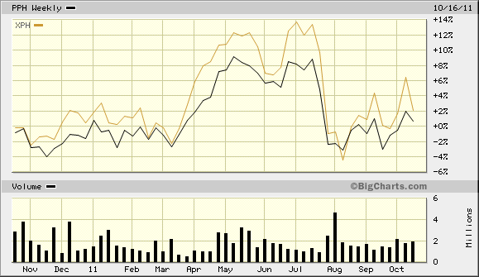 The PowerShares Dynamic Pharmaceuticals Fund (PJP) rounds out the field. Its tracking of a proprietary Intellidex Index has led to superior bull market performance. Here are the four choices since the March 9, 2009 lows:
Click to enlarge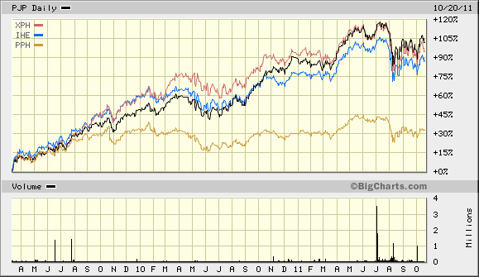 Perhaps ironically, three of the Pharma ETF choices don't provide enough dividend yield, making the investor rely almost entirely on capital appreciation in bull market uptrends. The other, PPH, is so wrapped up in Johnson & Johnson, one can't escape the company's decade-long underachievement.
It follows that there may be a sweeter way to get your cake (yield) and eat it too (capital appreciation). Consider a 5th option — the iShares High Dividend Equity Fund (HDV). You get 27% exposure to "big pharma" as well as a 30-day annualized SEC yield of 4.0%. And HDV has done a fine job picking up "cap app" to boot.
Disclosure: Gary Gordon, MS, CFP is the president of Pacific Park Financial, Inc., a Registered Investment Adviser with the SEC. Gary Gordon, Pacific Park Financial, Inc, and/or its clients may hold positions in the ETFs, mutual funds, and/or any investment asset mentioned above. The commentary does not constitute individualized investment advice. The opinions offered herein are not personalized recommendations to buy, sell or hold securities. At times, issuers of exchange-traded products compensate Pacific Park Financial, Inc. or its subsidiaries for advertising at the ETF Expert web site. ETF Expert content is created independently of any advertising relationships.