Online photo processing company Shutterfly (NASDAQ:SFLY) announced its upcoming earnings report and conference call are to occur Wednesday, October 26, 2011, at 5 p.m. EST.
Shutterfly provides its users with the capability to print and share photos, create photo-oriented books, cards, stationary, calendars, gifts and also share videos. The company also has relationships with Walgreens (WAG), CVS (NYSE:CVS) and Target (NYSE:TGT), where users can pick up their photo prints in-store.
Shutterfly continues to develop its relationships with The Knot and Costco (NASDAQ:COST). The Knot provides a wide variety of products and services for planning weddings, and Costco operates membership warehouses offering a wide range of products.
In its most recent conference call, the company indicated it is experiencing robust revenue growth and has made great progress in integrating the acquisition of Tiny Prints. Tiny Prints provides users the ability to create custom special occasion and holiday-oriented cards.
Revenues increased 62% over the previous year, and the company recognized its 42nd consecutive quarter of year-over-year net revenue growth. The company is investing $6 million in automation equipment in order to increase quality, lower unit cost, improve throughput and reduce labor requirements.
Shutterfly appears to be taking market share from its competitors; however, its gross margins (47.4% vs. 50.5% prior year) have been somewhat negatively impacted as a result of higher Tiny Prints outsourced cost structure, increased commercial print revenues, lower average selling prices and slightly higher shipping costs.
Additionally, around the first of October, Shutterfly launched its storytelling destination, where users can create and share their own stories via photo books.
In early October, Shutterfly's stock price took a hit after Apple Computer (NASDAQ:AAPL) unveiled a new greeting card application enabling users to design greeting cards via iPods, iPhones and iPads, which users can then print and mail for $2.99 in the U.S. and $4.99 outside the U.S.
At 81, the P/E ratio for the company is at a premium. Shutterfly's stock price has increased over 80% over the last year, as shown below: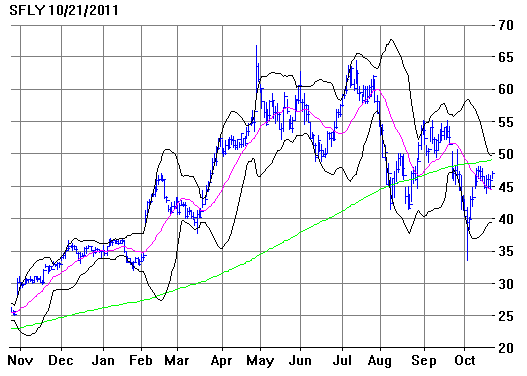 An investor holding the stock might be a little nervous with the upcoming earnings report, run-up in stock price, competition from Apple, premium P/E and tepid economy. A Shutterfly investor might consider taking the profit and running, which might result in having to pay taxes on the profit. So what's a Shutterfly investor to do?
Well, holders of Shutterfly stock might consider entering a collar position for the company. A collar is entered by selling a call option against a purchased or an existing stock, and using some of the proceeds from selling the call option to purchase a put option for protection.
For example, a collar position using PowerOptions was found for Shutterfly with a potential return of 2.7% and maximum potential loss of 8.7%. The time frame for realizing the potential return is 29 days. If the price of Shutterfly's stock is greater than or equal to the entry price at options expiration, the position returns 2.7% percent. And, if the price of the stock takes a bit hit, the maximum loss that can be experienced is 8.7%, even if the price of the stock falls to zero. The call option to sell is a 2011 November 45 at $4.00 and the put option to purchase is a 2011 November 40 at 1.05. A profit/loss diagram for the collar position is shown below: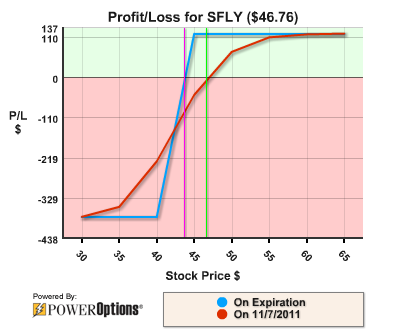 With a collar position, even if the Shutterfly reports bad results or Apple takes market share, an investment in Shutterfly is protected from a large loss by the put option.
Disclosure: I have no positions in any stocks mentioned, and no plans to initiate any positions within the next 72 hours.