>>> Return to Part One for options coverage of Apple (NASDAQ:AAPL), Amazon.com (NASDAQ:AMZN), Netflix (NASDAQ:NFLX), Research in Motion (RIMM), Sirius XM (NASDAQ:SIRI) and Chipolte Mexican Grill (NYSE:CMG).
Pandora (NYSE:P). Alongside the stock's steady rise, I've been noting that something's up at Pandora. Over the next several quarters, expect the company to report some surprising numbers as it forges its path to profitability. The speed at which Pandora is finding itself part of major ad agency buys, once set aside almost solely for local broadcast radio, is stunning.
Somehow, portions of the media managed to distort Pandora's good problem to have into a liability. Here's the reality - the mobile ad space is growing by leaps and bounds. Pandora stands among one of the most attractive buys in that space. Demand to advertise on Pandora - via mobile or web ads - is so high the company can barely keep up.
When you consider the rate at which radio listeners have turned to Pandora this comes as no surprise. This report, courtesy of Radio-Info.com - is nothing short of game-changing. Even the most legendary and successful terrestrial radio stations never pulled such incredible numbers.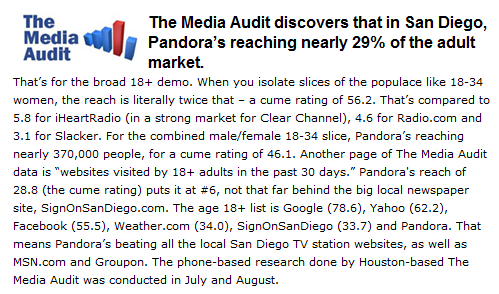 Obviously I am bullish P. I own the stock. This bullishness, however, raises an interesting question in relation to options. Should you play bullishness using options - or bearishness, for that matter - on a stock like P that trades low-volume and low-open interest contracts?
Here's a look at options activity in P, as of intraday Friday, courtesy of Schwab's StreetSmart Edge trading platform:
Click to enlarge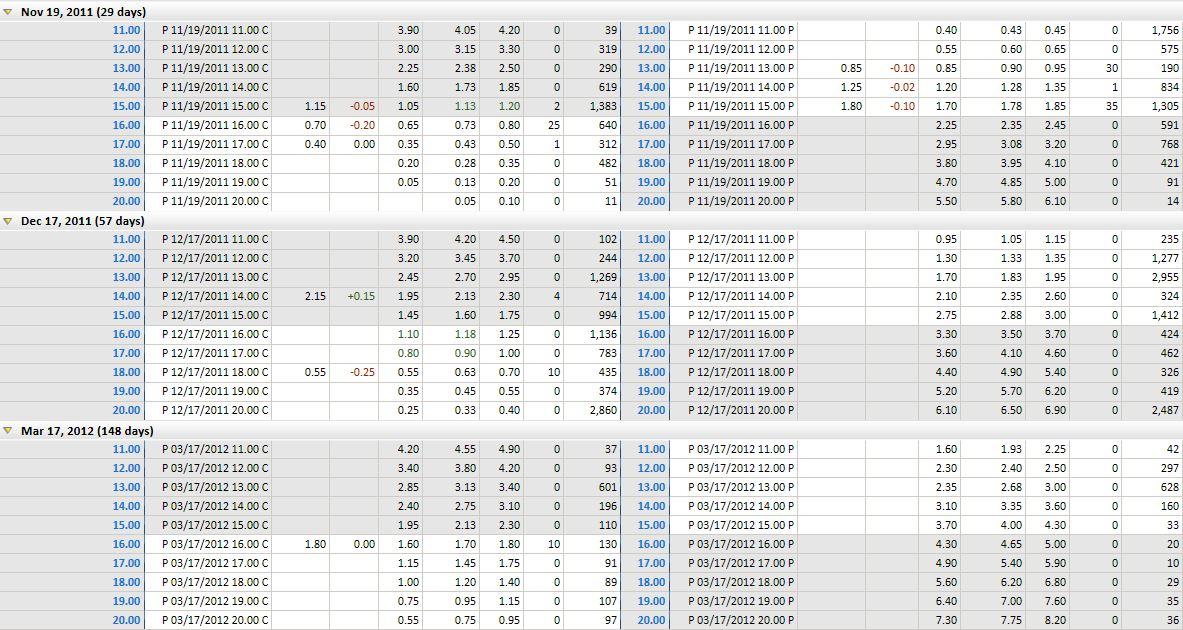 Clearly, not much action exists in P options. While I successfully hedged a previous P stock position using options (when the iHeart Radio-related hype helped P pull back temporarily), I would not, as a rule, use options to play up or downside in Pandora.
With thinly-traded options, you must be mindful of relatively wide bid/ask spreads. When it comes to entry and exit, they can bite you hard. It's not that I think you'll have a hard time finding a buyer or seller for your contracts; rather, I think you could have experience difficulty finding one at the right price. When this happens, we often tick our limit order up or down just to get the order filled. That subtle psychology takes over because you really want to get into your position. Save yourself unnecessary work and worry and take your chances long or short the stock.
BP PLC (NYSE:BP) and Total SA (NYSE:TOT). Interactive Brokers highlights what amounts to an interesting pair trade in the two names from Friday:
The call activity in both names this morning is almost identical to that observed on Thursday. It looks like the investor sold some 7,600 Total calls at the May 2012 $55 strike for a premium of $3.30 each, and purchased around 8,400 calls on BP at the April $44 strike for a premium of $2.89 apiece. The strategist walks away with the full amount of premium received for writing the TOT call options as long as shares in the French oil company fail to exceed $55.00 at expiration in May. Meanwhile, profits may be available on the long BP call options should shares in the name rally another 11.5% to surpass the effective breakeven price of $46.89 by expiration in April 2012.
I say it often, but it bears repeating - these types of reports represent the work of one trader and/or firm. Do not stop here when attempting to use the options market to gauge sentiment toward stocks. Plus, the people pulling off these trades work not only with big money, but with big leverage. If that's not enough reason to stay away from a trade like this, consider this - you have to be right twice on two stocks in the same sector around the time of events that can cause both to move considerably.
McDonald's (NYSE:MCD). I've written some nice things about McDonald's. Sadly, I only acted on that sentiment briefly by banking some small profits via call options when the stock crossed $80. After a couple of nice quarters, MCD has cracked the $90 mark.
Click to enlarge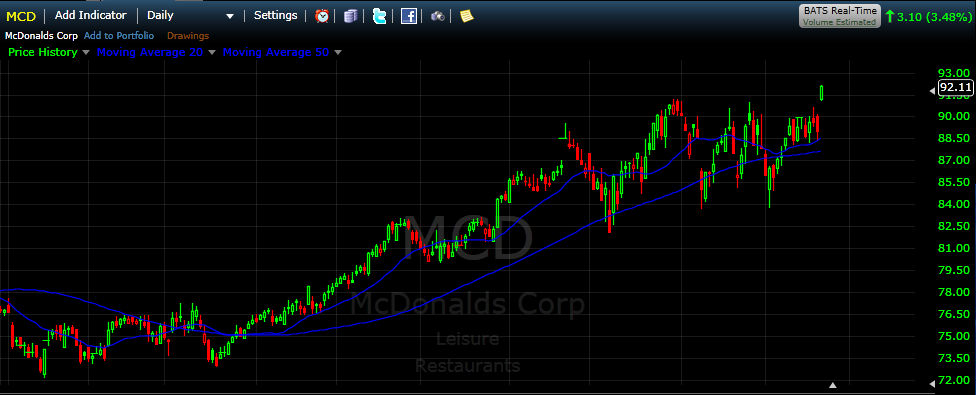 Chart courtesy of FreeStockCharts.com
As somebody who has despised McDonald's, as a purveyor of fast food, for years, I must admit that I've visited the chain several times in the last couple of weeks. And I've come to a conclusion - eating the Sausage McMuffin at McDonald's differs very little, if at all, from eating a similar item at Whole Foods (NASDAQ:WFM) or Starbucks (NASDAQ:SBUX). You'll get the same number of calories (maybe even less) and nutrients at McDonald's as you would at the other two and similar eateries, such as Seven-Eleven and convenience stores that bill themselves as "healthy" alternatives like Famima. And, at most, if not all, of these places, you're getting way more sodium than you probably should consume in one sitting.
I'm no longer a pseudo-elite food snob who thinks eating crap at Whole Foods, Starbucks or Famima is somehow that much "healthier" than eating crap at McDonald's. Of course, you're always better off opting for an apple after a long walk. That said, I think McDonald's has done a nice job reacting to the bad rap it has received over time. It has done so to the extent that the bad rap may no longer be valid, if it ever was in the first place.
All of this to say, McDonald's will likely never loose that loyal core customer who includes the restaurant as part of his/her daily routine. And it might even pick up a few who find their per diem fading too fast at Whole Foods or Starbucks. Plus, with its nutritional transparency, you can see exactly what you're getting before you order. Much to my surprise, it holds up well against what Whole Foods, Starbucks, Seven-Eleven and Famima offer up for breakfast, in particular, in their respective cold cases.
While it's not a requirement I like to feel at least somewhat OK about the companies behind my investments. I only wish McDonald's would take the initiative and expose the Starbucks' breakfast sandwich, for example, for what it is - a more expensive and not necessarily healthier alternative to what McDonald's serves up. I think such an approach could go a long way toward bringing in more middle- to upper-middle income consumers.
While I am bullish, I am not sure if $100 is the next stop. If you have the cash to get long MCD, I would take a wait-and-see approach on the stock for now and sell some cash-secured puts. Pick a strike you would be comfortable owning the stock at - or one where you think it might pull back to, assuming it pulls back - and collect a little income while you let the post-earnings dust settle.
YRCW Worldwide (NASDAQ:YRCW). Apparently controversy follows this stock here on Seeking Alpha and elsewhere. I've never paid much attention, therefore I have no opinion as to whether you should buy shares, hoping for an epic turnaround. I have often wondered, however, what happens to a stock's options when it tanks like YRCW has.
Click to enlarge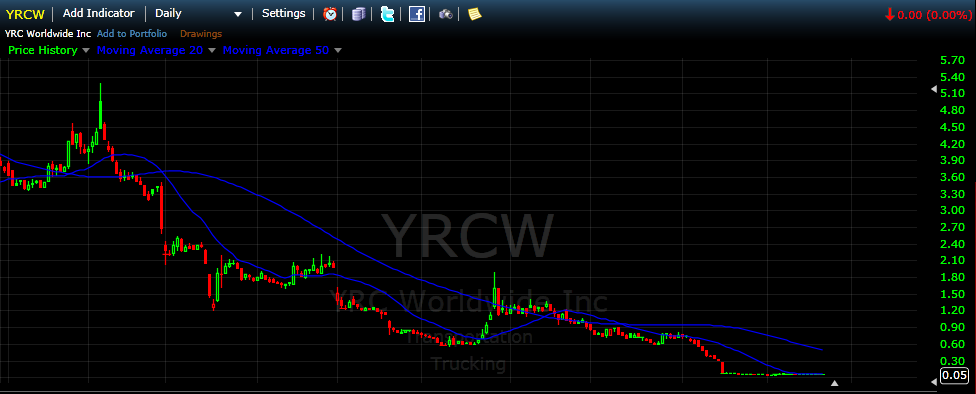 Of course, most of them are effectively worthless with either an ask of $0.01 or out of whack bid/ask spreads all over the board. What is interesting to note, however, is that you can buy LEAPS options on YRCW with expirations out to January 2013 and January 2014. Check them out below, courtesy of Yahoo Finance:
Click to enlarge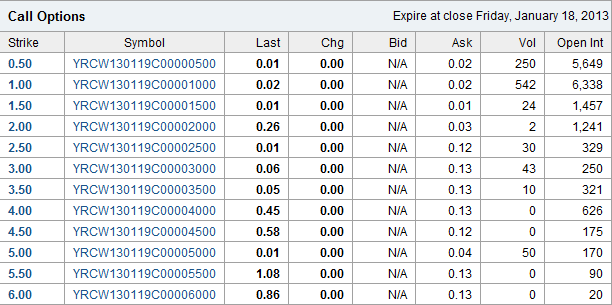 I probably need to look deeper into the situation before commenting, but, on the surface, that's the Vegas long shot of the week. In fact, I like the sound of that so much that I might just include the long shot of the week as a weekly feature in this options article.
Disclosure: I am long P.