With the world economy slowing down substantially, especially in the most developed markets, cyclical stocks have been out of favor these days. But with many cyclical stocks trading at near record lows, contrarian investors may want to nibble into the sector, picking up possible turnarounds. Ford (NYSE:F) should be one of them, for a number of reasons:
First, improving company fundamentals. With improving quality and new models, Ford has been benefiting from the flip-flops of Toyota (NYSE:TM). The company has further expanded its overseas presence, especially in China, where it is the largest foreign company. Reflecting these improving fundamentals, the company has already been beating analysts' estimates for three consecutive quarters.
Second, improving financial fundamentals. Ford has been the only American automobile company that didn't receive government money during the 2008 crisis. And with $21.76 billion cash at hand and $11.25 billion in operating cash flow, the company is in good position to survive even in a recession—far better than General Motors (NYSE:GM), which is still in business with government support. On Friday, Ford's credit rating was was raised by both S&P and Fitch.
| | |
| --- | --- |
| Operating Margin | 6.61% |
| Quarterly Revenue Growth | 1.3% |
| Quarterly earnings growth | -9% |
| P/E | 7.7 |
| Total Cash | $21.76B |
| Operating cash flow | $11.25B |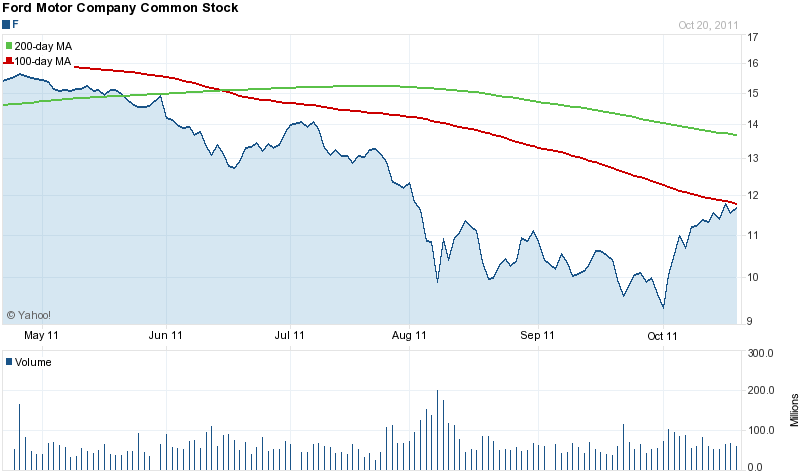 Click to enlarge
Third, though still not bullish, Ford's chart has been improving, as its stock fared relatively well during the recent three-month correction. Forth, Ford, together with the auto-industry, could benefit from a correction in raw material prices, such as copper and still.
The bottom line: Recession or no recession, Ford is a long-term buy.
Disclosure: I am long F.