CEF Weekly Review: On average, the 13 closed-end fund (CEF) types registered a share price increase of 0.6% for the week ending 10/21/11. The high-low spread (percentage price change difference between the highest and lowest fund types) registered this week was +2.5% versus a wider +5.5% the previous week. On an aggregate unweighted basis, the weekly average price change for the 600 plus CEFs in the GrowthIncome database was up 0.6%.
The PowerShares CEF Income Composite (NYSEARCA:PCEF), an ETF that invests in taxable income CEFs, increased 1.2% for the week. S&P 500 tacked on 1.1% this week augmenting the 6.0% the previous week and thereby reducing its loss YTD to 1.5%.
(Click here for YTD CEF Performance. See, "Research" Menu; "CEF Weekly Information" tab.)
The Eqcome CEF Fear Index increased modestly for the week on the upside. The average CEF unweighted price increased 0.5% while the average related NAV increased 0.7%. The VIX reversed course this week and advanced 11.1% to 31.32 after easing 22.1% the previous week. This VIX continues to remain in an elevated state in the 30's range after attaining a recent high of 46.88 on October 4th
CEF Weekly Fund Type Performance: Equity markets oscillated during the week as sentiment regarding a comprehensive European financial crisis waxed and waned. Those investors who wanted to participate in the CEFs this week seemed to straddle the fence with participation in "near-equity" like investments, such as ConvtSecFnds, PrefStkFnds and HiYldBndFnds.
click to enlarge image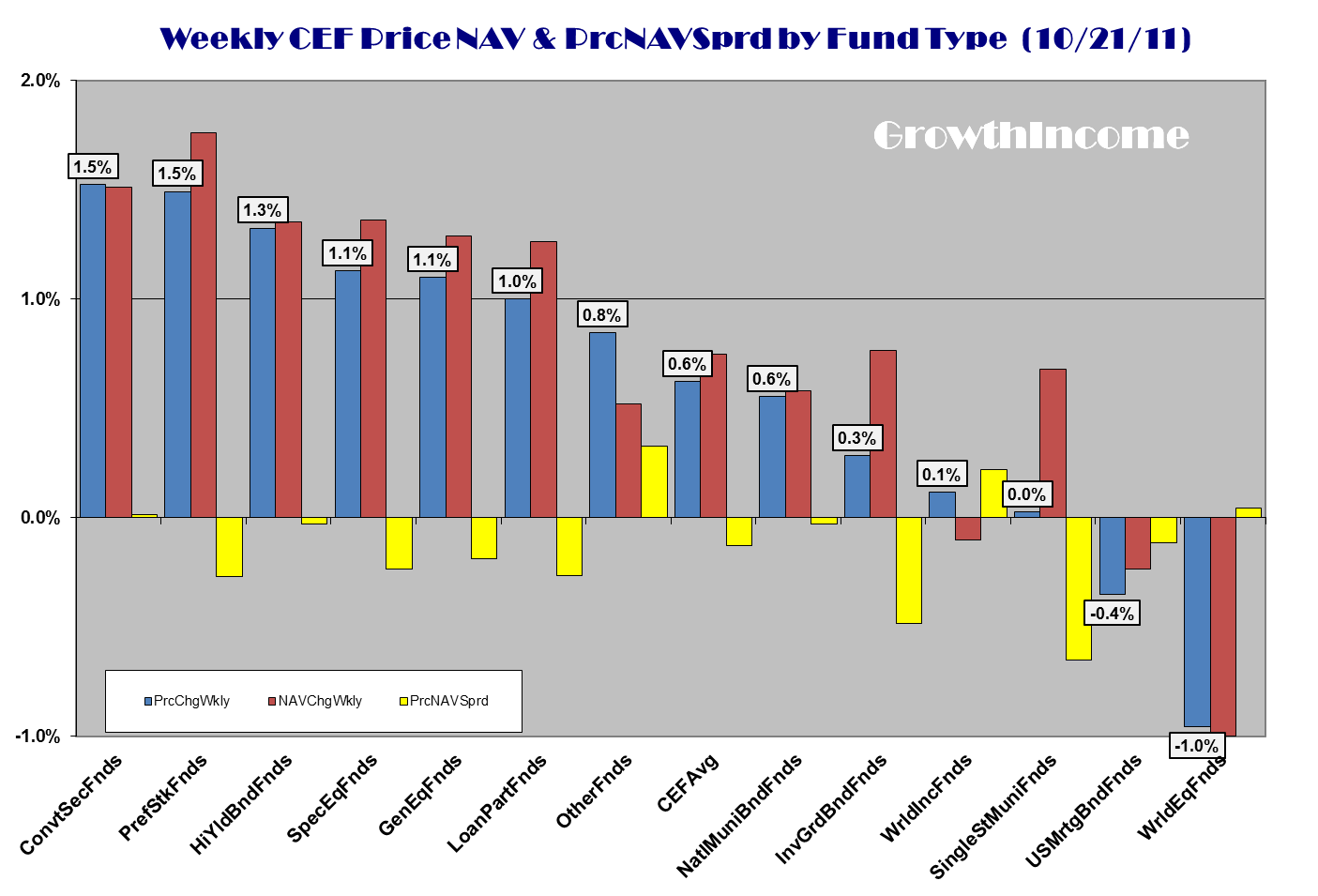 Investors seemed more amenable to tolerating risk as fixed-income CEFs, such as munis, trailed in share price performance this week. WrldEqFnds ended up in last place with an average share price decline of 1.0%.
Despite indications that the Fed is targeting mortgage backed securities for their near-term buying activity, USMrtgBndFnds did not benefit in share price valuation. The mortgage securities ETF (NYSEARCA:MBB) was also non-plus advancing only 0.1% this week. We continue to think that this is an area of interest despite a "slow burning fuse". (See report, "Operation Twist" and its Impact on Mortgage CEFs: BKT versus JLS".)
As a group, SingleStMuniFnds generated the most favorable PrcNAVSprd with average share price remaining unchanged while its related NAV advanced 0.7%.
Economic & Earnings Outlook: (Click here for next week's economic calendar; click here for earnings' announcements and estimates.)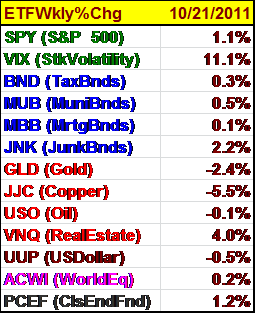 ETFs: For a more detailed EFT performance by sectors, click here—see, "Research" Menu; "ETF Weekly Information" tab.
(Click here for a hyperlink to the Joe Eqcome's CEF Weekly Insider Report—see, "Research" Menu; "CEF Weekly Information" tab.)
CEF Distribution Announcements This Week: The following is a link to a table of CEF distribution announcements this week as well as the previous week's with yet expired ex-dividend dates. The list is not intended to be inclusive. (Click here for Joe Eqcome's Weekly CEF Distribution Announcements—see, "Research" Menu; "CEF Weekly Information" tab.)
Significant CEF Corporate Events: The Greater China Fund (NYSE:GCH) announced the final results of their Tender Offer that expired on October 14th. GCH offered to buy back 20%, or 6,067,002 shares, of its issued and outstanding common stock. A total of 25.9%, or 7,865,202 shares, were properly tendered before the expiration date leading to approximately 77.1% of these shares to be accepted for payment on a pro-rated basis.
Kayne Anderson Energy Total Return Fund (NYSE:KYE) increased the total commitment of its unsecured revolving credit facility ("The Credit Facility") by $20 million up to $100 million. This was accomplished by adding a new lender and increasing commitments from existing lenders. Kayne Anderson MLP Investment Company (NYSE:KYN) also increased the total commitment of its unsecured revolving credit facility ("The Credit Facility") by $25 million to $175 million. This was accomplished by a adding a new lender to the syndicate.
Joe Eqcome (Owns a diversified portfolio of CEFs and ETFs and is long stocks in the CEFBig10™ and CEFMuni10™.)
The first is a balanced equity-income portfolio (CEFBig10™) and the second a tax-exempt income portfolio (CEFMuni10™).
---
[*] All things being equal, price and NAV should move in tandem. A price movement greater than the NAV generates a positive PrcNAVSprd and may be interpreted as negative on a near-term basis and indicate that the stock is overvalued relative to its NAV which in theory is the stock's intrinsic value. The opposite would be true for a negative PrcNAVSprd.
Disclosure: I am long PCEF.