Fixed income investments are usually purchased for the combined goals of preservation of capital and steady income. Fixed income is considered the "bread and butter" for many investors especially those getting close to, or already in, retirement. Numerous investors rely on the expertise and ease of bond funds and ETFs to gain exposure to this asset class. Some investors do not appreciate the cyclicality of bond prices and yields, with prices and yields moving inversely to each other. These trends are usually quite long and slow to develop, and the cycle needs to be review as multiple years in duration.
However, when interest rates are at historic lows is not the time to leave fixed income investments in the back of the drawer or in your safety deposit box. It's time to develop a bond strategy for the next few years, or at a minimum to understand what the future may bring for bond positions. The big news in the fixed income markets over the past year has been the crushing decline in yields and subsequent rally in prices. What to do now and what lies ahead is the $64,000 question.
It is important to realize where we have come from to understand where we may go. Below is a chart of the long Treasury yields for the 30-yr index TYX going back to 1977. Click to enlarge: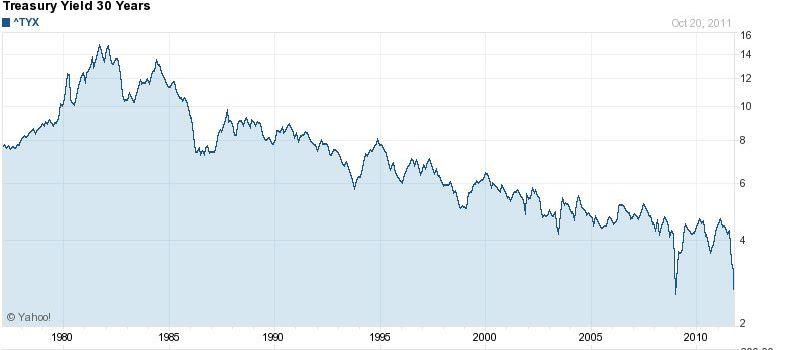 Below is a chart of long Treasury yields (TYX) going back 5 years to 2007. Click to enlarge: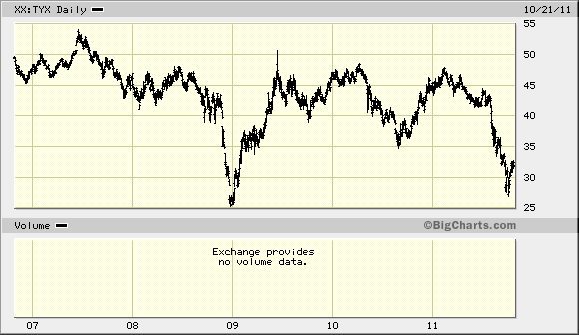 As the following graph depicts, bonds have increased in price accordingly. Below is the 5-yr chart of the TYX compared to Fidelity Spartan Long Term Treasury Bond Index Fund (FLBAX). Click to enlarge: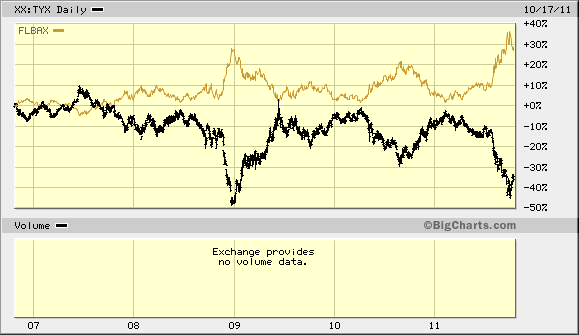 As should be expected, the NAV and price of the fund increased as rates decreased. With rates again matching 08/09 lows, bond fund prices have spiked again.
As outlined by Mr. Jeremy Siegel, University of Pennsylvania's Wharton School of Business, on his website, current bond prices are substantially above their historic real rates of return. This is due to the correlation between current low rates and high bond prices. Below is Siegel's graph of real bond returns over the past 100 years. It depicts a possible topping phase similar to what was experienced in 1940 after a bout of deflation and the Great Depression. Keep in mind the chart also depicts a 20 to 40 year cycle.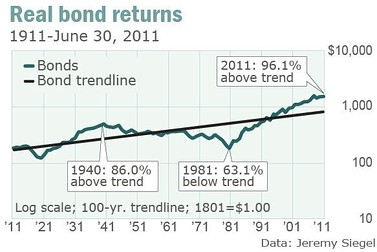 What could be in store for long-term bondholders? My opinion is:
1. History will repeat and interest rates will rise. With yields across the curve at generational lows, prudent investors should expect yields to increase. Interest rates should move higher based on: a) an economic recovery; b) support of a falling US dollar; or c) increased inflation expectations - or a combination of the three.
2. Since peaking in the early 1980s, long-term interest rates have been on a downward trend. An increase up to the mid-4% to 5% range would still leave this trend intact. However, bond prices would fall back to early 2011 levels, or in some cases approaching 30% below today's market price.
3. The current low rates mirror those realized during the 2008-2009 credit crisis. As those low rates were short lived so was the bull market in bonds, retreating as rates rose.
4. The Fed has pre-announced the duration of "low interest rates" until mid-2013 or so. With the current unease in Europe and its eventual resolution most likely having a negative effect on economic growth in the EU, US, and China, the end of low rates may well be on target for mid-2013. But how low is low in the mind of the Fed and the bond market?
5. Eventually, interest rates will rise and bond prices will fall. Some are starting to call the recent bull market a "bubble" – and it just may be.
6. Buying long-term bond funds with rates at generational lows substantially increases the risk of capital preservation, in addition to the potential of negative real rates of return on yields.
Some investors may not know the substantial difference between owning long-term vanilla bond funds and a laddered structure of individual bonds. Most bond funds do not offer investors a maturity date with principal repayment. Funds trade based on their distribution yield and maturing bonds are reinvested back into the fund's portfolio. It is plausible that bond funds may not preserve capital in a trend of rising rates. Individual bonds, however, will have a date specific when investor's capital is due for repayment. This is a critical difference concerning preservation of capital.
In a rising interest rate market with falling bond prices, fund NAVs will decline. With individual bonds, capital is preserved at maturity date.
If you own long bonds or long bond funds, you may consider selling to take advantage of the current bull market. Waiting for yields to increase to the mid-4% to 5% range could mean buying back the same securities sometime over the next 12 to 18 months at possibly 20% to 30% less.
Investors may ask, what to do with the proceeds from the bond sales, or from maturing bonds, especially if needed for income?
One consequence of low interest rates is to drive investors up the risk curve to stretch for yields. Alternatives to Treasury bonds, such as MLPs, utilities, and high dividend equities, carry higher risk, but today offer the cash flow fixed income investors are seeking.
For example, an investor bought $100,000 of a long bond fund that yields 5% for $10 a share. That same fund could now trade at $12.50, or worth $125,000 and the current yield could be 3.2%. The annual cash income remains the same at $5,000 and needs to be replaced. After deducting for long-term capital gains tax, the proceeds from sales would net the investor $121,500.
Of the proceeds, the original $100,000 could be kept in cash, understanding there is no current yield, with the balance invested in electric utilities as they offer the highest sector yield or energy MLPs or large-cap stocks with above market dividend yields. Combined, these should generate between $1,000 and $1,500 in income. The balance of the income needs could come from the cash account, or through the periodic sale of these stocks. Keep in mind the investor has just realized a minimum of 4.3 years of income in after tax capital gains.
When interest rates rise and bond prices fall, the investor can move the remaining cash balance, plus sell some of the stocks to make up the capital shortfall if necessary, back into the bond market. At the end of this strategic rebalancing, the investor will have the original $100,000 bond portfolio generating the same $5,000 in income. In addition, the investor will have whatever remains from the stock income investments based on the timeframe for interest rates to return to 5.0%.
If the following chart from Financial Forecast Center LLC is correct, long bond yields could rise to 4.4% by May of next year, which could correlate to bond price declines in the 15% to 20% range. Click to enlarge: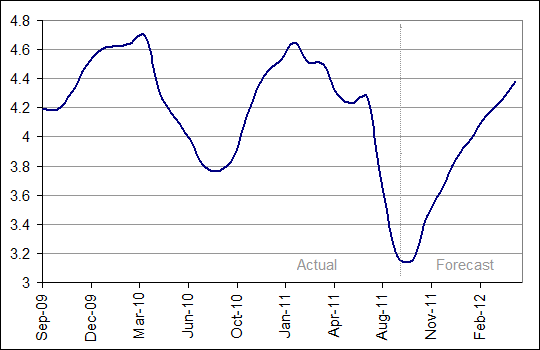 As shorter-term duration bonds are not as volatile as long maturities, the correlation between interest rate changes and bond prices are not as dramatic. Below is a 5-yr chart of the 10-yr Treasury Yield Index (TNX). Click to enlarge: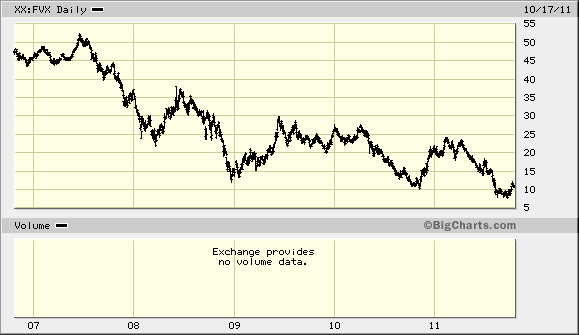 Below is the 5-yr chart of TNX compared to Vanguard Intermediate-Term Treasury Fund Investor Shares (average duration 5.6 yrs VFITX). Click to enlarge: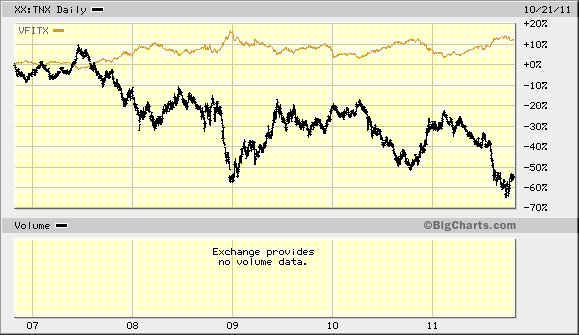 While the correlation is lower, the jump in value of a bit more than 10% still leaves capital preservation at risk, even for shorter maturities.
As a personal example, I purchased two individual bonds in mid-1998: a 30-yr fixed rate Treasury bond maturing 11/27 yielding 6.125% and a 30-yr Treasury Inflation Protection bond (TIPS) maturing 4/28 with a cash yield of 3.625%. As rates had moved up a bit between the issue date and my purchase, the cost was about $97.00 each. The fixed rate bond now trades at $143 and the TIPS trades at $142 with an accrued principal of $1328. Had I not sold these a few years ago to offset college tuition bills for my children, they would be worth $143,000 and $189,900 for each $100,000 invested, respectively. If I still owned them, they would be on the auction block as we speak.
The bond bubble is about to burst with yields increasing and bond prices declining, putting capital preservation at risk. The timetable for such, however, is a bit cloudy. Nonetheless, fixed income investors should be preparing for this eventuality.
As always, investors should conduct their own due diligence, should develop their own understanding of these potential opportunities, and should determine how it may fit their current financial situation.