As readers are probably aware, the rift between France and Germany regarding how to best enlarge the EFSF beyond its nominal capacity remains unresolved. It doesn't appear possible for the two governments to patch up their differences over this topic in the short time allotted to finding a 'solution'. We are putting the word 'solution' in quotes because no matter which of the proposals is adopted, it will be nothing but yet another band-aid papering over the fundamental problems.
They even gate-crashed Trichet's good-bye party in Frankfurt on Thursday, while Sarkozy went as far as leaving his wife Carla Bruni all alone with the business of giving birth to their daughter. He probably thought that there wasn't much he could contribute to it anyway. As the Irish Times reports:
Crammed into Frankfurt's old opera house to bid farewell to outgoing European Central Bank president Jean-Claude Trichet, the most senior figures in the EU leadership played hardball last night in increasingly fraught talks to finally nail the debt crisis.

Time is fast running out before a crunch summit in Brussels on Sunday. But high-level diplomats and officials say Europe remains deadlocked over the most crucial elements of the new rescue package.

There is growing concern, they warn, that the eventual deal might fall flat. Although this happened many times before, expectations this time around are at fever pitch. German chancellor Angela Merkel is pushing in the opposite direction. As praise was showered on Mr Trichet, she went out of her way to play down the summit. "It won't be the final point where we regain the confidence of others, but it will be a stepping stone, a marker on the road," Dr Merkel said. "All of the sins of omission and commission of the past cannot be undone by waving a magic wand."

This is in keeping with Germany's deliberately downbeat approach to the current talks, which is sparking no end of friction with France. As tension between the two allies escalates, French president Nicolas Sarkozy sped to Frankfurt last night in an attempt to narrow the gap. It was a dramatic manoeuvre. His wife, Carla Bruni Sarkozy, was in a Paris maternity clinic where she gave birth to a girl, the couple's first child.

Virtually all the key power brokers in the debt debacle turned out to pay tribute to Mr Trichet, meaning the occasion offered a significant opportunity to take stock of the situation. Present in the room were: European Council president Herman van Rompuy; International Monetary Fund managing director Christine Lagarde; euro group president and Luxembourg premier Jean-Claude Juncker; European Commission president José Manuel Barroso; economics commissioner Olli Rehn; incoming European Central Bank president Mario Draghi and a good clutch of others. [mostly a congregation of clowns, ed.]

For Mr Trichet, it was a glittering night to cap eight gruelling years at the helm of the ECB. Looming over everything, however, was the spectre of a deepening Franco-German schism with only three days left to summit time. No breakthrough was expected overnight. At this point in the game, there is ample time to heal the rift between Dr Merkel and Mr Sarkozy. However, it has potential to turn serious.
Mrs. Merkel deserves to be commended for mentioning that no magic wand waving will be possible. Sarkozy is worried about France's banks, which hold assets amounting to over 410% of French GDP between them. He (rightly) fears that a bigger haircut imposed on Greece will lead to an an even bigger run on the French banks and that the Dexia (OTCPK:DXBGY) case might be repeated in a much bigger version right at his doorstep. If France were forced to bail out one or more of the 'big three' (Societe Generale (OTCPK:SCGLY), BNP Paribas (OTCQX:BNPQY) and Credit Agricole (OTCPK:CRARY)), it's a good bet the country's AAA rating would be cut.
And then everything goes down the toilet, so the reasoning goes – including the EFSF, which cannot afford to lose such a big AAA backer. Note here that the markets are already deeply skeptical about the construct. Via Tim Backshall, we are reminded that the spreads of the EFSF's existing bonds versus German Bunds stands at a new record high: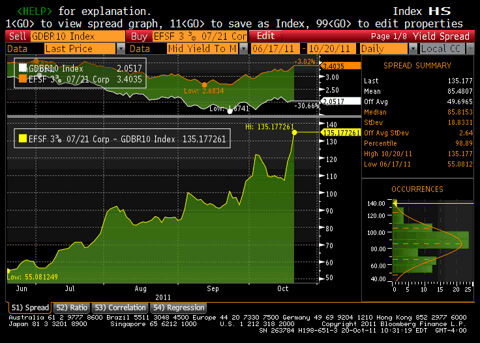 This is a summary of why Sarkozy and his new finance minister Baroin want to bring the ECB's printing presses closer to the action and remain quite adamant about it. According to a recent Bloomberg report:
French Finance Minister Francois Baroin also said the EFSF should be turned into a bank, though he noted the "reticence" of the ECB and the "German position." "For us it is and will remain the most effective position. The Americans do it, the British do it," he said."
Well, what should the Americans and British do? Baroin tells us here what it's all about, in no uncertain terms. It's all about starting 'QE', or to be blunt, financing government budget deficits with money printed from thin air by the central bank.
This is the very thing the Germans are dead set against – as we have mentioned many times, the German institutional memory is informed by the experience of the Weimar hyperinflation, when a bunch of chartalists – the people who are nowadays members of the neo-Keynesian sub-sect that is known under the spiffy new name 'Modern Monetary Theory' (MMT) – committed the biggest economic crime ever perpetrated in Germany: the debasement of the currency into utter worthlessness. It should be noted that this was done for the very same reasons supplied by the US and the UK. In fact, the reasoning supplied by the Reichsbank and its economic advisors at the time was exactly the same.
France now wants to follow in their footsteps. After all, nothing untoward has happened yet in the US and UK, right? Let's be clear about one thing: there is absolutely nothing 'new' about the monetary theory that supports this approach. It is the same hoary inflationism that has informed policy from John Law to the revolutionary assembly of France in the late 18th century to Weimar to Zimbabwe: the economy needs a 'shot in the arm', so it is held, and that can allegedly be best achieved by fraudulently creating more irredeemable money tokens.
Mrs. Merkel apparently decided that the deadlock could not be resolved until today . She even refused to give a much anticipated statement. When it became known that there would be a second summit meeting scheduled for Wednesday next week, as no solution is likely to emerge from Sunday's meeting, the growing exasperation of market participants became palpable.
Meanwhile Dow Jones Newswires reported that German MPs stated they wanted parliament to discuss European Financial Stability Facility (EFSF) leverage before the EU leaders' summit. This in turn was provoking concerns that the summit may be postponed. Traders had expressed exasperation over this, wanting the eurozone debt saga to move on. "Just shoot me," said one London-based trader.
The markets are eager to see a deus ex machina solution, if possible a highly inflationary one, so that everybody can go back to partying.
Neither Mrs. Merkel nor the ECB care much about this, but we think the markets will eventually force their hand. In all likelihood the pretense to implementing a righteous policy will eventually be dropped, in spite of the very high probability that this will result in legally highly dubious maneuvers and require the complete abandonment of cherished Teutonic principles. You can see below in what way the markets are increasing the pressure: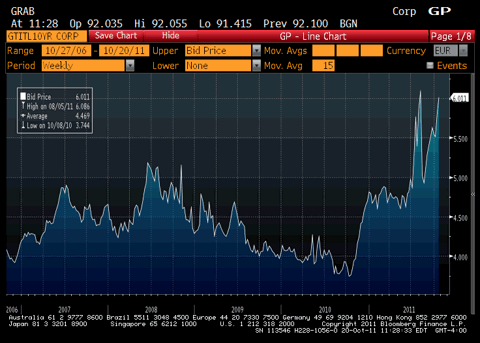 The 10 year government bond yield of Italy is threatening to break out to new highs.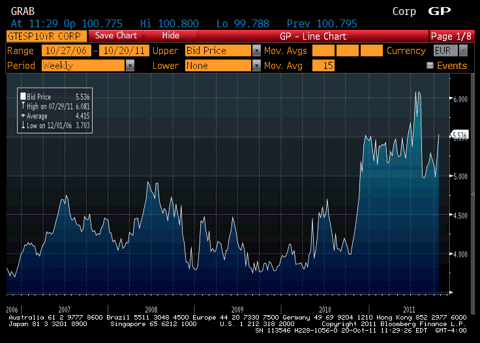 Following numerous downgrades, Spain's 10 year yield has reversed course, making the recent break below its consolidation zone a false one. This is an extremely worrisome development.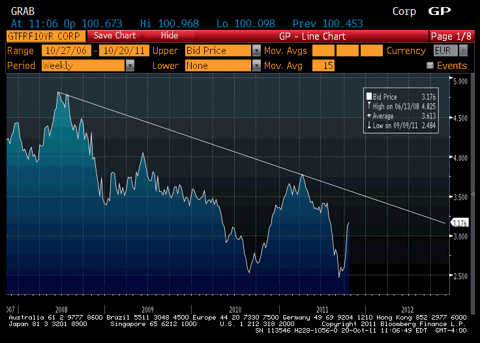 France's 10 year government bond yield remains fairly low, but it is now rising rapidly as well and is in the process of losing its 'safe haven' status.