According to Mario Monti, former EU Commissioner and now head of Milan's Bocconi university, Italy could sink the European Union. Monti does seem to have a point. Italian yields (on 10 year debt) are back at 6%, where they were when the ECB started buying up Italian bonds in the summer. This level is simply unsustainable. Something has to give...
The euro crisis is much more about Italy than it is about Greece. If they could be isolated, the Greek problems could be dealt with, banks and all. It's Italy we really have to worry about. With a debt of over 1.8 trillion euro, at 120% of GDP, this is the 800 pound gorilla of the euro area.
What makes the Italian euro crisis so frustrating is that things don't have to be this bad at all. Italy has a (small) primary budget surplus, it didn't experience a housing or credit boom and its private sector savings are the envy of Europe. Basically, there are two main elements to the Italian crisis:
very high financing cost of its debt;
very low economic growth.
If both of these problems could be solved, Italy (let alone the euro area) wouldn't face a crisis. The figure below (click to enlarge images) shows what happens in different scenarios. The rising blue-gray line represents interest rates staying where they are and no growth enhancing structural reforms. The horizontal blue line represents lower interest rates without structural reforms and the declining light-blue line represent both lower interest rates and growth enhancing structural reforms. Over time, these make a dramatic difference.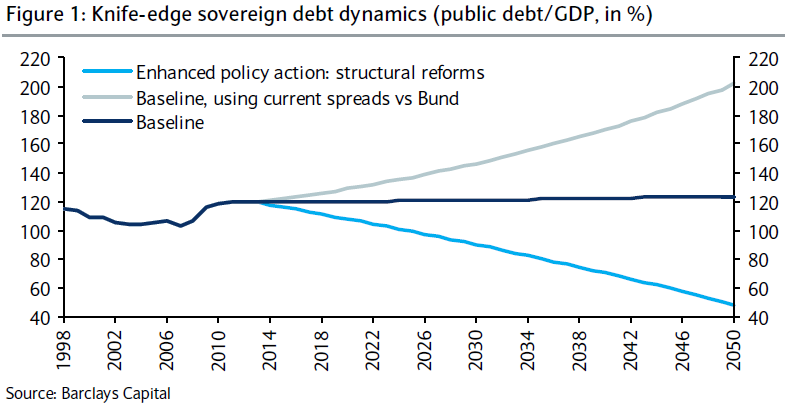 High financing cost
The state of Italy's public finances are no worse than Britain or the UK. However, Italy pays three times the interest rates on ten year bonds (6% versus 2%) compared to Britain or the US. Those high interest rates are mostly the result of Greek contagion and the fact that Italy, unlike Britain or the US, can't issue its own currency, an ability which would function as an implicit guarantee that its debt will always be paid back.
Since Italy can't issue its own currency, Italian bonds, like other euro bonds, don't enjoy such an implicit guarantee, which made investors nervous after it became clear that they wouldn't get all their money back on Greek bonds. From that time onwards, the risk premium on Italian debt started to rise, which increases (re-)financing costs for Italy (despite ECB interventions).
The table below shows the financing needs of Italy (and other euro countries). It's not hard to calculate what an enormous difference it will make whether Italy has to pay, say, 4% on newly issued 10 year bonds or whether they have to pay 6% (where the yields is now) or more.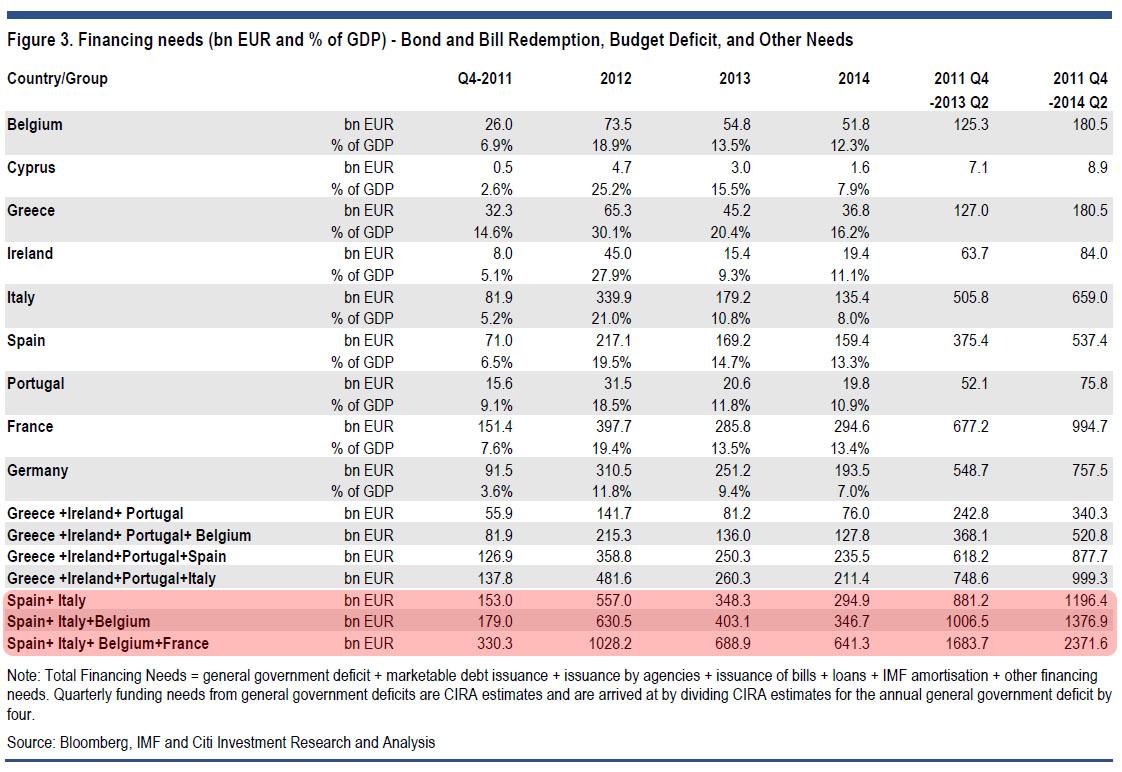 This could easily lead into a self-fulfilling prophesy, where higher financing costs blow up the deficit, leading to more austerity reducing growth further and even higher financing cost, etc. etc.. Some form of credible guarantee has to be found in order to stop this dynamic from taking place, a substitute for the ability to issue its own currency.
Several forms of EFSF reforms are under discussion (and we've written extensively here about these) to deal with that, so this won't be the focus of this article.
Low growth
Consider the figure below. You'll see that for the first decade of this century, Italy was the worst performer in Europe, the only country with a declining GDP per capita.
That is to say, there is a lot of room for growth enhancing structural reforms in Italy. Its economy has become rather sclerotic. While the Italian parliament has agreed to an austerity package of some 60 billion euros, it's the growth enhancing structural reforms that remain deeply divisive.
The ECB, in exchange for buying up Italian bonds in the secondary markets, sent the Italian government a letter on August 5 with reform demands, including:
Pension reforms
Reduction of state bureaucracy
Liberalizing public and private services
Privatizing local public services and buildings
Making the labour market more flexible
Berlusconi and his Finance minister Tremonti are hardly on speaking terms and word has it they're working on different programs. Coalition partner Humberto Bossi has vetoed pension reform, labour market reform will be pretty hard to get through society (Italy has relatively strong unions) and reduction of state bureaucracy would be tantamount to dismantling the patronage system on which much of the political system depends.
This is all a pity, as there are good examples within Europe itself where structural reforms have managed to change the growth dynamic of erstwhile economies, like Sweden, the Netherlands, and Germany itself (through the 2003 reforms of then Bundeskansler Schröder called Agenda 2010, which sparked a revolt within Schröder's own party, the SPD and cost him his re-election - but the reforms did kickstart the German economy).
Here is the IMF on the Dutch and Swedish reforms:
Both countries undertook reforms only after protracted economic malaise culminated in crisis. Income per capita was falling relative to that of Germany for about a decade; public finances were deteriorating, and fiscal deficits were growing. In the Netherlands, unemployment was rising because real wage costs were too high; in Sweden growth was held back by poor performing traditional industries, the banking crisis in the early 1990s, and stifling taxes.

Both countries addressed both macroeconomic imbalances and barriers to growth. Reforms focused on the most onerous bottlenecks. In the Netherlands, a main initial goal was to restore employment, which had been hurt by labor costs, and thus the centerpiece of the reform package was a wage agreement between employers and unions.
However, addressing macro-economic imbalances will be that much harder in Italy as the monetary union has made it difficult to restore competitiveness, which arguably is the main imbalance. Without devaluation, the 'internal' devaluation option (getting wages and prices down) isn't an attractive option (and extremely hard to implement) as falling prices actually increase the real value of outstanding debt.
But that doesn't mean there is no room for reform. Opening up the economy and making markets more flexible will yield results. There is a saying that one shouldn't waste a good crisis. If it ever was appropriate, it's in the case of Italy.
Embarking on structural reforms might, with the help of some European 'bazooka' (or even partly extra-European, as at the time of writing there is talk of getting foreign sovereign wealth funds assist in boosting the fire power of the EFSF in one form or another), get just enough confidence back for Italian bond rates to move from their death spiral, which threatens to take the whole of Europe down with it.