While it is almost a given that one include large-cap U.S. Equities using SPDR S&P 500 Trust ETF (NYSEARCA:SPY) or Vanguard Total Stock Market VIPERs ETF (NYSEARCA:VTI) in a portfolio, it is not necessary. What if one avoids big-cap stocks and places an emphasis on mid-cap companies? In addition, overload emerging markets while holding a lower percentage in developed international markets.
The following asset allocation plan does just that. Twenty percent of the portfolio is allocated to iShares Russell 2000 Index ETF (NYSEARCA:IWM). Fifty percent more is assigned to Vanguard Emerging Markets Stock VIPERs ETF (NYSEARCA:VWO) than Vanguard FTSE All-World ex-US ETF (NYSEARCA:VEU).
In the following portfolio, nothing is allocated to PowerShares DB Commodity Index Tracking ETF (NYSEARCA:DBC) and ProShares UltraShort S&P 500 ETF (NYSEARCA:SDS), but they are included for future investments. SDS is available when the manager sees fit to move 5% points (or more) from IWM to SDS. This move will definitely raise the Diversification Metric percentage and pull down the projected standard deviation.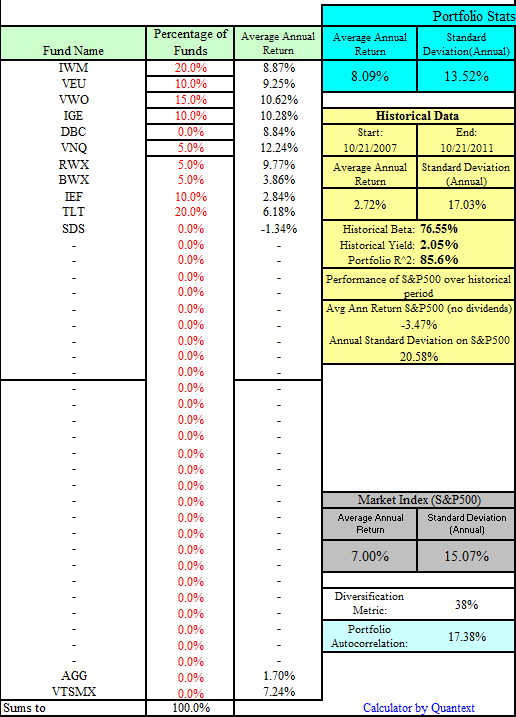 This portfolio meets specific goals.
The projected return exceeds that projected return for the S&P 500 by more than one percentage point. In this portfolio, that value is 8.1%.
The projected standard deviation comes in under 15%. As readers can see, the value is 13.5%.
The Diversification Metric exceeds 40%. This portfolio plan falls 2% points below the goal, but that difference is easily overcome by shifting a few percentage points to SDS.
The Return/Volatility ratio should be greater than 0.60. This portfolio just meets that standard.
Providing low correlation investments are SPDR Barclays International Treasury Bond ETF (NYSEARCA:BWX), iShares Barclays 7-10 Year Treasury Bond ETF (NYSEARCA:IEF), and iShares Barclays 20+ Year Treasury Bond ETF (NYSEARCA:TLT). Waiting in the wings for the proper market is SDS.
Investors seeking a simple portfolio will find this mix of eleven ETFs meet that requirement.
Disclosure: I am long IWM, VEU, VWO, DBC, VNQ, RWX, BWX, IEF, TLT, SDS.