Instead of chasing after high performing ETFs, taking a contrary approach is preferred if one is a fan of reversion-to-the-mean analysis. The first screen shot shown below breaks the market down into eleven sectors as defined by Vanguard. Equal percentages were assigned to each sector and the data runs from 10/20/2007 through 10/20/2011. Investors will recall that November 2007 was near a market high.
Columns two and three show the historical and projected future returns respectively. Think if the "Future" return as a probability value rather than an absolute percentage. The "Delta Factor" is a proprietary calculation that compares the individual ETFs with Vanguard's Total Market Index Fund, VTSMX. For example, Vanguard Consumer Staples ETF, VDC, currently has a low probability of performing well over the next six to twelve months. VDC is a sector to avoid if one uses sectors to populate a portfolio. On the flip side, Vanguard Financial ETF, VFH, is the preferred sector in the current market.
To view a few market inflection points, go to this site. It is not unusual for the "Delta Factor" to generate a buy or sell signal a few months before the direction of the ETF hits a max or min point.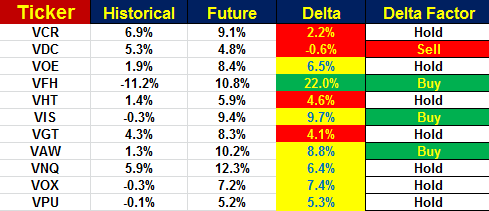 The following screen shot shows what the sector projections looked like in mid-March of 2009 or near a market bottom. The table captures data from 3/15/2005 through 3/15/2009. One can easily see there were many more buying opportunities in mid-March of 2009 based on the "Delta Factor" projections.
Back in March of 2009, VFH was projected to return an annualized 11.1% going forward. That robust return did not materialize, and that is the underlying problem when one is trying to extrapolate data. On the other hand, take a broad view of all the green that is showing up back in March of 2009 and one sees it was a good time to be invested in the equities market. Looking at the above screen shot, one sees a mixed bag. VFH is the one exception.
The "Delta Factor" is programmed to keep investors in the market except for extreme negative conditions.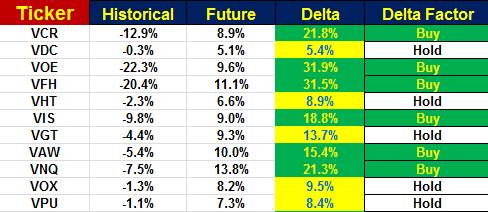 Disclaimer: The "Delta Factor" relies on extrapolation of data. It is strictly a probability argument and should always be viewed in that context.