Imagine News Corp. (NASDAQ:NWS) without a Murdoch? It's as difficult to think of Libya without Muammar Gaddafi, but it may soon become reality.
Facing a shareholders revolt that has the support of corporate governance experts, News Corp. (NWS) plans to stage-manage its coming shareholders meeting as never before, admitting only a few shareholders traveling in company-supplied transportation. But that won't keep out its harshest critic, Labour MP Tom Watson, and as many as one in five voting shares may be voted against Murdoch directors.
Meanwhile, with Rupert Murdoch's children feuding publicly over blame for the company's troubles, and Rupert himself now into his 80s, investors may be wise to consider what happens to their investment in a post-Murdoch world.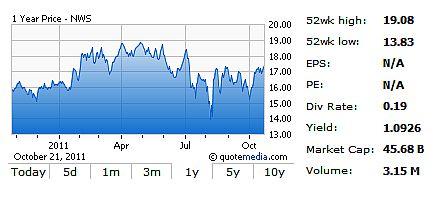 The answer may be, not much. For over 10 years, NWS stock has kept pace with most media industry peers. Better than Comcast (NASDAQ:CMCSA), better than Time Warner (NYSE:TWX), better than CBS (NYSE:CBS). Over all that time, the start of the group is Disney (NYSE:DIS), although over just the last year, CBS has outdone them all.

But that really could change with some simple moves.
That's because of 20th Century Fox and the Fox TV stations. The former was acquired in 1985, the latter only after Rupert himself became a U.S. citizen that same year. Having both movie production and TV stations makes News Corp. a cash machine, since studios get a 90% profit margin on TV sales, and owning stations thus gives News Corp. the kind of synergy studios had in the 1940s.
The assets News Corp. is known for – its newspapers and cable channel – are a relatively small part of the company. If everything liberals hate about News Corp. were jettisoned, either by sale or just closure, the vertical integration of production-and-delivery of sports and entertainment content might be even more valuable than the company's $44.6 billion valuation.
This is the argument dissident shareholders have made for some time. It's an argument even some of Rupert Murdoch's own children have made, according to Australian analyst Stephen Mayne. Take out the politics, along with the money-losing newspaper operations, and you have the most valuable entertainment franchise on the globe. Finding a way to satisfy this desire for profit may be Rupert Murdoch's best hope of maintaining control over his entire enterprise.
Look for some profit-making moves in the wake of this shareholders' meeting.

Disclosure: I have no positions in any stocks mentioned, and no plans to initiate any positions within the next 72 hours.