Many investment strategists have recommended dividend paying stocks. Recent articles have investigated and compared projected dividend yields from eight indices in an effort to sort out an answer to the question, "which dividend stocks are good, better, best, bad or ugly?"
Up until now this series of articles has continued to provide information without stating the obvious fact that any portfolio of stocks is only as strong as the grounds for its collection. Much like a building is planned and built to suit its location, so must a stock portfolio be built to suit the owner's purpose.
The Need for Investment Research
Some investors select dividend stocks based on fundamental financial reports from individual companies. This approach is central to the existence of this Seeking Alpha forum. Readers and writers herein can debate and compare the relative merits of their favorite stock picks. This method takes a lot of time and study to determine an answer to the question, "which dividend stocks are good, better, best, bad or ugly?"
Meanwhile out in the world of finance and publishing, many well-paid financial wizards busy themselves attempting to gain followers and credibility for their chosen collections of equities. These organizations include:
Russell Investments, a Washington, USA Corporation, a subsidiary of Northwestern Mutual Life Insurance Company publishes the Russell 1000 index.
Standard and Poors, a division of McGraw Hill publishes indices including the S&P 500 and the S&P 100.
Dow Jones, a CME Group Company, aggregates the Dow Jones Industrial index of 30 stocks selected to represent the market as a whole, which is commonly called the DOW.
NASDAQ initials initially were the acronym for the National Association of Securities Dealers Automated Quotations. It was the nation's first electronic stock exchange.
NYSE stands for the New York Stock Exchange and, as NYSE Euronext, publishes an index of 100 international stocks, among others.
CBOT stands for Chicago Board of Trade, a designated contract market reported by CME Group which declares itself as "the world's leading and most diverse derivatives marketplace."
JPMorgan, Morgan Stanley, Merrill Lynch, Morningstar, Vanguard, Fidelity, Edward Jones, and nearly all investment houses collect lists of equities to serve various market niches.
A Short Cut to Investment Wisdom
As the start of the fourth Quarter of the year, October also signals the start of the profit generating equity trading season. It heralds the much quoted "buy in October sell in May" admonition.
As a short-cut to determining the best of the best dividend stocks, many investors rely on a once per year trading system triggered by yield, called the "Dogs of the Index" strategy. This strategy gives the investor the tactical advantage of obtaining all the wisdom and knowledge of the well-paid wizards of investment and publishing for free, merely by choosing the existing collection of equities built by the experts.
The charts below reveal low yielding stocks whose prices increase (or whose dividends decrease) to be sold off once each year to sweep gains and reinvest the seed money into higher yielding stocks in the same index. Two key metrics determine the yields that rank the 3x9 Sector dog stocks: (1) Stock Price; (2) Annual Dividend. Dividing the annual dividend by the price of the stock declares the percentage yield by which each dog stock is ranked. Thus the investor is able to follow, trade, and await the results from an investment in the lowest priced, highest yielding five or ten stocks in the index.
Revelations from the 3x9 Sector Index for October
Below are the top thirty picks for October served up as of October 14 by Yahoo Finance data as the top dividend yielding stocks listed on the 3x9 Sector Index. This collection of 27 stocks is derived by selecting the top 3 dividend yielding stocks in each of nine business sectors: Basic Materials, Conglomerates, Consumer Goods, Financial, Healthcare, Industrial Goods, Services, Technology, and Utilities. (In January of 2012 one top yielding stock from each sector will be selected for the nine top Dogs or the 3x9 Sector Index along with the best yielding runner-up from any sector to be the tenth. This change is expected to perfectly diversify the top ten portfolio.)
Data from Yahoo Finance reveals the following thirty stock portfolio as of October 14, 2011:
Click to enlarge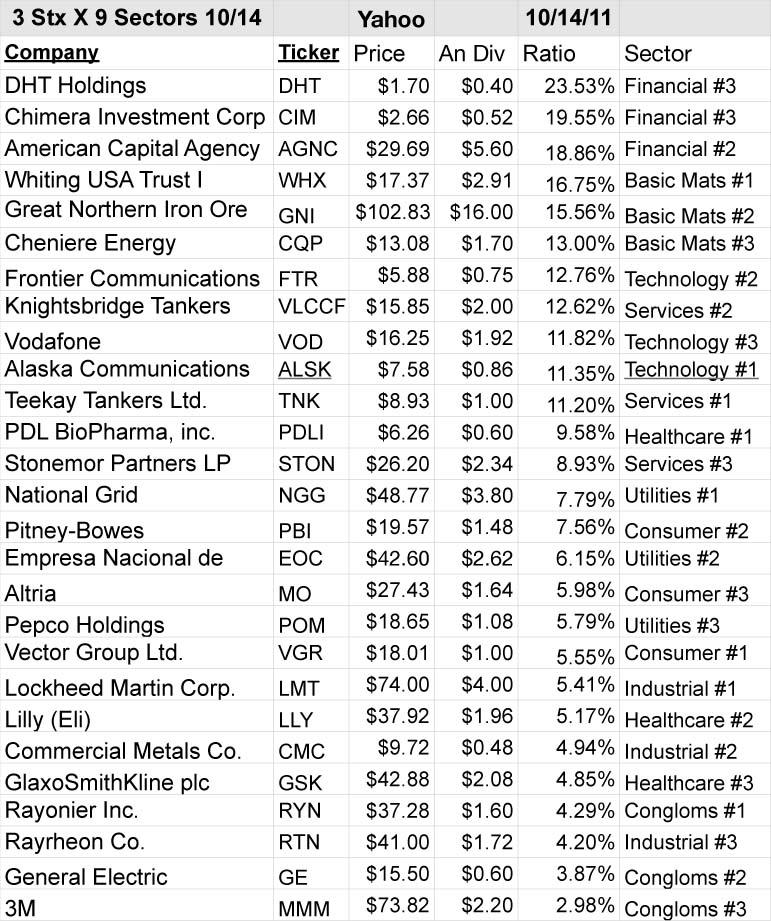 This month the top ten dividend paying stocks in this index represent four sectors: three Financial, three Basic Materials, three Technologies, and one Services. The top dividend yielding stock has been secured by a newly listed financial firm, DHT, replacing Invesco (NYSE:IVR) in October.
October Changes in 3x9 Sector Index Dividend Paying Top 27
Over the past ten months, three different firms have bubbled to the top of the list. Color code shows: (Yellow) firms listed in first position at least once between January and October 2011; (Cyan Blue) firms listed in tenth position at least once between January and September 2011; (Magenta) firms listed in nineteenth position at least once between January and September 2011; (Green) firms listed in twenty seventh position at least once between January and September 2011. Duplicates are depicted in color for highest ranking attained.
Notice how many stocks come and go from the list after quarterly component updates. Gone in March were half the components LZR, PSEC, CHKE, PBI, AEE, CINF, NGG, MRK, PFE, SCCO, DD, BA, UTX, & CAT, replaced by IVR, CIM, GNI, CQP, FTR, AZN, BTI, GSK, LO, PPL, FE, LMT, WM, & CLX. In April the top three dividend yielders for each of the nine sectors were again updated with just two changes: CIM & LO were replaced by PBI & TEG. The July quarterly update removed nearly one third of the components HIMX, RSO, VGR, POM, RRD, TEG FE, & GSK which were replaced by ARR, ALSK, PDLI, VLCCF, NGG, MO, AEE, & DUK. Now, in October, over one third of the components again were shuffled. Gone are IVR, ARR, OTT, DUK, AEE, WM, ECOL, AZN, CLX & BTI replaced by DHT, CIM, CMC, EOC, VOD, GSK, RYN, RTN, VGR, & POM.
Click to enlarge

Click to enlarge

Click to enlarge

Click to enlarge.
October Dividend vs. Price Results for 3x9 Sector Index Top Dividend Paying 10
In October a new yield leader DHT Holdings (NYSE:DHT) tops this list at 23.53% Yield. Annual projected dividend totals for $1000 invested in each stock blew away the aggregate total single share prices again this month, and have continued to diverge further with a small decrease in total single share price accompanied by a greater increase in annual dividend yields from $1000 invested in each of the top ten. This divergence is caused by lower priced stocks with high dividends replacing stocks on the list whose prices increased, thus reducing their yield percentage.
Click to enlarge
Perhaps the Annual projected dividend totals for $1000 invested in the top ten 3X9 Sector stocks will begin to converge toward the aggregate total single share prices next month. It will likely take the return of a long run bull market. The horizontal chop with a bear twist keeps widening the gap. Stay tuned.

Disclosure: I have no positions in any stocks mentioned, and no plans to initiate any positions within the next 72 hours.
Disclaimer: This article is for informational and educational purposes only and shall not be construed to constitute investment advice. Nothing contained herein shall constitute a solicitation, recommendation or endorsement to buy or sell any security.